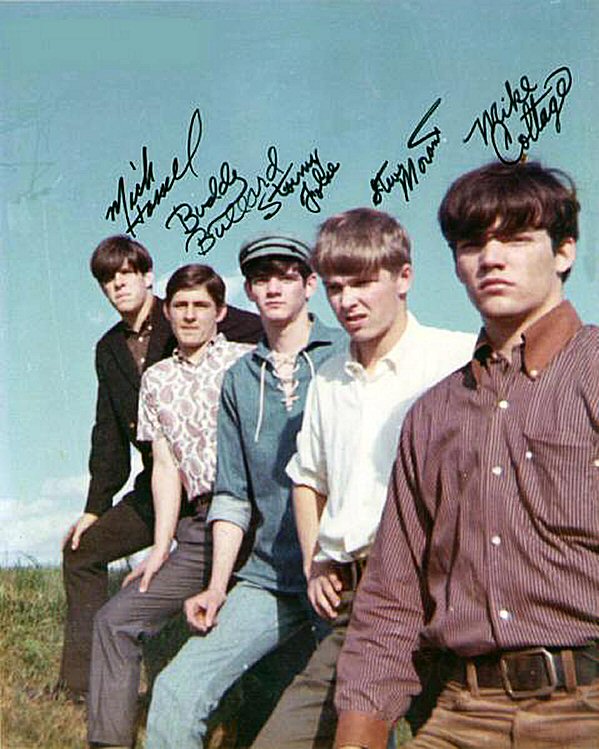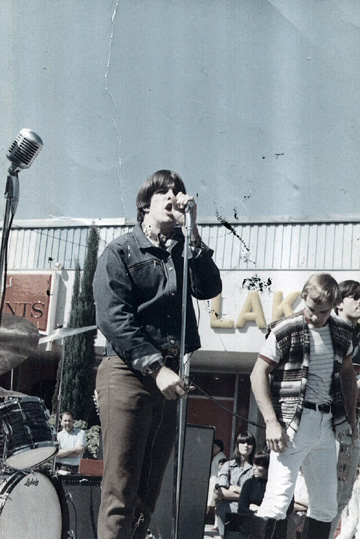 The Local Traffic's incredible single on the Black Light label has remained almost unknown until recently and never reissued or compiled since its original release in June, 1968. "Time Gone to Waste" is a wild original sure to take its rightful place at the top of '60s psychedelia. I love how it ends with that roll on the tom-toms. The B-side is "Second Century", slow and stately but also excellent. Two copies of the 45 attained huge sums at auction in 2009 and 2010; there's no doubting the rarity or musical quality of this 45.
Myles Hassell, then known as Mickey Hassell, sent in the photos and memorabilia seen here and wrote this history about the group:
In the later part of 1965, The Local Traffic came into being in the living room of Mickey Hassell's house on Citrus Road in River Ridge; a sleepy little suburb located about 7 miles west of New Orleans, in between Harahan and Little Farms. The members of the band included Mickey Hassell (lead vocals and guitar), Stormy Folse (guitar, organ, vocals, and saxophone), Mike Cottage (bass guitar and vocals), Steve Morant (lead guitar and vocals), and Buddy Bullard (drums). The band's manager, Skip Robinson, also played tambourine during live performances.
Our band existed outside the mainstream of the traditional music genres one associates with New Orleans (jazz, R&B, funk, etc.). Instead, we were strongly influenced by the British Invasion bands and the psychedelic music scene. If it was far-out, we played it.
When we began playing music together, we were all in high school (ranging in age from 14-16). From the start, we did not have an easy go of it. Our musical instruments and sound system were second tier: a hodgepodge gathered from pawnshops, family members, and wages earned by working after school. We had to make do with what we had – pushing our instruments and equipment to the limit when we performed. Because we were all underage, many of the local music venues such as bars, nightclubs, and other places where liquor was served were off limits to us; and other doors were slammed in our faces because we were not members of the local union of musicians. Furthermore, nobody knew us; we didn't even have a booking agent. But we were young, and nothing was going to stop us. Through the efforts of the band's members and word of mouth, we started to find gigs at local CYO Dances in Harahan, Little Farms, Metairie, and Kenner, along with some frat parties and block parties—anywhere we could find an audience for our music. We were beginning to build a reputation for being a band of versatile musicians that worked up a sweat and put on a good show every time we performed.
Many of the bands in New Orleans frequented Tippet's Music store in Orleans Parish. Being kids from the suburbs, however, The Local Traffic shopped at Werlein's Music at Lakeside Shopping Center in Metairie, at that time an open-air facility. It was there that we met Andy Gallien, who was working in Werlein's music department. Sometime during late 1966 to early 1967, Andy and Mike (our bass player) negotiated a way for us to lease some first-rate equipment—Fender and Gretsch guitars, Ludwig drums and Zildjian cymbals, Fender Dual-Showman and Fender Twin amplifiers, Farfisa keyboards, Shure microphones, a solid sound system, and all the electronics needed to make things hum. This equipment leveled the playing field for The Local Traffic, thus enabling us to stand toe-to-toe with well-known bands from New Orleans, Baton Rouge, and the Gulf South.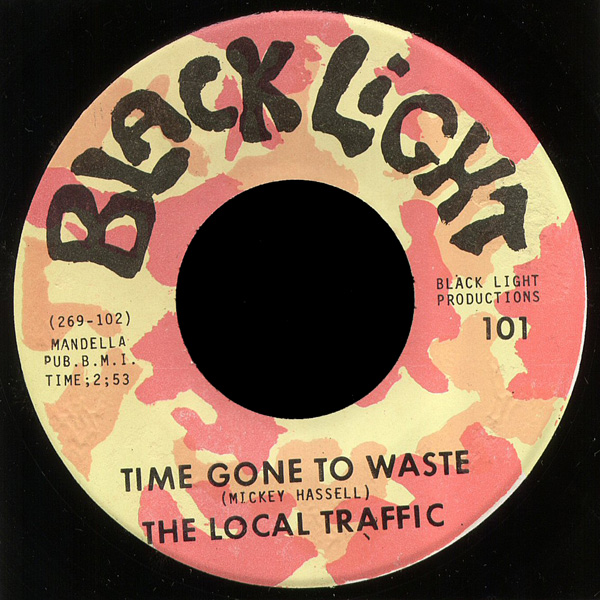 From 1967 on, The Local Traffic developed a reputation as a hard-driving force in the local music scene. This led to better-paying gigs at psychedelic teen clubs, such as The Purple Pickle in Slidell and The Hullabaloo Club in Metairie, along with high school dances and private parties. During this time, Bill Strong, a producer and promoter in the music business, approached us at one of our gigs, saying that he liked our music. Ultimately, we signed a recording contract with his company, Black Light Productions. At that time, we were still a cover band, and while we had dabbled in songwriting, we had neither practiced nor performed any original music. Therefore, we had some work to do for our upcoming recording session at the now legendary Cosimo Matassa's studio on Camp Street in New Orleans.
Mickey wrote the chord progression, words, and melody for "Time Gone to Waste," which was to be the A-side for our 45-rpm record. During this time, he was living in an efficiency apartment in the French Quarter, scratching out a living playing music, working as a roadie for a couple of bands from the area, and working at the PDQ Car Wash on Metairie Road. As the lyrics below reveal, the song's imagery came from his mind and soul, his apartment, and life on the streets outside:
Before the flashing dawn, I put my new face on
And I take the time to pull out my mind and then
I can see once more the same mind I had before
In my single window pane with a crystal picture frame

Love lights the night before, it makes me think of you once more
And it leaves me senseless with a time relentless
I pick my eyes up off the floor, I throw them out the open door
And I laugh out crying instead of lying, I've got no use for lying

I sing out loudly mine, inside the flashing sign
It's a neon stillness like a creeping illness
I see the carpets crawl up and down the patterned wall
And they leave me a taste of the time gone to waste
Buddy's driving drumbeat and Mike's punching bass line created a rhythm section with the power of a locomotive roaring at full throttle. The guitar work of Stormy and Steve slashed, soared, and intertwined with the rhythm section. Mickey's vocalization was defiant, yet laden with emotion. As recorded, "Time Gone to Waste" was a kick-ass song—combining poetry with rock-and-roll and psychedelics, and capturing the energy, creativity, and musicianship of The Local Traffic.
Mike created an elegant bass line, then Mickey created the chords, lyrics, and melody for a song titled, "Second Century," which became the B-side for our 45-rpm record. The song was about a woman who kept others at a distance via mind-games and who tried in vain to ignore the passing of time and her loneliness. The song's chord progression was tempered by Buddy's skillful drum work and accentuated by Stormy's sensitive touch on the electric organ. Steve's guitar solo was adept, and his harmonic coda ushered the song to a climactic tonal flourish. Mickey's vocalization was melancholy and the lyrics were poignant:
Second century woman, Second century child
Talk with your mask and not your mind
Singing songs stolen out of time

I feel the thunder, of the senseless words
Open to those who sing your song
Not trying to but aging along

I've been playing your lovely games
And I'm tired of feeling just the same
I'm cracked just like a broken dream
That stopped for a while just to scream

Second century woman, Second century child
You can remain with yourself
You can remain with yourself in falling

Second century woman, with a hand of brass
Reaching out to turn to gold
In a world that makes you grow so old
You've gone and you've left it
How hard to forget where you're at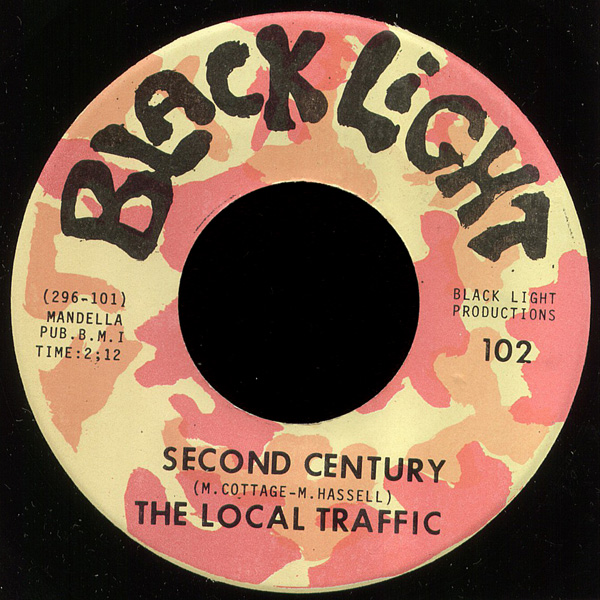 A limited number of 45-rpm discs were pressed on the Black Light label (the label is florescent and glows if you hold it under a black light), and "Time Gone to Waste" was introduced to the New Orleans market in 1968. The song got some airtime on local radio stations WNOE and WTIX, both during the day and on the underground broadcasts at night. Through local record stores, we sold some 45s to our fans, and the radio airtime helped us land some good gigs in the area. During this time, Mickey was becoming prolific as a writer of songs and lyrics, so we laid some more tracks at Cosimo's recording studio; also teaming up with another local songwriter. None of the tracks made it outside of the four walls of the studio.
In early 1969, The Local Traffic played its last gig at a country club (now gone) near the current site of the Greek Orthodox Church on Bayou St. John, just off Robert E. Lee Boulevard in the Lakeview section of Orleans Parish. After our work was done, we sat on the bank of the bayou, smoking, drinking, and saying our goodbyes. Perhaps it was the strain of balancing divergent interests in music; maybe we were frustrated by the outcome of our efforts in the recording studio; perhaps we were exhausted from busting our chops in the music business in the Crescent City; or maybe it was just time to move on. Whatever the reason may have been, we parted company that night and went our separate ways.
Q. It's amazing you were able to come up with a song as strong as "Time Gone to Waste" considering the band didn't do originals in their live shows yet. Did you ever play that song live?
Thank you for your compliment about "Time Gone to Waste." It was one of the first songs I had ever written. After it was released in New Orleans, we played "Time Gone to Waste" and "Second Century" whenever we performed.
Q. Were there other groups on the local scene that your band was either friends with or saw as competition?
We competed for jobs with bands from out of town, such as The Basement Wall and the Greek Fountains. There was plenty of local competition from groups such as The Palace Guards, Yesterday's Children, The Clinging Vines, The Gunda Dyns, The Souls of the Slain, The Better Half Dozen, The Glory Rhodes, and Leaves of Grass and more. When I first set foot on the campus of the University of New Orleans, it was like "old home week," because a lot of the local musicians were going to college there. We had all heard of each other, and got a chance to get to know each other, at that time. That's where I met and became friends with Rickey Moore, drummer from The Better Half. I also got to know Frank Bua (drummer w/The Palace Guards and later with The Radiators), Camile Baudoin (later with the Radiators), Richard Morant (lead guitar with Yesterday's Children; his brother, Steve, played lead guitar in the Local Traffic), Quint Davis (tambourine with Yesterday's Children; started the Jazz Fest in NOLA). During this time, I did roadie work with The Palace Guards and Yesterday's Children (when the Local Traffic was not working), so I knew the members of those groups pretty well.
Q. Were you in groups before or after Local Traffic?
Before the Local Traffic, I did not play music with anyone else, practicing guitar and singing by myself. After the Local Traffic, I was active as an "outsider" musician in New Orleans, making some studio recordings of songs I had written and trying to form some bands. Much of this activity was not noteworthy, but there are some things of substance. . . . In the late 60s – early 70s, I did some more recording work with Stormy Folse and Bill Strong at Cosimo's, Butch Elliot (son of Ken Elliot aka Jack the Cat on the radio in NOLA) at his personal studio, and another studio, can't remember the name, on Tulane Avenue (during these sessions, Rickey Moore, former drummer with the Zoofs and The Better Half was on drums). I co-wrote a few songs with some other musicians; I can only remember Eddie Volker (later with the Radiators). However, no records were released from these sessions.
At several gigs in the early 1970s, I sang lead in a band featuring Emile Guest (lead guitarist with Roger and the Gypsies), short-lived and I can't recall the name of the group. I sang and played acoustic guitar at several local pubs, such as The Rear End in Lakeview. In 1973 – 1975, I sang lead and shared lead guitar duties with Stormy Folse (from the Local Traffic), in a cover band named Wet Leggs. From 1976 – 1978, I sang lead and played guitar in another cover band–Straight Whiskey–and Stormy played bass guitar. I hung up my rock-n-roll shoes in the later part of 1978, after earning an MA in English Literature and getting a job selling office machines. In 1987, I went back to college to earn an MBA, and taught in the English Department at the University of New Orleans. During that time, I picked up an acoustic guitar, writing several songs, singing and playing in private only for about six months. Since that time, I have not played music or written any songs.
Myles (Mickey) Hassell, April 2011
Thank you to Myles for the history and images, and also for kindly answering my questions.
Update, July 2012
Mike Cottage wrote to me:
I went on, moved to California in '73 and was a founding member of Sneaker produced by Jeff "Skunk" Baxter. We had moderate success with a few hit songs, "More Than Just the Two of Us" and "Don't Let Me In" (written by Walter Becker and Donald Fagan). You can view our web site for more songs and info: sneakersongs.com. Sneaker has a number of videos on you tube if you search for Sneaker the band or type the song title "More Than Just the Two of Us". And of course most of Sneaker's songs are available on itunes.
Update, March 2016
Myles Hassell (Mickey) passed away on Wednesday, March 2, 2016 at the age of 66. I'd like to say that I really enjoyed speaking with Myles and learning about the Local Traffic and their single. Working with Myles on this article has been one of the highlights of my work on this website over the last 11 years.
Mike Cottage adds, "all of his band mates from the 60's and the many friends he made through his journey will always be richer for having known him. Though he will always be with us, those who played music with Mickey will forever share in a special brotherhood and miss his creativity and brilliance. RIP Mickey. Thank you again for leading the way."