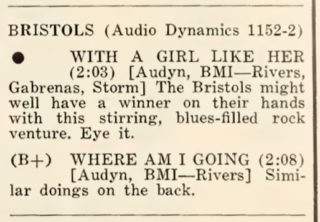 The Bristols have a 45 well-known among soul collectors, "(Go Away) With a Girl Like Her" / "Where Am I Going". Cash Box gave it a positive review in August, 1967.
According to a youtube comment from band member Dale Monette:
The black label was the first issue of the recording. After Audio Dynamics re-released it on the white label. It was engineered by Don Carmody who owned the studio, and Dick Booth who was a great guy and helped us get airplay on WHYN is Springfield MA and other stations around the western New England area in the summer of 1967. It rose to number 11 on the WHYN top 40. It stayed on the chart 8 weeks.
The band was from Worcester, Massachusetts, and included Dave Rivers on vocals and Dale Monette on drums. Judging from song writing credits on their first 45, other members may have been Gabrenas and Strom.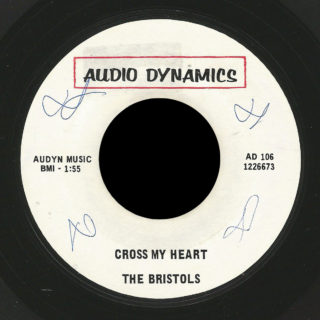 Much more obscure is their second single, also on Audio Dynamics. "Cross Your Heart" has some of the soulfulness of their first single, but I like the slow dreamy quality of the flip, "I Need Only You". Both sides lack the commercial production of the "(Go Away) With a Girl Like Her" / "Where Am I Going".
Like their first single, there's a credit to Dick Booth for arrangment and production, but no song writing credits, only the Audyn Music BMI publishing.
The Audio Dynamics discography is a jumble of different codes, making an exact release chronology difficult. Some releases have numbers ending three digits beginning with 6: the Pentagons is 671, the first Bristols 45 672, and the second Bristols single has 673 on one side and 674 on the other. The Chain Reaction single has 682 in the code.