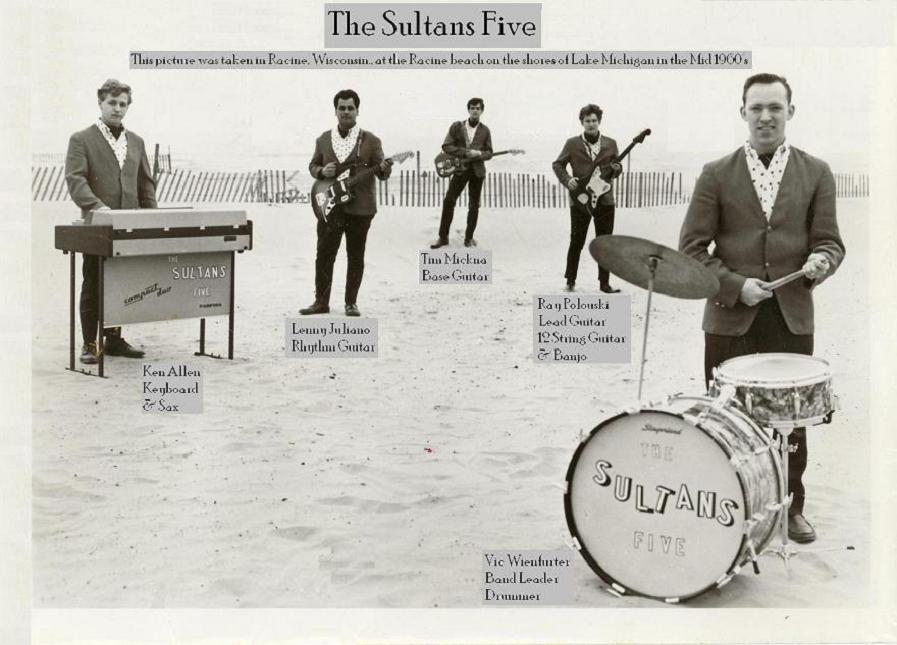 Sultans Five – original mid-60s lineup on the records
as noted on photo: Ken Allen, Lenny Juliano, Tim Mickna, Ray Polouski and Vic Weinfurter.
The Sultans Five were based out of Racine, Wisconsin, originally a three-piece when they formed in 1963. Original members were Len Juliano guitar, Tim Michna on bass and Vic Weinfurter, Jr. on drums. With the addition of Ray Plauske from the Sensations on lead guitar they became the Sultans IV. Farfisa organist and saxaphonist Ken Allen made them the Sultans Five.

Their recording career consisted of all or nearly all original songs, with Victor Weinfurter the main contributer along with Ray Plauske and Tim Michna.

Their earliest releases include two on the RAL label "Tonight Is the Night" / "Hey Little Girl" and "Walk with Me" / "Who's at Fault". Of these I've only heard "Tonight Is the Night" from its later release on Raynard. The flip of that release is "With You", an original by Ray Plauske.

Their second on Raynard was a good rocker, "Daisy" that features a raucous, booming guitar sound on the breaks. It was backed with "Life Is Like a River". Both were Vic Weinfurter originals.

Both Raynard 45s, along with their last, came with custom sleeves reading "Enterprise Thirteen presents the Sultans Five", along with the band's first names, song titles and composers, the Baker Building address and the optimistic message "more to come".

Enterprise Thirteen would be the label for their last and most famous release, the fabulous "You Know, You Know" a song that would grab everyone's attention whenever my pal DJ Bossy Boots played it out in clubs. The flip is the gentle "Calico", a fine moody number written by Weinfurter and Ray Plauske.

After the recordings Tom Zager joined on bass and Butch Kieffer on organ. The band broke up in 1968.

Thanks to JP Coumans for the scans and transfers of the Raynard 45s. If anyone has good transfers of their RAL releases, please let me know.

Update, November 2009

Ken Allen, who played Farfisa organ with the group wrote to me about his time with the band, and sent in the photo at top:

The picture I sent you was taken from the Racine Journal Times, advertising for us playing at Ligits Beach Bar at Browns Lake, Wisconsin.

Vic called me and asked if I would play organ for the Sultans and I said yes, but I would have to order a portable organ first. I ordered a brand new Farfisa Compact Duo, with two Gibson Saber Reverb amps. It was a great high tech fold up organ for the day. I had to wait for a month and a half for it to come over to the USA on a boat. I was told that my Farfisa was the second one sold in the USA.

We played at Earls Club in Kenosha, The Nitty Gritty in Racine, The Kraut Festival in Franksville, Wisconsin. We also would play for private parties etc.

Yes I was on our records. The records were recorded at the [Dave] Kennedy Recording Studio in Milwaukee. King Sabornick a D.J. at WRIT Radio was one of the arrangers we had and the other one was from New York, but I can't remmember his name.

To make a long story short… Tim Mickna and I resigned from the Sultans Five, and that is when Butch Keifer replaced me on keyboard and Tom Zager replaced Tim Mickna on bass. I can't remember all the details, 44 years is a long time. We had a great time while it lasted though.

Ken Allen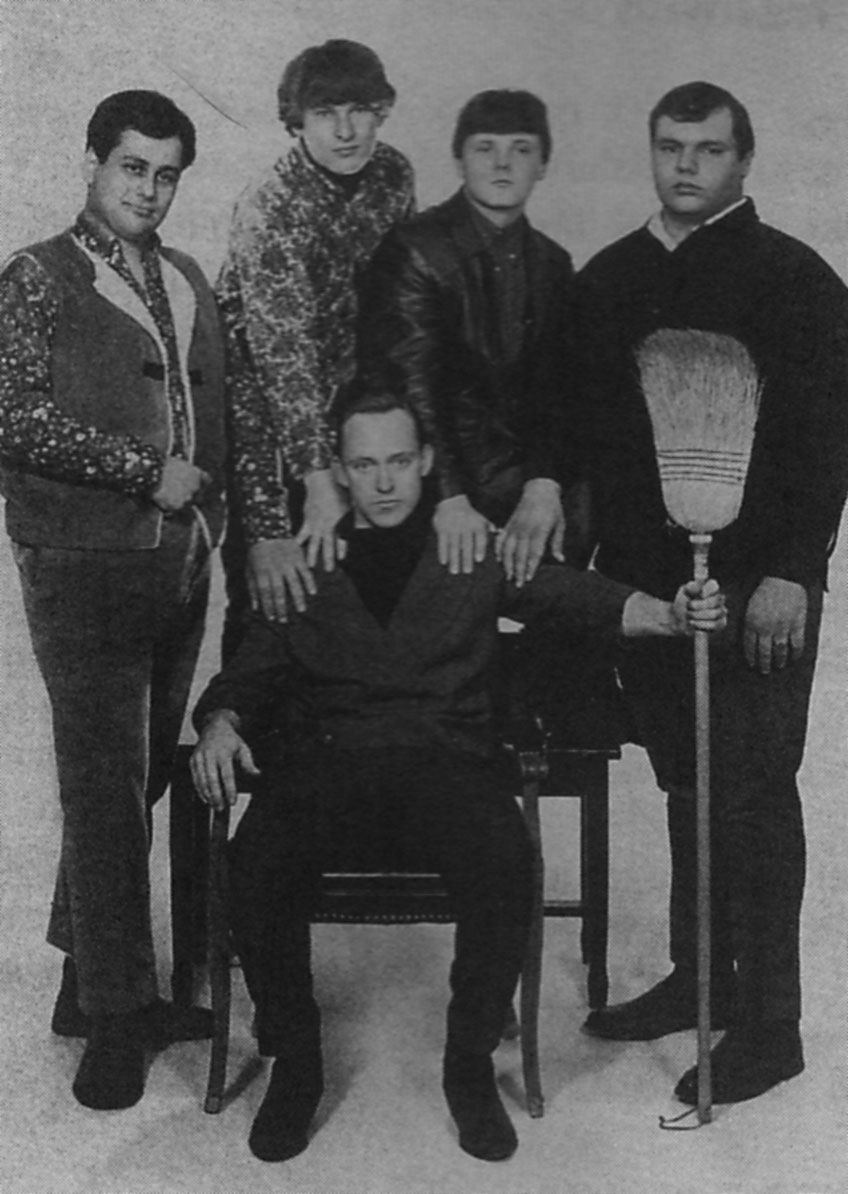 A later lineup, standing from left: Len Juliano, Ray Plauske, Butch Kieffer, Tom Zager; seated: Vic Weinfurter
Photo from Gary Myers' Do You Hear That Beat, original from the collection of Vic Weinfurter.