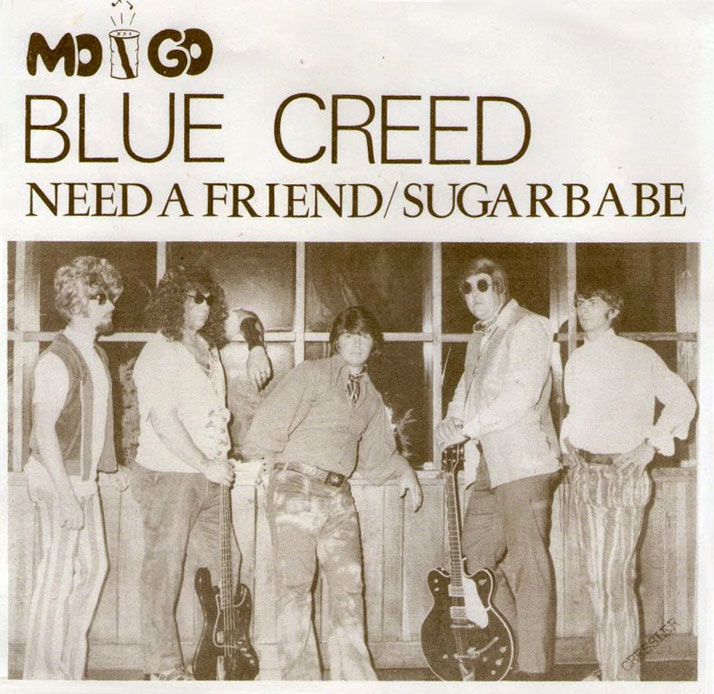 Records like this one keep collecting interesting. Blue Creed came from somewhere in West Virginia. I haven't been able to find out anything about the band yet.
It seems likely they recorded at Midway Recording Studio in Hurricane, West Virginia. The related Alta record label usually has a Hurricane address on it, but in the case of the Blue Creed single, Midway-Alta is listed at Camden-on-Gauley, WV, two hours drive east of Hurricane.
Luckily the Blue Creed put some of their names on the labels. Gary Gordon, Dave Franco and Bill Rexroad wrote "Need a Friend", and the three of them plus Ron Sweeney wrote "Sugarbabe".
Both songs feature hoarse, exaggerated vocals, a heavily distorted organ sound, a guitarist who sounds something like Jorma, especially on "Sugarbabe", and a drummer who likes to hit the crash cymbal loudly and often.
Amazingly this came with a sleeve (which I don't own), sporting a photo of the band in hip clothes, wigs and sunglasses. Two or three of the band look like they're from an earlier generation of musician than 1970 psychedelia.
I've seen the label listed as Moigo Records, but I think Mo Go is more correct, release # 4570. The ARP-1339/40 suggests American Record Pressing Co. in Michigan. Publishing by Sexman Pub Co.