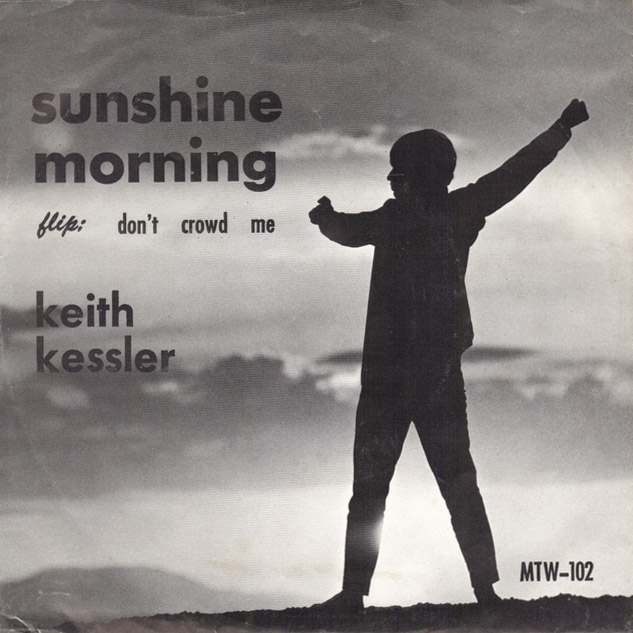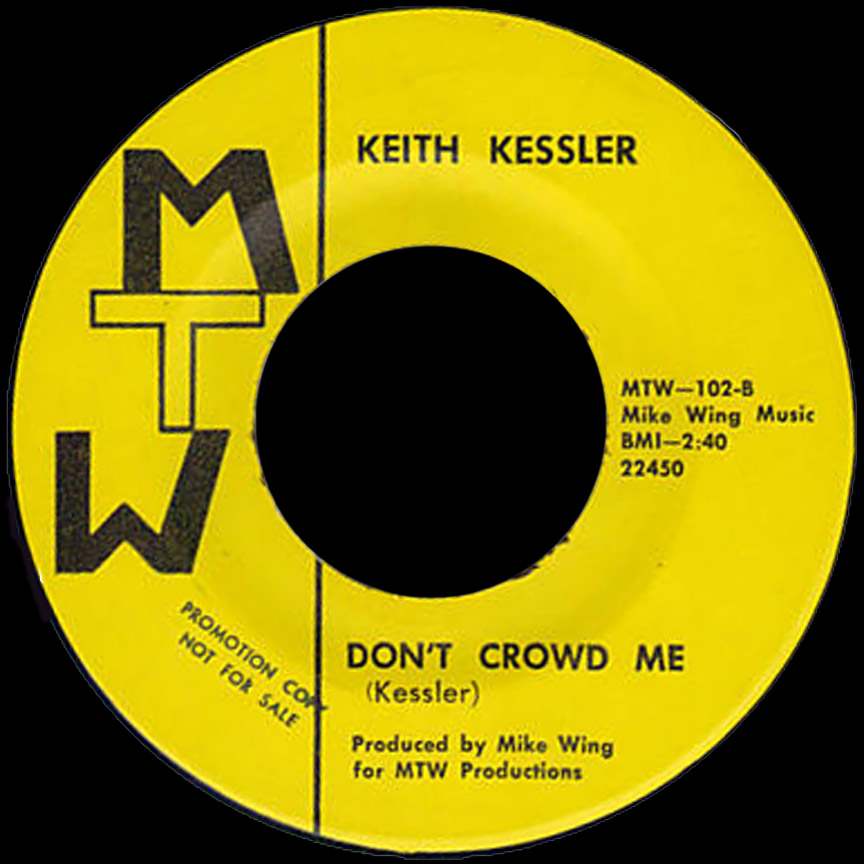 Keith Kessler's "Don't Crowd Me" is an anthem to garage-punk fans, with a sound to match the intensity of the lyrics: "Inside looking out, got no place to shout … I'm locked inside this place, problems I can't face, I'm getting out breaking free … don't crowd me! / My soul is cramped and bare, there's freedom I can't share … my independence crushed, don't crowd me, give me air, give me time …"
Keith Kessler recorded "Don't Crowd Me" at Kearney Barton's Audio Recording Studio at 2227 5th Avenue in Seattle in 1966, using musicians from Keith's group, the Impulses.
The Impulses formed in Bellevue (just across Lake Washington from Seattle) in 1964 and included Michael Elliot on lead guitar, Jack Joseph on rhythm, Keith on keyboards and vocals, Jim Simmons on bass and Lew McCall on drums. After the session for "Don't Crowd Me", Doug Holloway replaced Lew on drums. The Impulses split around 1967 and Keith joined Calliope for a time but left before they signed to Buddah.
"Don't Crowd Me" wouldn't be released for two years, and it was only with some luck that it was issued at all.
During the summer of 1968, Mike Wing, a Bellevue musician and aspiring record producer, liked one of Keith's original songs "Sunshine Morning" enough to set up a publishing company and finance the recording, pressing and promotion of the record. Keith's 1966 recording "Don't Crowd Me" filled in for the b-side, and they released the record and sleeve in August. "Sunshine Morning" didn't hit, but "Don't Crowd Me" deserves to be ranked among the top examples of the tough Pacific Northwest sound.
My friend and fellow record collector Gregor Kessler (no relation to Keith) asked Keith about this record and his career in music:
I wrote "Don't Crowd Me" back in 1966 during a period of general turmoil. Vietnam War. Seemingly mindless, rigid authority by government. Suffocation. A need for freedom of thought and action. Dissatisfaction. Frustration.

That was the backdrop.

Although I was with the Impulses at the time, this was never an Impulses song. We did play it at some of our gigs, but the late 60s and early 70s dance styles made it difficult to dance to.

Guitar on "Don't Crowd Me" was Mike Elliott (also in the Impulses). I let him go wild on his solo in the middle of the song. My last contact with him was many years ago when he was a studio musician in Los Angeles.

Jim Simmons was on bass (also in the Impulses). He was respected for a creative, rapid walking movement. Although he wasn't James Jamerson, he was very likely the best in Seattle.

My brother Kent sang back-up. We'd sung together throughout our youth. He wrote a number of songs that I always felt would be hits if he pushed them.

Both Kent and I recorded at the MTW studio (Mike Wing), along with Ann and Nancy Wilson of Heart. They obviously made the most of their talent.

The sleeve: "Sunshine Morning" was intended as the "A" side – sort of a Young Rascals light-weight, mellow 60s song. So the photo was taken at Golden Gardens State Park in Seattle to suggest waking up and enjoying a new morning. Although it was covered by two bands on separate recordings, it was basically not that exciting and lacked traction.

The "B" side – "Don't Crowd Me" – got the airplay and, oddly, was popular with late Boomers and early GenXers. It was included (without permission) on a number of punk rock albums. Only one group – The Flying Saucers – asked for permission to record it. When I said "Of course", they told me that there were at least 15 versions recorded by different bands across the country, and they sent me a tape with several versions. I have kept that very interesting tape, as wells as the Flying Saucers' vinyl 45 version.

What caused the break-up of the Impulses? It's incredibly difficult to keep musicians together. I was offered an opportunity to work with a newly forming band of the top musicians in the Pacific Northwest. Each of them had been with a band that had successful records. They were all extremely talented, and it was an amazing experience. The band – Calliope – worked day and night while I was trying to also attend college and raise a family. Ultimately, I left and was replaced by Danny O'Keefe who later had a popular hit – "Good-time Charlie's Got the Blues".

For what it's worth, I chose law school over rock-n-roll, and am a trial attorney today. But in the process, I became addicted once again to playing rock music, and ended up doing a lot of writing, working with exceptional musicians from Alaska. We made no recordings, but, given their incredible talent, I thoroughly enjoyed the year that we spent together. Ultimately, as expected of musicians, we exploded, and most of them returned to Alaska.

Keith Kessler, September 2010
Mike Wing added this history in consultation with the Kessler brothers:
"Sunshine Morning" was recorded in June 1968 at Audio Recording's 5th Avenue studio in Seattle, with engineer Kearney Barton at the controls and me in the producer's chair. The musicians on the session were:

Keith Kessler – vocal, keyboards, songwriter, named artist
Kent Kessler – backing vocal, keyboards, chimes
Jack Joseph – bass, trumpet, arranger
Doug Holloway – drums
Leonard Olive – violin

We pressed up copies of the record with a photo sleeve and sent them to every music-oriented radio station in Washington, Oregon and Idaho. We got airplay on a number of the smaller stations, but unfortunately not in the larger markets like Seattle, Portland or Spokane.

The promo guy at a Seattle record wholesaler liked the record and pitched it to his contacts at RCA Records. I followed up with them a number of times hoping to work out a master licensing deal, but they eventually backed out citing the lack of major market airplay.

Meanwhile, a contact in London pitched the record to the Beatles' newly formed Apple label. I was hoping for a master licensing deal for the UK or Europe. But to my surprise they asked about a publishing deal for the record's flip side, "Don't Crowd Me," for possible use by their new group known as Badfinger. [Cool!!] Unfortunately, the deal never came together.

"Don't Crowd Me," was recorded at Audio Recording by Keith and his band at the time, the Impulses, in 1966. I was not involved with that session. Years later it was discovered as a punk/garage classic, but by that time neither Keith nor I were involved in the music business. I've always felt honored by the underground popularity of the track even though my involvement was limited to picking it as a flip side.

While there have been a number of cover recordings of "Don't Crowd Me," there is only one cover of "Sunshine Morning" that I am aware of. That was by New Era on their Observation album (the track can be found on YouTube).

Notes by Mike "MTW" Wing, January 2015.
Thanks to Keith Kessler and his brother Kent, and to Gregor for bringing this article together.