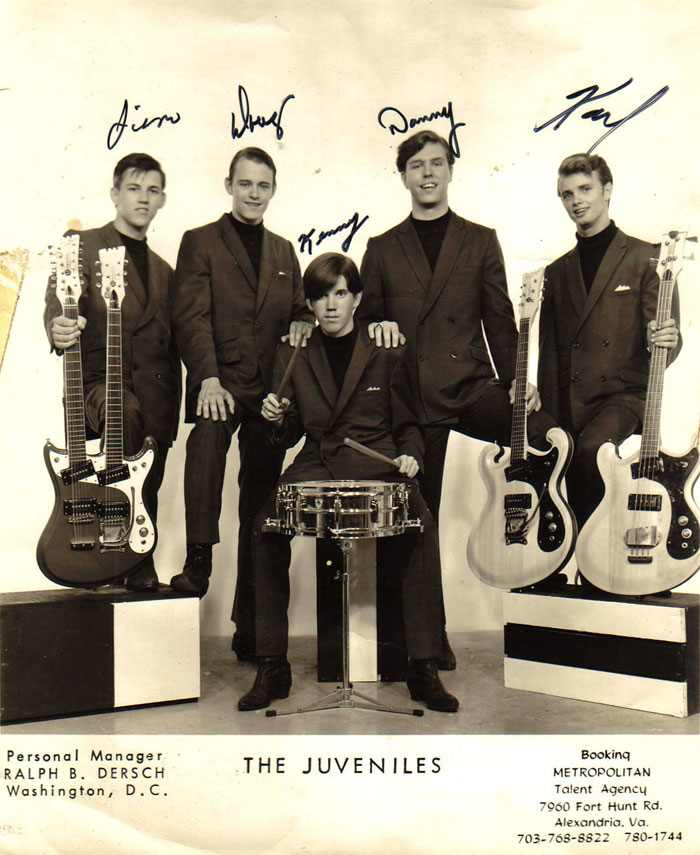 The Juveniles, l-r: Jimmy Clark, Doug Sprouse, Kenny Hayes, Danny Keller and Karl Dersch
There were a number of groups in the U.S. going by the name The Juveniles. This particular group was originally from southeast Washington, D.C., with members later living in nearby Hillcrest Heights, Oxon Hill and Fort Foote, Maryland. They aren't related to the Juveniles I featured on an acetate a few weeks back.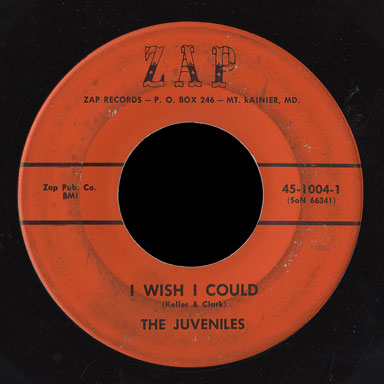 "I Wish I Could" is first rate garage with a pounding drums, lots of sustain on the guitar solo, and good harmony vocals, all drenched in echo. The flip is a ballad, "What Can I Do". Both songs were written by Keller and Clark, though publishing info shows Danny Keller only.
Karl Dersch's father managed the group, and sometime after this photo Dean Dersch also joined the band. Jimmy Clark's sister Joyce Williams told me Jimmy has since passed away. She also mentioned that the beautiful double-necked Mosrite was the first sold on the East Coast.
The Zap label was from the Mt. Rainier neighborhood just outside Washington, D.C. No connection to the Tennessee label of the same name which released the Starlites' "Wait For Me".
Special thanks to Joyce for sending the photo of the group.