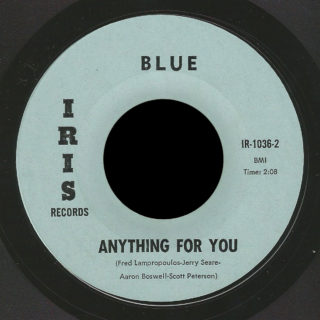 Blue came from Salt Lake City, Utah. A photo of the group appeared in the Salt Lake Tribune on June 6, 1968:
Appearing in person at Kmart Friday …
4 p.m. to 7 p.m. – June 7th

Starring – Scott Peterson, Fred Lampropulas, Aaron Boswell and Jerry Seare

"Blue" will play their new recording "SAD 'BOUT US" and "EVERYTHING FOR YOU." also autograph their new 45 R.P.M. recording

OUR REG. 77c ea. – 63 ea.
I don't have a subscription to a news archive right now so I can't access the photo in the article.
Blue do a fine version of the Who's "Sad 'Bout Us" keeping the harmonies and frantic drumming of the original. Not many bands covered this song at the time, at least on record.
For the flip they have a good original song, "Anything For You" (by Fred Lampropoulos, Jerry Seare, Aaron Boswell and Scott Peterson) featuring two strong instrumental breaks. The production of the record doesn't do justice to the performances.
Released on Iris Records IR-1036 with a BMI credit on "Anything For You". I don't know of any other releases on Iris.