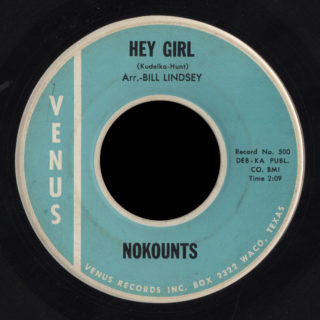 The Nokounts came from West, Texas, a small town south of Dallas and just north of Waco. The band released one single in August, 1964, "Hey Girl" / "I Saw Her Yesterday" on Venus 500/501. The A-side is a strong bluesy shuffle while the flip is a fast rocker.

Both songs list writing credits as Kudelka – Hunt. Ron Kudelka was part of the group while 45cat lists Harmon Hunt and Bobo Wes as producers. Venus Records Inc, based in Waco, published the songs through Deb-Ka Publ.
The West News covered the band in a front-page article from August 28, 1964 titled "Nationwide Sale of Record by the Nokounts" with a lot of interesting information on the group:
Ron Kudelka, Butch Vochoska and Robert Ernst, all of West, Johnny Nash of Arlington and Randy Hudgins of Waco are members of the young group … they are looking forward to additional dates in Hillsboro, Waco and the famed teenage-nightclub "The Sugar Shack" in Dallas.

This record was also the first recording of Venus Records, Inc., a new company formed by several Hillsboro-West area people with the main office in Waco. Harmon Hunt of KHBR is president of the company and Miss LaNelle Duncan of West is Secretary-Treasurer."

"Hey Girl" was recorded by Sellers Co. of Dallas and pressed by Wakefield of Phoenix, Arizona. Bill Lindsey of Dallas, nationally known for his hit recording of "Blue," was the arranger for the recording company.

The Nokounts were originally organized by a group of West High Students [sic], and were first known as the Counts.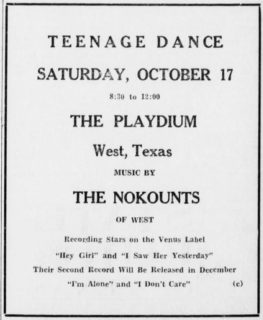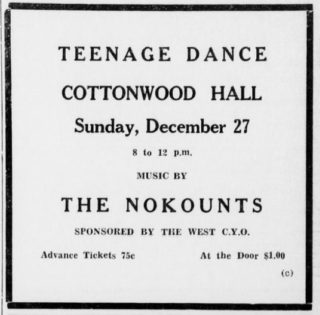 The article also noted their Venus 45 had distribution throughout the U.S.
An ad for a teenage dance on Saturday, October 17, 1964 at the Playdium ran in the West News of West, TX on Friday the 16th saying "The Nokounts of West … Recording Stars on the Venus Label "Hey Girl" and "I Saw Her Yesterday" … Their Second record Will Be Released in December "I'm Alone" and "I Don't Care".
To my knowledge that second record was not released and those songs have never surfaced.