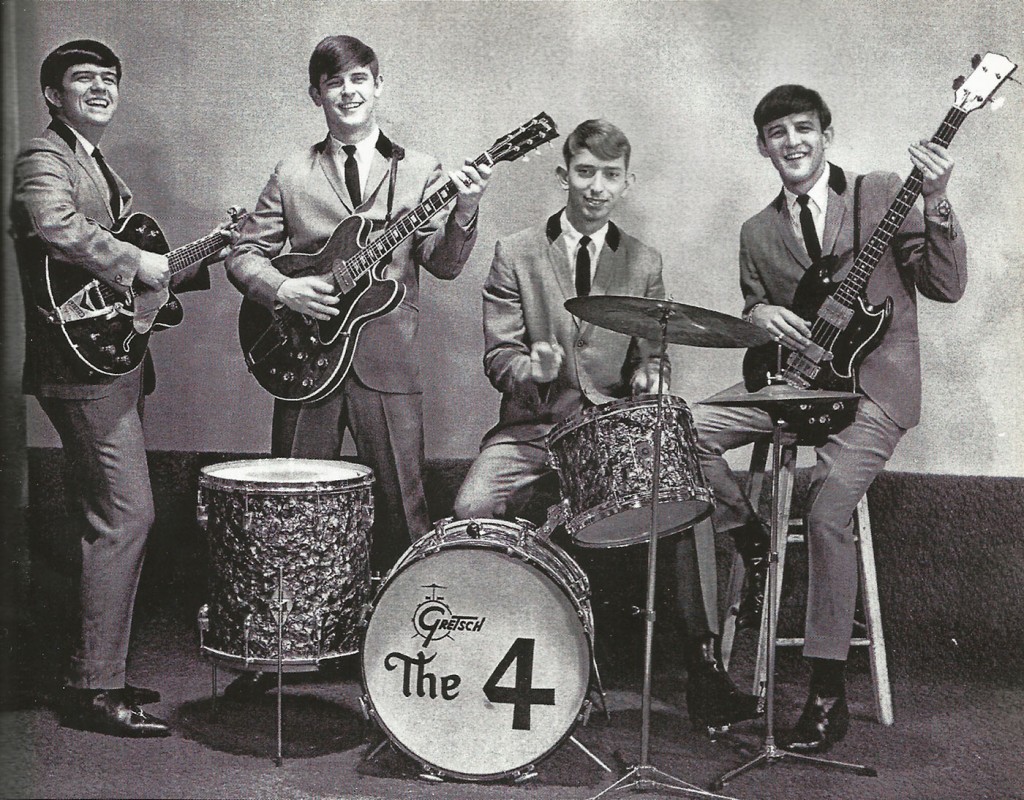 Here's an obscure one that isn't in Teen Beat Mayhem, though it certainly deserves to be. I didn't know anything about the group, called simply, The Four, but then I found their photo in Ron Hall's The Memphis Garage Rock Yearbook, 1960-1975.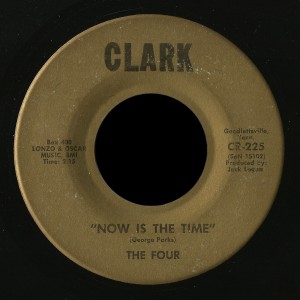 The band were:
George Parks – guitar
Greg McCarley – guitar
Paul Crider – bass
Larry Rains – drums
"Now Is the Time" is a good mid-tempo song with harmonies and Beatles-type changes. It was written by George Parks.
"Lonely Surfer Boy" is an original by Paul Crider and Greg McCarley.
SoN 15101/15102 indicates it was mastered by Sound of Nashville, while the ZTSB 99962-A / 99963-A in the deadwax indicates it was pressed at the Columbia Records plant in Nashville. I'm not sure the date on this one but early 1965 seems about right.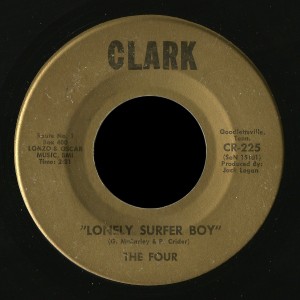 Both songs were published by Lonzo & Oscar Music, BMI and produced by Jack Logan, who was A&R director of Nugget Records of Goodlettsville, Tennessee which also seemed to own the Clark label.
In late 2013 two acetate surfaced of a group called "The 4" from Sam Phillips Recording of Memphis, "69" / "I Gotta Go" and "When Ever Your Down" (sic) / "Midnight Hour".
"69" opens with one of the most intense screams ever committed to vinyl, and it is now on the shortlist for Back From the Grave vol 9! it was backed with an uptempo pop number "I Gotta Go". It's such a different sound that I thought it must be a different group, but both songs were written by George Parks. I haven't heard "When Ever Your Down" yet, but it was written by Greg McCarley.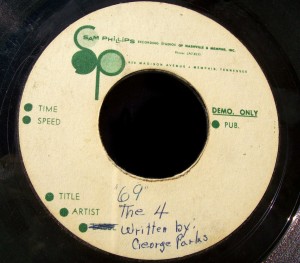 The Memphis Garage Rock Yearbook notes The Four "cut three singles, all in Nashville in the late '60's. After they broke up, Greg McCarley released two singles on the local Klondike label as 'Beau Sybin.' George Parks had a release on Epic that he cut in New York and was also a staff writer at Stax."
A late '60s release by the Four on the Nashville North label is likely by another group. "Good Thing Going" (B. Carlton, H. Adams, D. Johnson) / "Cy's Been Drinking Cider" was produced by Vern Terry and Len Shafitz, out of Massillon, Ohio, just west of Canton. Teen Beat Mayhem lists that band as from Elyria, Ohio. They cut a later 45 on Epic as the Sunny Four "Why Not (Be My Baby) / "Goodie Goodie Ice Cream Man".
The Clark label had two other garage releases that I know of. On Clark CR-235 is the Ebb TIdes "Little Women" (by Donald Kyre, Michael Wheeler, Michael Whited, and Waldron), which sounds something like the Beatles "You Can't Do That". The Ebb Tides came from Columbus, Ohio. Their Clark 45 may have come about as part of a deal to do a summer tour of the Ohio Valley area. The flip is "What I Say", by Gene McKay & the Ebb Tides. McKay was another singer on the tour and though the Ebb Tides backed him on the cover of Ray Charles' "What'd I Say", they did not otherwise work together.
The Ebb Tides had a second 45, the spooky novelty "Seance" (Benny Van, M. Wheeler) b/w a mystical spoken vocal, "Spirits Ride the Wind" (Benny Van) that I really like. This 45 was produced by Rudy Varju on Jar 106 from early 1967. Benny Van of the Ebb Tides became J.D. Blackfoot.
The other is the Jades "You Have to Walk" / "Island of Love", both written by Paul Helms and released on Clark CR-262 from May of '67. That group was from Herrin, Illinois, a small city southeast of St. Louis and almost 200 miles northwest of Nashville, but the publishing is also Lonzo & Oscar, and the label states that it was produced and distributed by Nugget Sound Studios, Goodlettsville.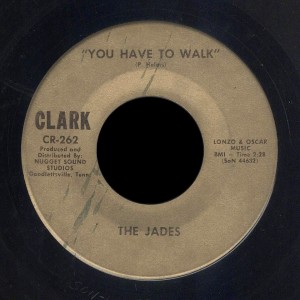 Other songs on the Clark label seem to be country, such as CR-266, Charlie Haggard's "Throw Me Out the Door".
Lonzo & Oscar were Johnny and Rollin Sullivan, whose family had started the Nugget Record company in Tampa, Florida in 1959, but Lonzo & Oscar Music Publishing had a Nashville base from the start. They bought or built Nugget Sound Studios in Goodlettsville, just north of Nashville. Most releases they recorded are on the Nugget label, and most are country.
History of the Nugget label from 45-sleeves.com. Thank you to Buckeye Beat for the info on the Ebb Tides 45.
If anyone makes a youtube video of "Now Is the Time", please send me the link and I'll include it here instead of the soundfile.