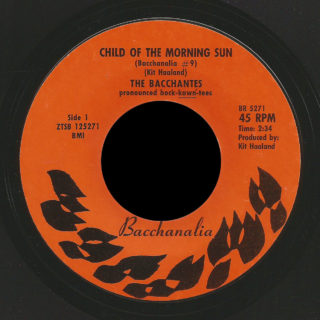 The Bacchantes were a studio creation of producer Carsten "Kit" Haaland. Kit Haaland ran the Bacchanalia label and production company in Oak Ridge, Tennessee, with enough of a presence to get a listing in the Billboard Buyer's Guide for five years running from 1968-1972, once with Tom McBryde and DanTaylor listed as Vice Presidents.
Beginning in 1967, Haaland registered a number of songs with the Library of Congress copyright office, including such intriguing titles as "Sun Machine Goddess", "Bad Dream", "Focus Your Love Lamp Baby", "Get Off Your Rock" and "I Want You, Big Man". I'd like to see the lyrics for these as Haaland seems to have had some message he was trying to deliver.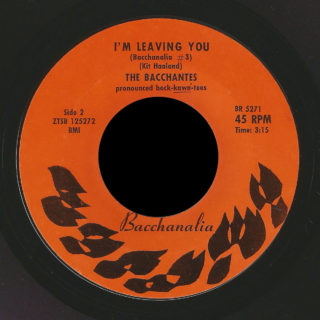 This single also appears to be from 1967. "Child of the Morning Sun (Bacchanalia #9)" was one of the first songs Haaland copyrighted. The production is upbeat baroque-psychedelic with female vocals. "I'm Leaving You (Bacchanalia #3)" has complicated shifts in tempo and melody.
Both songs were also released in a soul style with different arrangements and vocalists. This exists on a white label with blue print – if anyone has a scan of that 45 please let me know. As far as I can tell, these were the only releases on the Bacchanalia label.
If music was a dead-end for Haaland, he received much more attention for his next venture as an expert on UFO sightings. A 1975 profile in the Kingsport Times-News states "Dr. Kit Haaland is a physicist in the Oak Ridge National Laboratories, currently working on a study of how the nation might survive a hypothetical nuclear war. In his spare time, he directs a group of about 40 scientists who are establishing a tracking network for aerial phenomena [UFOs]."
I believe Carsten Haaland passed away in December 2010.