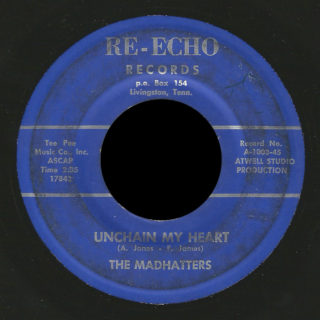 The Madhatters have the earliest single on the Re-Echo Records label out of Livingston, Tennessee, about 100 miles northeast of Nashville. The A-side was a better-than-average version of "Unchain My Heart" b/w a breezy garage pop song, "That Kind of Girl", released on Re-Echo Records 1003-45 in 1966.
T. Bradford, M. Peterman, J. Holloway wrote "That Kind of Girl" and were probably members of the band. I can't find any further info on the group.
The Madhatters – "Unchain My Heart"
The Madhatters – "That Kind of Girl"
The label reads published by Middle Tenn. Music Co. BMI and Atwell Studio Production. Unfortunately, though many other songs published by Middle Tennessee Music were registered in the '60s, I can find no copyright notice for this song or the writers.
Like many early releases on Re-Echo, this is a Rite pressing 17843/4, account number 1810. Other than the Madhatters, all other releases on the Re-Echo label seem to be either country or white gospel music.
Livingston, TN also had the Breeze Records label, based out of 209 South Church Street, with a connection to Atwell Publishing on 704 Bennett St. in Lafayette, TN, and featuring Dickey Cherry and Lonnie Holt, among others.
Re-Echo Records discography (probably incomplete)
1003 – Madhatters – "Unchain My Heart" / "That Kind of Girl"
1004 – Jim Edwards – "Talk to Your Heart" (James E. Hensley) / "If You Were My Darling"
1005 – Crownsmen Quartet – "Sweet Jesus" / "When God's Chariot Comes"
1007 – Herman Hatfield and the Tennessee Valley Boys – "Sweet Memories of You" / "He Is The Master of Us All"
1008 – Sharlet Sexton & the Tennessee Valley Boys – "I Ain't Good For Nothin 'cept Pickin and Singin" / "Boys Like You"
1010 – Leon and Earl & the Bluegrass Mountain Boys – "There Could Never Be Another" / "False Dreams"
1011 – The Poston Family – "I Remember Daddy" / "It Might As Well Be Me"
1012 – Vic Jason & the Lonely Ones – Home Again" / "To Be Free" (both by Charles 'Clint' Cravens)
1014 – Dickey Cherry and the Common People – "All But Me" (Terry Muncy) / "Anita, You're Dreaming"
45-6-2328-69 – Lonnie Holt – "Overton Hanging" / "One Little Things At a Time"
plus a spiritual album by the Four J's Keeper of the Door.