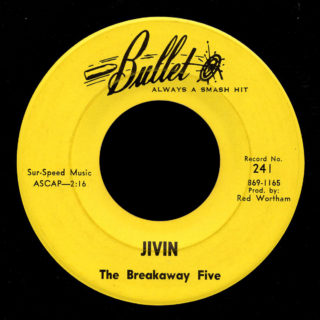 The Breakaway Five cut the great instrumental "Jivin" for Red Wortham's revived Bullet label, featuring pounding drums in the intro and great guitar work, including a quote from Hank Snow's "I'm Movin' On". The flip "I'm Gonna Walk" is a country song by F.L. Parrish, livened up by the echo on the guitar lines.
Members of the Breakaway Five included Norman Davis, Larry Davis, Larry Morgan, and possibly Ronnie Morgan. According to a comment on youtube, the band may have started as the Rivieras from Dickson, Tennessee, just west of Nashville.
Sur-Speed Music ASCAP is listed as publisher on both songs, though "Jivin" does not have any writing credit.
I'm not sure of the release date on this, but I would guess late '50s or early '60s. The label credits do not match the Villains 45s or any other Bullet 45 releases of the 1960s. The release number 241 is closer to Bullet's early 78 rpm releases by Cecil Gant and Wynonie Harris. No other Bullet 45s have similar mastering codes (869-1165/6 in this case), a production credit to Wortham, or (in most cases) lack of an address.