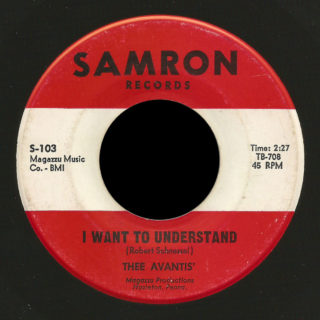 Samron Records had a great run, releasing only a handful of singles but all that I've heard are top-notch rock 'n roll. Thee Avantis' "I Want to Understand" / "Nancy" on Samron S-103, recorded in late 1965, is one of the best.
"I Want to Understand" is the kind of single I never get tired of, featuring a neat guitar hook, solid bass and drum playing, the right amount of organ and great vocals. There are fine guitar and organ breaks, the entire song clocking in at 2:27.
The other three singles on Samron are:
Samron S-101: The Wizards "Don't Trust A Man" / "Sad Little Girl"
Samron S-102: Ognir & the Night People "I Found a New Love" (Nehring, Marusak) / "All My Heart" (Nehring, Molinaro) released October 1965
Samron S-104: The Five Flys "Livin' for Love" / "Dance Her By Me"
Samron was run by Ronald Magazzu, and Sam Lesante was also involved. The first two singles listed Magazzu Productions in Hazleton, PA, while the label for the Five Flys changes the town to Coaldale, PA.
I've read Thee Avantis were from Scranton, but I found a notice in the Hazleton Standard-Speaker from March 5, 1966 listing the band for a Sunday Dance at the Fiesta Room in Hazleton, about an hour's drive southwest of Scranton.
I only know the names of three members of Thee Avantis: Nick Fata on bass and Robert Schnessel who wrote both songs, plus Tom Flanagan. Magazzu Music Co. published both songs.
Thank you to Mike K and Mike Markesich for additional info on the label in their comments.