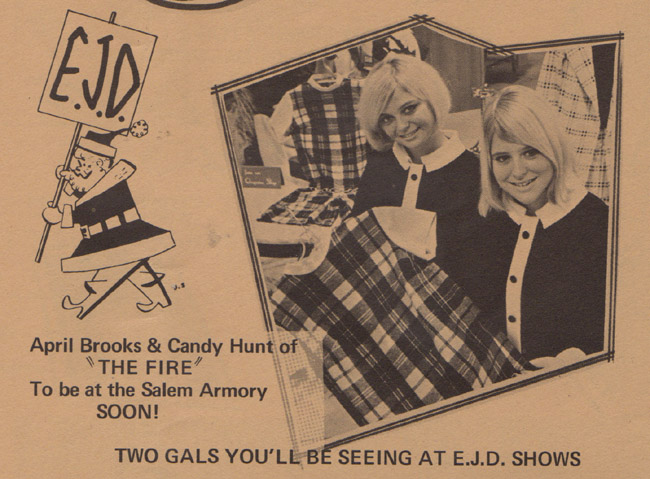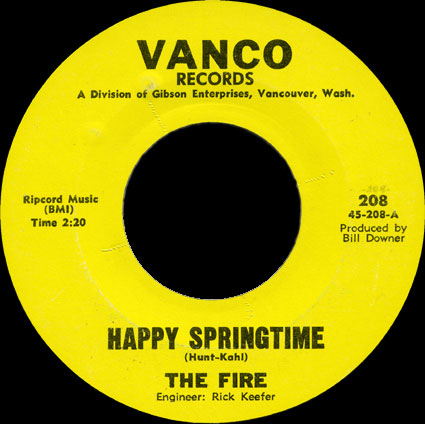 JP sent me this 45 by an Oregon group The Fire, released approximately 1968. "Happy Springtime" was written by Candy Hunt and David Kahl, but I prefer the b-side, "Sorry for Tryin'", written by Candy Hunt and Jeff Kaasted, with a neat organ solo. Both sides were produced by Bill Downer and engineered by Rick Keefer.The Fire included two female singers, April Brooks and Candy Hunt, Jeff Kaasted on guitar, David Kahl on bass, and Jerry Krauser drums. John Lessig was the original frontman and the first keyboard player, Roger was replaced by Omar Burns who also doubled on trumpet.
I spoke to David Kahl about his time with the band:
I was sixteen at the time. I never intended to join the band, I was always basically a blues lover. The Animals and Yardbirds were the only bands that had appeal for me outside the blues.

I had gotten a call to audition for this band when I hadn't actually put anything out that said I was interested. They were out in the middle of the sticks. They had a gig, needed a bass player temporarily. I agreed to join for thirty days. I stayed longer than I ever anticipated – almost a year. Getting out of class early was compelling!

We did some good rooms all over the Northwest. Opened for Don and the Goodtimes, the Sonics, the Wailers. The manager, Bill Downer … that was an appropriate name – about the slickest guy you could ever imagine … but he got us a lot of gigs.

I'd been trying to write a tune here, a tune there. The manager said "Look, Candy's got some words, we want to put out a record, give it a try." Then I heard the words! I said "Oh God!" So I wrote a decent hook and modulated a couple times knowing full well it would be vocally challenging!

Jeff was supposed to write Sorry for Tryin'. I got him interested in using the fuzztone. Once we got into the studio we were told "that will never do!"

We were a tight, well presented group. I got the guys to do a couple Hendrix and Cream tunes. My older brother was a player too, guitar and also violin; we loved the direction Clapton and Hendrix were going in. I was getting paid incredibly well, but my brother and I formed a quartet then a trio, getting paid a fifth of what I got with the Fire. They went on for another year then dissipated as well.

After I worked with Rod Price, Hubert Sumlin, Pinetop Perkins, and spent five years playing with Paul deLay, probably the best chromatic harp player in the world.
David still plays music regularly in Portland. He is now working on MyGigNet.com a social network for musicians and music professionals.
Thank you to JP for sending me the scans and transfers, and to David Kahl for speaking to me about his first band.