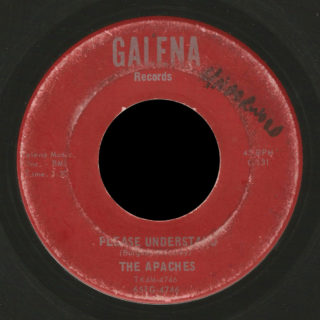 I can't find much info on the Apaches, who had one single on Galena Records out of Tulsa, Oklahoma in 1966. One side is a pleasant original song, "Please Understand" by Burgess, Tousley. My copy is too scratchy to include a sound file, sorry.
The flip is a cover of "Heart of Stone", which sounds like it features a different lead singer.
The Apaches was an RCA custom pressing, TK4M-4746/7, from late 1966, released as Galena G-131.
There was one other garage 45 on Galena Records, the Executives, who did a good original, "Why Make Me Cry" by T. Carter, Brock, Hoffman, G. Carter, Teaff, b/w "I'll Feel a Whole Lot Better When You Are Gone", also released in 1964.
Though the label for "Please Understand" lists Galena Music BMI, I can't find copyright registration with the Library of Congress, or for the Executives song.
I find a number of registrations with Galena Music from 1964 and 1965, including: "Just Another Night", "Gonna Find Me Someone" and "Moon Girl" by Roy L. Ferguson and Leroy Duncan, "Tear Drops" and "This Same Old Heart" by Sam Barrett, "Lonely Hours" by Roy Ferguson, Lercy Duncan and Autry Rutledge, "My Castle by the Sea" by David Vowell and Autry Rutledge, and "Back Up, Back Out" by Roy Ferguson, Leroy Duncan and Connie Rutledge, but these all seem to be country or pop music.