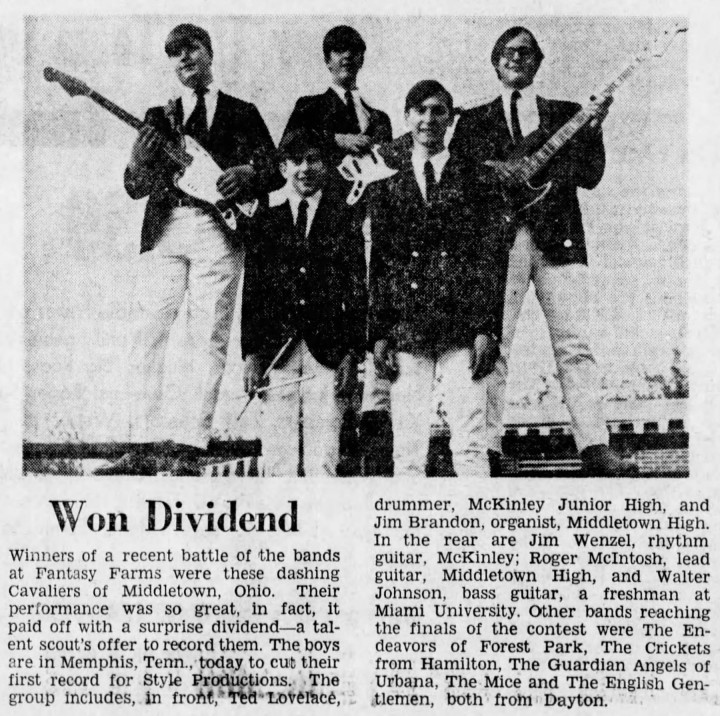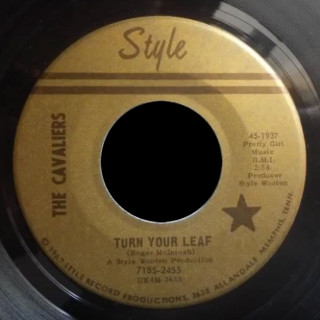 The Cavaliers, often listed as from Tennessee, were actually from Middletown, Ohio, a town roughly halfway between Dayton and Cincinnati.
Members were:
Roger McIntosh – lead guitar
Jim Wenzel – rhythm guitar
Jim Brandon – organ
Walter Johnson – bass
Ted Lovelace – drums
Two of the band were students at Middletown High, one was a freshman at Miami University, while the Cavaliers' drummer and rhythm guitarist were in Junior High!
The group won a battle of the bands at Fantasy Farm, a kids amusement park next to the larger Americana Amusement Park in Middletown, that led to their recording their single on Style.
The Cincinnati Enquirer profiled the band on the same day they were in a Memphis studio, Saturday, September 16, 1967:
"The boys are in Memphis, Tenn. today to cut their first record for Style Productions."
"Turn Your Leaf" is excellent pop, I've only heard it on a youtube video which has since been taken down. If anyone has a good quality recording, please contact me.
I haven't heard the flip, "W.F. 67" described by Teenbeat Mayhem as a "military tempo instro". Roger McIntosh wrote both songs.
Style Record Productions was one of Style Wooten's many labels, and Pretty Girl Music BMI was one of his publishing companies. Mellow's Log Cabin has an interesting biography of Style Wooten, along with extensive discographies for his record labels.
The Cavaliers from Middletown do not sound quite like the group of that name from Washington Court House, Ohio, who cut "You Are My Sunshine" b/w "Unchained Melody" for the Sound label.
The Enquirer article mentioned a few groups also competing at Fantasy Farm:
"Other bands reaching the finals of the contest were The Endeavors of Forest Park, The Crickets from Hamilton, The Guardian Angels of Urbana, The Mice and the English Gentlemen, both from Dayton."
I'm not aware of any recordings by those groups, though given the Memphis connection, it's possible the Mice are the same group that recorded "Think It Over" / "Norweigan Wood" for Bootheel Records, part of Fernwood.