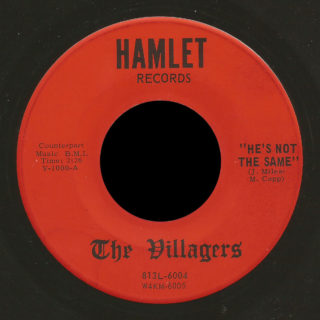 There were a number of groups called the Villagers around the country, but these Villagers came from Dayton and cut only one record, the endearing garage original "He's Not the Same" b/w the melancholy "Sunshine My Way".
Released on Hamlet Records V-1000 in 1968, the Villagers are a mystery other than the info on the labels: authors J. Mills and M. Copp, publishing by Counterpart Music, BMI, the code 813L which was Counterpart Records account number with RCA custom pressings, and W4KM-6004/5 (indicating a RCA custom pressing from the first half of 1968).
Library of Congress copyright records give one name, Janis R. Mills, who copyrighted "He's Not the Same" on January 5, 1968, and "Sun, Shine My Way" (notice the different rendering of the title) on May 20, 1968. M. Copp is not in these copyright listings.
BMI's database lists Janice Mills and Michael Copp. The spelling of her name as Janice certainly is a mistake on BMI's part, as BMI attributes two recent country songs by Janice S. Mills from Alabama to the author of "He's Not the Same". It wouldn't be unlike BMI to conflate two similar names.
Strangely, BMI lists "He's Not the Same" and "Sunshine My Way" as registered to Piagneri Music in Astoria, NY, even though Counterpart Music is still active in Cincinnati.
I can find no listings or articles on the band from that time, so it's possible they were not even a semi-professional band or one that would play battle-of-the-bands. Maybe Janis Mills wrote these songs and brought them to the attention of Counterpart, which had Michael Copp arrange them with some local group or musicians.