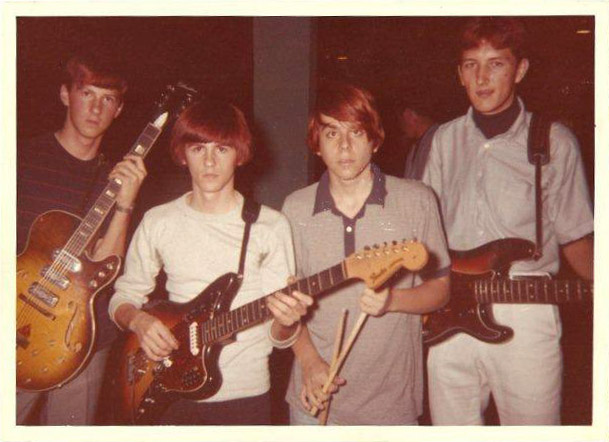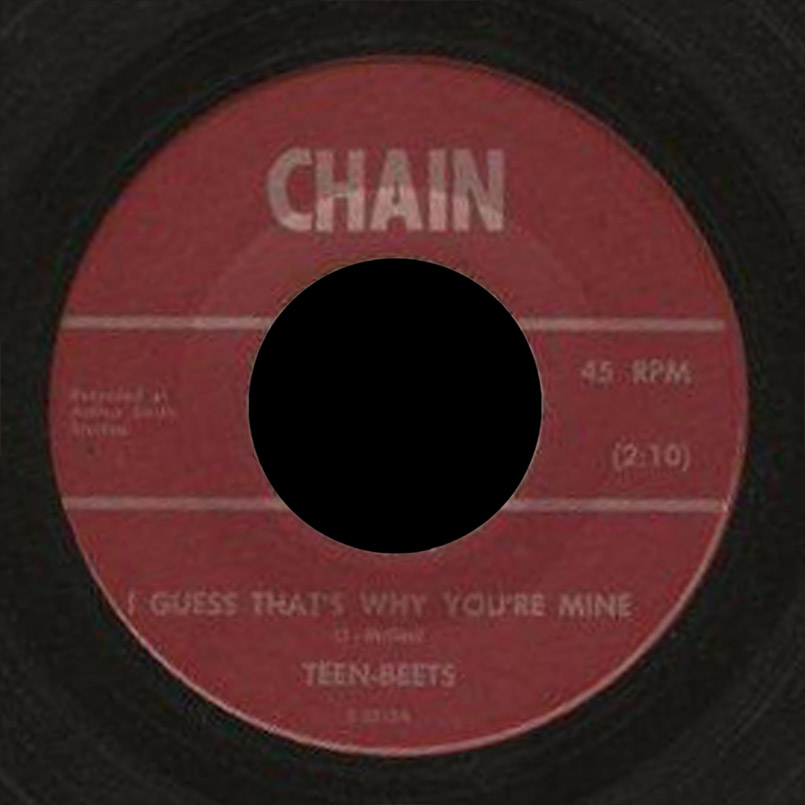 The Teen-Beets of Winston-Salem, North Carolina released four fine records, the first three featuring original songs by vocalist and guitarist John McGee along with covers of Barbara Lynn's "Oh Baby".Drummer George Samaras sent in these cool photos and clippings and told me about the group:
The band was formed in Winston-Salem, North Carolina at the end of 1964. The original line-up consisted of two brothers, John McGee (lead guitar & lead vocals) and Ken McKee (rhythm guitar & lead vocals). The two other band members were Paul Doby (bass guitar) and me – George Samaras (drums).

By the summer of '65 we had recorded our first record at Arthur Smith's studio in Charlotte, NC ("I Guess That's Why You're Mine" / "Not In Love With Me") and released it on our own label, Chain Records. It received considerable local air play and reached #20 on one of the local radio stations top 40 list. Around this time we all dyed our hair bright red (as in Teen "Beets") to attract attention. It worked!

Our second local release ("I Should Wait" / "Oh Baby") was also recorded at Arthur Smith's studio and released on Chain Records. Although it received considerable local air play it did not chart.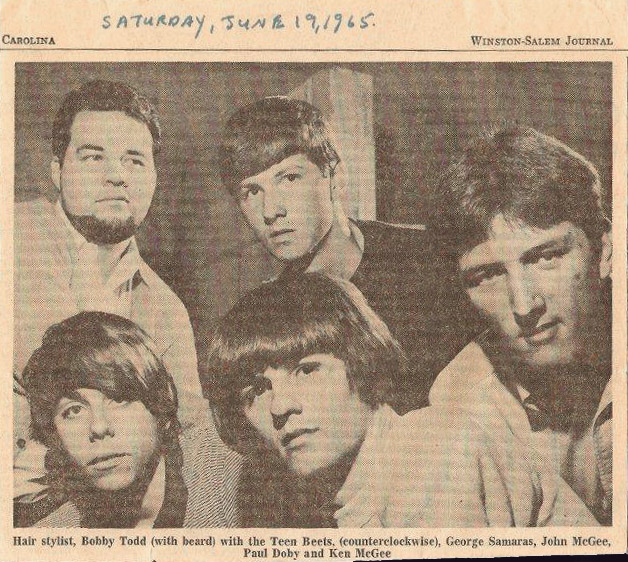 We stuck with the bright red hair and high energy stage shows achieving local notoriety. We also had a change in the band membership. Paul, our bass player, was replaced by Stan Ratcliffe.

In early '66 we traveled to Nashville, Tenn. and re-recorded "Not In Love With Me" and "I Should Wait" in Fred Foster's Sound Studio for Tree Publishing Company. It was released on Dial Records under the name the "Beets" but quickly faded into obscurity.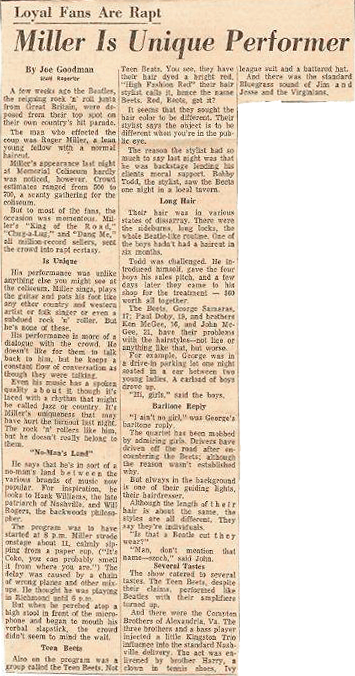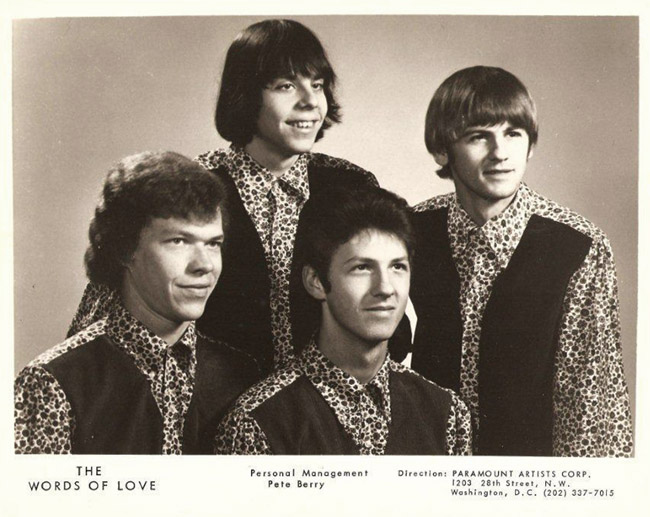 Soon afterwards, management of the group was taken over by Pete Berry – a local DJ and program director better known as the Flying Dutchman. Under Dutch's guidance we got rid of the red hair and changed our name to the "Words of Luv" and returned to the studio to record "I'd Have To Be Outta My Mind" / Tomorrow's A Long Time".

Dutch was able to get us signed with a booking agency in Washington, D.C. and also with Hickory Records for a four record deal. We went on the road playing up and down the east coast. Hickory Records released "I Have To Be Outta My Mind". While the record received good reviews in Cashbox and Billboard magazines, it only received limited air play on the national scene.

In order to earn a living, Paramount kept us booked steady in real night clubs (usually a week or two at a time) which gave a break from doing one nighters all the time. Also, we would occasionally back up some of Paramount's fading stars. We worked with Little Eva a few times, she had a national hit called "The Locomotion" about five years prior to that time. Whenever we were with her we were the Locomotives. Also, with Jimmy Jones a couple of times. Jimmy had two national hits a few years before that – "Handyman" was his first and then "Good Timing". With Jimmy we were the Handymen.

The promotion picture of the "Words of Luv" has the name of the band misspelled – "Love" instead "Luv". It was the printer's mistake and Paramount Artists made them redo the entire order. Mistakes seemed to follow us around. When Hickory Records did the initial pressing of promotion copies for "I'd Have To Be Outta My Mind" they accidently put the plug side star on the flip side and starting sending it out to radio stations before they caught their mistake. Because of this, they had to do another promo pressing and start sending it out again.

Promo sheet showing later member "Fab" Foltz

We didn't get all the way up to Montreal. We only toured on the U.S. side of the border and the closest we played to Canada was upstate New York. As I recall, the very first gig booked through Paramount Artists was in Massena, New York (right on the Canadian border). We traveled extensively up and down the eastern seaboard (north and south), but only as far north as New York. I guess "Montreal to Miami" just sounded good to whoever wrote that promo sheet. However, we did go just about everywhere in-between.

We did a few TV shows: Some local shows in North Carolina, a show called 'Wing Ding" in Washington, D.C. and a syndicated show (taped in Maryland) called the "Kirby Scott Show". We also played a lot of teenage night clubs, dances and auditorium shows.

We had a fifth band member for a short period of time on the road. His name was Doug Foltz (nick name: Fab). Fab played electric piano and also sang lead.

By the early Fall of 1967 the road was taking its toll and the band broke-up. Although we had recorded a few more songs, due to the band's break-up, they were never released. They were independently produced by Flying Dutchman Enterprises and I don't know whether or not they were ever turned over to Hickory Records. I'm sure those master tapes are long gone by now.

"I'd Have To Be Outta My Mind" was re-mastered and put on Garage Beat '66 Vol. 1 three or four years ago. It was a CD released by Sundazed Records. Our local releases were put on Tobacco a Go Go (Blue Mold Records) several years back.

Even though I later played in a few other road bands, and still occasionally play locally on weekends, my fondest memories will always be of the Teenbeets.

One more thing – I came across an interview that Ken Friedman of Tobacco A Go Go did a little while back. He was relating the story of the Teenbeets as one of his favorite garage band stories. In the interview Ken said he had met one of the former band members back in the 1980's and that person was now a Moravian minister after finding religion on the battlefield in Viet Nam. Ken misidentified that person as the drummer. In actuality it was Paul (our original bass player).

George Samaras
Review of Hickory 45 in Cash Box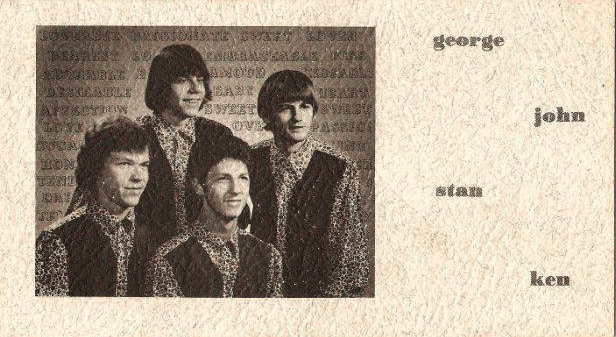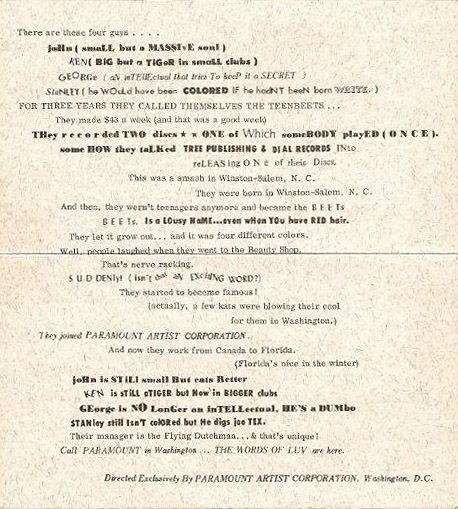 Thank you to George Samaras for photos and scans.