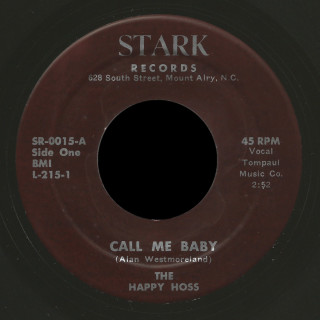 Stark Records in Mount Airy, North Carolina is famous for the single by the Nomads, "Not For Me" / "How Many Times" as well as a good rockabilly 45 by David Southerland and the Southerns. I don't have the Nomads, but I've picked up this oddity, a soulful and very crude single by the Happy Hoss, which seems to be a pseudonym for song writer Alan Westmoreland.
The top side is "Call Me Baby", the vocalist shouting out the repetitive lyrics in a hoarse voice (ha ha) answered by high-pitched backing vocals. The flip "You're The One (I Love)" is a ballad with saxophone.
Mount Airy is a small town very close to the Virginia border, 37 miles northwest of Winston-Salem. Stark Records had at least fourteen singles and a couple albums. The label seems to have been run by Thomas Paul Stark, as every release has Tom Paul Music Co. BMI in the publishing.
The Nomads single is their first, and they recalled the studio being in a basement when they cut their 45 and demos. Their next 45 "Thoughts of a Madman" / "From Zero Down" was released on the Tornado Records label (Tornado 159 in April of 1967), which also featured a release by Joe Stone and Bobby Atkins (Tornado T-136, "Mister Bluegrass") who have a 45 on Stark. Tornado Records was similarly dominated by country releases.
Stark Records Discography (any help with this would be appreciated):
Stark S-001 – Cara Stewart with Lee Hudson Orchestra – "My Darling" / "Be Sure That You Mean It" (both by Jerry Thomas, W-300/W-301)
Stark SR-002 – Joe Stone and Bobby Atkins & the Dixie Mountaineers – "Love Is A Lot To Understand" / "Bob's Special"
Stark SR-003 – Bobby Atkins & the Farm Hands – "Lonesome Banjo" / "My Darling And Me"
Stark SR-004 – The Country Cousins – "Wrong Side Of Town" / "Bought Me A Farm"
Stark SR-005 – David Sutherland and the Southerns – "You Better Leave My Baby Alone" (Sutherland) / "Whispering Bill" ("A Product of Pilot Record Co.")
Stark SR-006 – Randy Scott – "If Seeing Is Believing" (David Sutherland) / "You've Lost Too Much"
Stark SR-006 EP – Siney Ann Wooten – "Darling You Don't Love Me Anymore" (Paul Johnson, Johnny Long) / "Crazy Mixed Up Town" (David Sutherland)
I believe the A-side of the EP repeats the two songs from the Randy Scott SR-006 single, but I need confirmation of that.
Stark SR-007 – Randy Scott – "So Welcome to the Club" / "Back Up Troubles"
Stark SR-008 – Bob Hastings – "Crazy Mixed Up Town" (David Sutherland) / "Two Kings and One Kingdom" (Johnny Long)
Stark SR-009 – The Nomads – "How Many Times" / "Not For Me" (Bruce Evans, Larry Deatherage, Tom Paul Music Co. BMI, July 1966)
Stark SR-0010 – Intellectuals Combo – "Our True Love" / "That Ain't Nice" (instrumental, written by Mike Dee Love)
Stark SR-0011 – Siney Ann – "I'm So Lonesome (I Could Cry)" / "I Can't Help It (If I'm Still In Love With You)"
Stark SR-0012 – Jimmy and Wesley and the Twin County Pardners – "Make Me A Pallet On The Floor" / "The World Is Still Waiting For The Sunrise" (Jimmy Arnold and Wesley Golden)
Stark SR-0013 – Hank Riley – "Record Of Heartbreak" / "Consolated Egotated Love"
Stark SR-0014 – Deep Valley Boys – "Please Don't Honey, Please" / "Some Dark Hollow"
Stark SR-0015 – The Happy Hoss – "Call Me Baby" / "You're The One (I Love)" both by Alan Westmoreland, Tompaul Music Co.
Stark SR-0016 – Four Souls – "Freedom Bound" / "Louise" (both by Paul Cain, Dennis Inman)
Stark SR-0017 – Tony Zito – "Hide Away Moments in Prayer" / ?
Stark SR-0018 – Bobby Atkins – "Memories Of President John F. Kennedy" (Paul Johnson) / "Love Valley" (1968, recorded by Lookabill's Studio, Greensboro)
Stark SR-0019 – Don Sawyers and the Grangers – "My Favorite Way to Cry" (Larry D. Alderman – Don Sawyers, vocal by Larry D. Alderman and Don Sawyers) / "Imagination Trapped Within My Mind" (Don Sawyers, vocal by Don Sawyers) 1970
Stark SR-0020 – Carl P. Tolbert – "Liquor By the Drink" / "Changing of the Time" (1974)
Stark 100 – Pete Holden & the Baux Mountain Boys – "Truck Driver's Vow" / "Legend Of Charlie Monroe"
LPs:
Stark SR-200-1 – Easter Brothers & the Green Valley Quartet – Bluegrass & Country Hymns (1967)
Stark SR-0001 – The Carolina Gospel Singers (1969)
Most of Stark's output was country music, but as Bob pointed out in a comment below, the first release on Stark seems to be a lush arrangement of song-poems: see The Wonderful and the Obscure for more info. This single has light blue labels and a 1301 Park Drive address.
Other early singles have deep red labels and give the address as 1312 Summit Drive, Mt. Airy, North Carolina. Later ones read 628 South Street, Mount Airy, N.C. Later singles were produced by Paul Johnson.
Max Waller writes: "The Intellectuals had at least one further 45, "I Don't Want To Cry" (as Mike Watson & the Intellectuals) / Danny Boy (as Glenn Wall & the Intellectuals) on M.K.B. 120 from Jan 1968 (SO 4898)". MKB Recording was located in Tobaccoville, NC, just northwest of Winston-Salem.
Thank you to Max Waller, Lightnin' Wells and Franz Kunst for help with this discography.