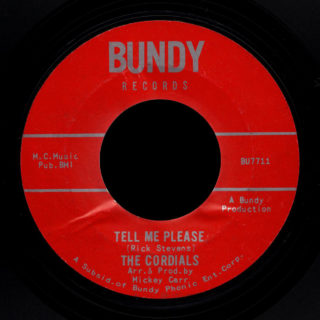 The Cordials recorded for the Bundy label of Freeport, New York. They may have been a local group, but Freeport is not far from Brooklyn, so the group could have been from anywhere in the New York metro area.
The Cordials cut a fine version of "Misery", originally done by the the Dynamics on their 1963 single on Big Top. I prefer the flip, "Tell Me Please", a moody original with great harmonies, written by Rick Stevens and published by M.C. Music Pub. BMI.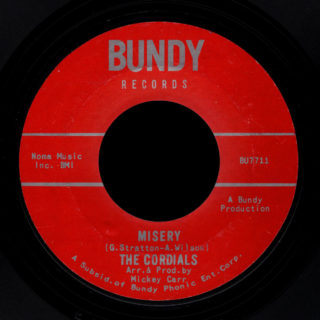 An article in Cash Box from August 7, 1965 gives an approximate date for the Cordials release and some background on Bundy:
"Bundy-Fonic Expands"

Mickey Carr, top man at The Bundy-Fonic Corp., is in the process of expanding the firm's activities, and has appointed Bob Spina to veep and Clarence Finnell as A&R boss.

The diskery, with Dee Dee Records as a subsidiary line, will be offering two new releases, the first tagged "Misery" b/w "Tell Me Please" by the Cordials, and another by the Diablos, the titles on which will be announced at a later date. Both disks will be on Bundy Records. The address of the firm is 22 Pine St., Freeport, L.I.
Although Bundy had a 1962 release by Ray Artis, "Dear Liz" / "Wella-Wella" (Bundy BU-222), I haven't found the Diablos single or anything else on Bundy. There were several record companies called Dee Dee, and I'm not sure if the one mentioned in the Cash Box article actually released anything.
The Cordials is a styrene 45, released on Bundy BU7711, Mickey Carr gets credit for arranging and producing both sides, and Bundy is listed as a subsidiary of Bundy Phonic Ent. Corp.