The Penetrators came from Crown Point, NY, on the west shore of Lake Champlain above Ticonderoga.
Members included Dan Rabideau and Larry Rabideau, Kim Joiner and Joe Dugan on bass. John Hoffman seems to have been a later member of the group.
In March of 1968 they made their first record, the cool garage original "I'll Make You Mine" by Dan Rabideau and Kim Joiner, backed with a good instrumental, "Splitter Splatter" by Dan Rabideau and Larry Rabideau.
The 45 came out on Ferus Records FR 4958. Ferus had an address of 64-12 60th Pl., Brooklyn 27, New York. Tommy Wilde produced the single, I'm not sure how the band came to find Ferus.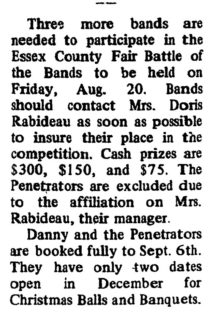 This is a styrene 45 with the Columbia custom pressing code ZTSP 124958/9. Both songs published by Ferus Music BMI.
As Danny and the Country Penetrators they put out a single that I haven't heard, "She's My Mother-In-Law" / "I'll Be Waiting" on Delta Records in June of 1968.
The band was well known locally as as Danny and the Penetrators. They appeared on the Ted Mack Amateur Hour and continued with local bookings into the 1970s.
From a 1971 news item, it appears the Rabideau's mother Doris managed the band.
Info on the band from a Port Henry forum. Thank you to Anthony M. for the original 45.
I'll be selling records including some local singles (but not this one!) at the Albany Record Riot this Saturday, October 28, 2017. Click for more info.
Anyone have a photo of the group?