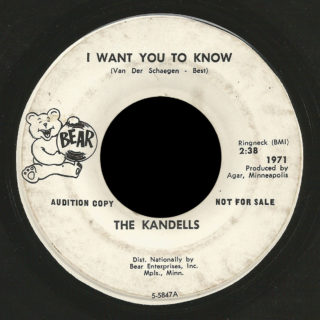 The Kandells, or Kan Dells came from the small town of Sandstone, Minnesota, just off I-35 a little more over halfway between Minneapolis and Duluth. Members included:
Gene Best – lead guitar
Bob VanDerSchaegen – rhythm guitar
Pete VanDerSchaegen – bass
Sam Burch – keyboards
Jay Best – drums
Lost and Found #3 has photos and a long story on the Kan Dells. Many photos of the group are available on their website.
About 1959, Bob VanDerSchaegen started playing guitar with his school friend Jim Hagford in the Problems. That group changed into the Turbans, adding Sam Zabori on drums and Milf Johnson on bass. When Milf quit the band, Bob had his younger brother Pete VanDerSchaegen take over the bass. After the Turbans broke in 1962, Bob and Pete met up with Gene Best and his cousin Jay Best, and together they formed the Kan Dells, soon adding Sam Burch on keyboards.
The group started performing at local youth dances, gaining a manager in local English teacher Noble MacVey, who fronted money for new equipment for the group. Notable gigs included a Battle of the Bands in Duluth and a show at the federal prison in Sandstone.
In late 1964 they went to the basement studio of Ron Gjerde, owner of Agar Records in Minneapolis, who subsidized studio time for the band as they worked up their original songs, first "Cloudburst", then "Cry Girl". Their first record was released on the Boss label in January 1965, reaching #10 on KDWB.
Both sides of the Boss 45 are excellent, but I'm most interested in their second single, "I Want You to Know", which has a perfect garage sound but has remained a lesser-known song, at least compared to "Cry Girl". Like the first the Kan Dells recorded this at Ron Gjerde's studio.
The flip "Do You Know" is a moody sound. Both songs were originals by Van Der Schaegen – Best, publishing by Ringneck BMI and released on Bear 1971, in October 1965.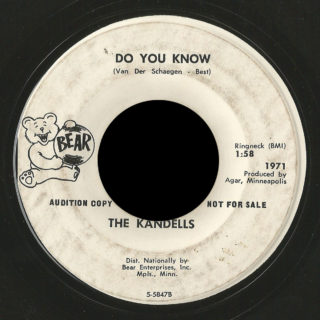 Unlike their first, this single was not a hit, possibly because the band refused to let Lou Reigert of KDWB take over management of the group. It's become a rare 45, with white label promotional copies outnumbering the yellow label stock copies.
In the fall of '66, Jay Best and Sam Burch left for college. The band found Wayne Cooper and occasionally Bill Sandwick to fill in on drums, but soon broke up, partly because Pete VanDerSchaegen had started commuting to school in Duluth. Gene Best joined a group called Hereafter.
Eight of their recordings went unreleased until a couple of 7″s in the 1990s and a full CD release done by the band in the early 2000s. These include the Gene Best original "Shake It Baby", Pete VanderSchaegen's "I've Met Death", Sam Burch's original "Lucky Day" and Bob VanDerSchaegen's song "It Is to Laugh". All of these and others are available for listen on their website and I recommend checking them out.
Other singles on Bear include the (Bear 1968), and the Castaways "I Feel Fine" / "Hit the Road" (Bear 2000).
Bear Records discography (any help with this would be appreciated):
Bear 1965 – Michael's Mystics – "You Ran Away" / "Hi Bird" (April '65 – Kaybank 5-5123, DR-6503-121A/B)
Bear 1966 – Trashmen – Keep Your Hands Off My Baby" / "Lost Angel" (April '65, Kaybank 5-5128)
Bear 1967 – ?
Bear 1968 – Countdowns "You Know I Do" (L. Barrett) / "Strange Are the Shadows" (C. Sleichter) (Aug. '65,  Kaybank 5-5552)
Bear 1969 – Five Tymes – "Hold Me Now" / "Around And Around" (Aug. '65, Kaybank 5-5609)
Bear 1970 – The Four of Us – "Liza (Hear Me Call Your Name)" / "Hot Buttered Watermelon" (Sept. '65, Kaybank 5-5673)
Bear 1971 – Kandells – "I Want You to Know" / "Do You Know" (Oct. '65, Kaybank 5-5847)
Bear 1972 – Red Tuck – "Heart Of The U.S.A." (Richard Cairo) /"Power Line Man"
Bear 1973 – Joey Strobel And The Runaways – "What Good Is Love" / "Sax Shuffle" (Jan. '66, RCA T4KM-4488)
Bear 1974 – Coachmen – "Mr. Moon" / "Nothing At All" (Jan. '66, Kaybank 5-5869 or RCA T4KM-1723,SK5M-2955)
Bear 1975 – Marv Dennis IV – "The Hurt Will Go Away" / "Honeycomb" (RCA T4KM-4763/4)
Bear 1976 – Coachmen – "I'm a King Bee" / "Linda Lou" (Aug. '66, Kaybank 6-6757)
Bear 1977 – Accents – "No One Heard You Cry" / "Your Time Has Come" (Oct. '66, Kaybank 6-7015)
Bear 1978 – Precious Few – "You Don't Need Me" /"London Town" (Sept. '66, Kaybank 6-7016)
Bear 2000 – Castaways "I Feel Fine" / "Hit the Road" (July '67, Kaybank 7-7745)
Bear 2005 – Gene And Brandon Davis – "Poppy's Boy"
Thank you to Max Waller for help with this discography.