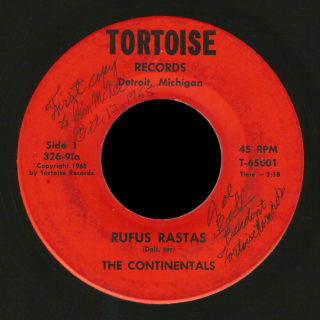 The Continentals cut two fratty originals, "Rufus Rastas" / "Donna" on Tortoise Records. I found a copy with an inscription on the "Rufus Rastas" label "First copy to Jim McKee, Oct. 12, 1965 … Joe Doll, President, Tortoise Records".
I wrote to Mr. Doll and he while he didn't recall Jim McKee, he replied,
I was president (and janitor, too!) of Tortoise Records. I began college at Ohio Wesleyan University in Delaware, Ohio in 1963, then transferred to U. of Michigan in Ann Arbor in 1966 to complete my Electrical Engineering degree.

I most likely met the Continentals when they were entertaining at one of the numerous fraternity/sorority parties in Delaware. Too bad, I have no recollection or documentation of the band members. I do remember the general parameters of the recording session with The Continentals, at the WSLN studios in Delaware, OH, north of Columbus. I also remember thinking at the time that their "Rufus Rastas" made a pretty good side. I don't think we did a test pressing, so what you found was probably the top copy in the shipment from the pressing factory.

When it was over, they departed with their box of pressings and we had no further contact.
Tortoise Records was named for the very first band on the label, the Turtles, with their "Pungfoo Watusi" from 1964:
"Pungfoo Watusi" was the not-very-carefully-conceived B side of "Pungfoo". It was the first record I produced.
 
"Pungfoo" originated with me and some fraternity brothers fooling around with a piano, sax, and drum set in the parlor of our fraternity house. We whimsically called ourselves Tuggy and the Turtles. The original title and lyric was "Fungu". It was a made-up word, but someone thought that meant something bad in another language. One unreleased recording is "Fungu" recorded on cheap equipment in the fraternity house.
 
The record was taped at Fortune Studios in Detroit. I played piano, whistled, and hollered into some sort of trash can. Jim Guiness played saxophone. Our usual drummer, "Tuggy," could not make it, so we picked up a drummer in Detroit. That's why the group name is just The Turtles. A couple others assisted with clapping, which I believe we overdubbed. 

I had done some work for the [Fortune] studio the previous summer, and they allowed me to use it without charge. I didn't do a lot of work there, just came in to help them adjust and maintain their equipment from time to time.
  
Frank Uhle, who took on the project to do a 50th Anniversary re-release of the Beau Biens record, at one time contemplated a vinyl album that would contain some unreleased material. I have about a half hour of covers recorded by the Mark V, a pretty good rock band that played fraternity/sorority parties at Ohio Wesleyan.  I recorded them in the WSLN studios, like the Continentals. There was an outfit called the Crystal Set Radio Band for whom I taped several tunes, originals I believe, in the WCBN studios. Ken Phillips, a U of M student, recorded with a small group a couple of tunes he had written and had them pressed as a demo record.
Joe Doll would become a DJ at WCBN at the University of Michigan, Ann Arbor, where he would record the Aftermath and the Beau Biens on Malibu Records. For more info please look at Joe's website.
Tortoise Records discography:
Tortoise T 64001 – Turtles "Pungfoo" / "Pungfoo Watusi" (both by Joe Doll)
Tortoise T-65001 – Continentals – "Rufus Rastas" / "Donna"
Tortoise T-66003 – Aftermath – "Messing With the Kid" / "Bury My Body" (Campbell, Connelly)
Malibu MB-67001 – Beaubiens (aka Beau Biens) – "Times Passed" (arr. by Salvo & Palazzolo) / "A Man Who's Lost" (both by Kleene & Tapert, Linnoah Music BMI, produced by Joe Doll)
A special thank you to Joe Doll for his help answering my questions and allowing me to quote him.