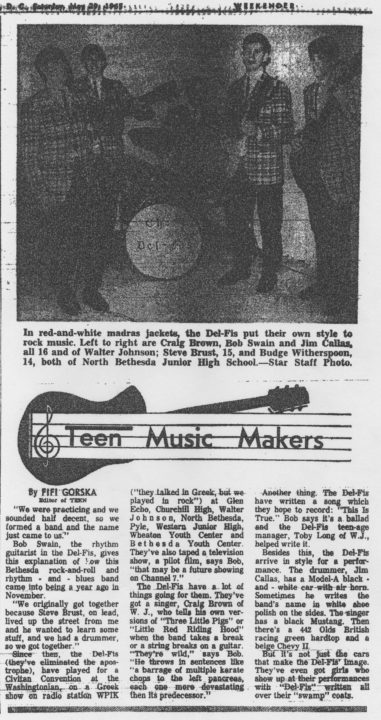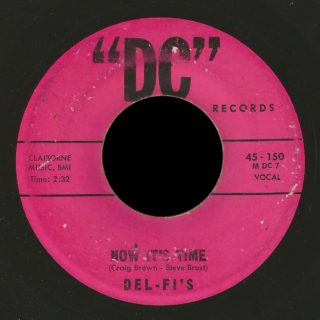 The Del-Fis formed in Bethesda, Maryland in 1964. Members were:
Craig Brown – lead vocals
Steve Brust – lead guitar
Bob Swain – rhythm guitar
Budge Witherspoon – bass
Jim Callas – drums
Fifi Gorska penned an article on the band for the Teen section of the Washington Evening Star on Saturday, May 29, 1965. The article has some great quotes from Bob Swain: "they talked in Greek, but we played in rock" (when the band appeared on WPIK's Greek show), and his description of singer Craig Brown making up new versions of nursery rhymes, "sentences like a barrage of multiple karate chops to the left pancreas, each one more devastating than its predecessor" [what's the left pancreas, anyway?]
There's also a list of their cars (Model A, Ford Mustang, 442 Olds and Chevy II) and mention of girls wearing the Del-Fis name on their "swamp" coats (long rain coats, a fashion fad in 1964).
At the time of the article, Craig Brown, Bob Swain, Jim Callas were students at Walter Johnson High School; Steve Brust and Budge Witherspoon attended North Bethesda Junior High School, all were between 14 and 16 years of age. Their manager was Toby Long, a fellow student at Walter Johnson.
In August of 1965, the band went into the studio to record two original songs for Lillian Claiborne's DC Records. Craig H. Brown and Steven N. Brust copyrighted both songs in August, 1965. The great side is "Now It's Time" with it's chiming guitars, excellent rhythm section and perfect teen vocals.
The flip is "Without You", a harmony ballad with a finely picked melody, a good one for the slow dance, I guess.
DC Records released this with two label colors: yellow and the pink/fuschia seen here. The article says they did away with the apostrophe in Del-Fi's but there it is on the label.
I found the article at top 12 years ago while scanning through the microfilm of the New York Public Library, but hadn't put it together with the band on the DC single until now. If anyone has a better quality photo please contact me.