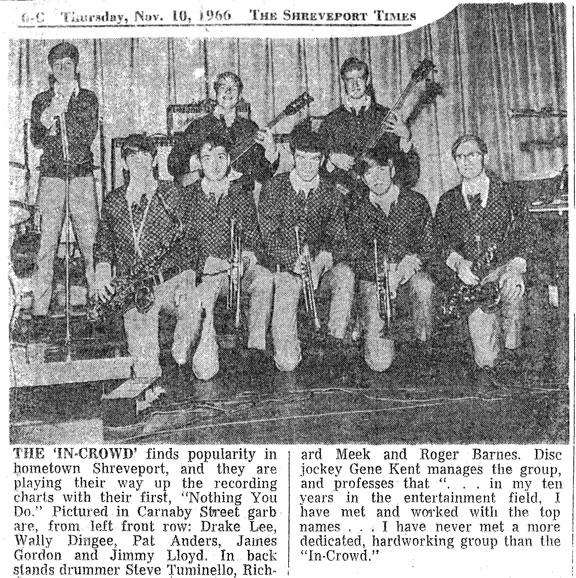 This is actually the very first record released on the Ronn label, a subsidiary of Jewel, based in Shreveport, Louisiana. "Nothing You Do" is fine garage-soul, and though there are horns, the vocals, keyboards and driving rhythm remind me of the Music Machine more than anything else. It was written by Roger Barnes and produced by Gene Kent and Don Logan.
Barnes usually wrote soul or funk music, and in fact, the In-Crowd may be the only white artists in the whole Ronn catalog. A good version of "Midnight Hour" is on the flip.
I'm pleased to say I've been in touch with Steve Tuminello, the drummer for the In Crowd, so I'll let him tell the In-Crowd story in his own words:
I was 17 years old when we cut that record at Robin "Hood" Brians studios in Tyler, Texas. Band members on the record were:

James Gordon – Vocalist
Roger Barnes – Keyboard and Vocals
Steve Tuminello – Drums
Drake Lee – Guitar and Bass
Richard Meeks – Guitar and Bass (He is on the fuzz tone lead guitar solo)
Jimmy Lloyd – Tenor Saxophone
Wallace Dingee – Trumpet
Pat Anders – Lead Trumpet

Don Logan and Gene Kent were our managers and promoters of the shows we played. They called them dances, but the kids back then would stand in front of the band and "sweat" the band as they called it. It was kind of like playing a small concert because the halls we played would hold around a 1000 people.

Gene Kent and Don Logan were the top DJ's in Shreveport, Louisiana at AM 710 KEEL Radio in the 1960's. Don Logan also was a record executive with Jewel/Paula/Ronn Records. Stan Lewis founder of Jewel/Paula/Ronn records.

I remember Don Logan telling us we had to change the name of the band because we broke the Billboard top 100 (This was late 1966 and the first year Billboard had this designation) and we were being sued by a band named the In Crowd in California. I suggested we change the name to the Inn Crowd. I had the name painted on my bass drum and this was an easy fix. I believe the song hovered around the 10 or 11 mark on the regional charts, as I recall. I didn't even know we were played outside of Ark-La-Tex.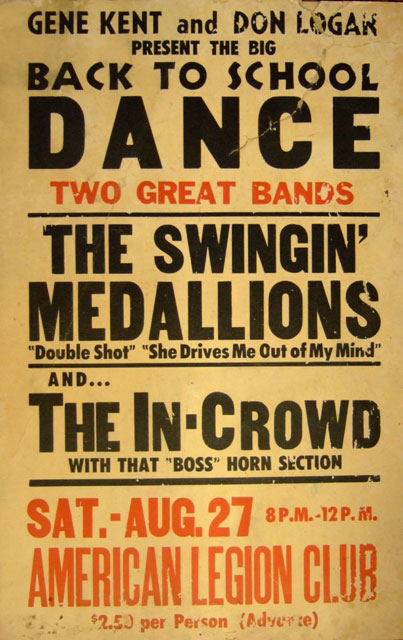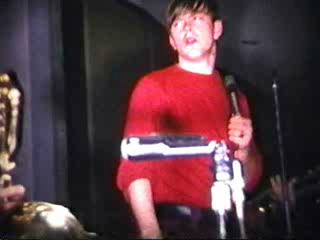 We became local celebrities and the attendance to our shows increased dramatically. We were just a bunch of high school kids but we were booking for a large amount of money for those times. We used to make a $100 per night each and in today's dollars that would be around $500 per night.

Roger Barnes and Drake Lee are still in Shreveport and I'm not sure about the rest of the band members. I have often thought a reunion would be a lot of fun. As you mentioned we were a blue eyed soul 8 piece horn band playing R & B covers. "Nothing You Do" was not really our style but was fitting for the AM radio waves in late 1966.

My Uncle, A.J. Tuminello, who taught me to play the drums at age 5, was the original drummer on Dale Hawkins' Suzie Q, and was involved in the origination of the tune. He was not available on the date of recording so Stan Lewis had his younger brother Ron Lewis fill in for my Uncle in the studio. Ron Lewis is the namesake for Ronn Records.
"Nothing You Do" reached #19 on KEEL in Shreveport in January of '67.This In-Crowd has nothing to do with the many other In/Inn Crowds around in the '60s, including the Inn Crowd that featured Hal Ellis (of John Fred's band), that had three 45s for the Montel – Michelle label.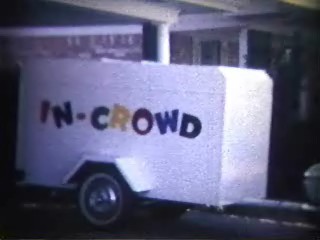 Despite having recorded at Robin Hood Brians studio, they were also not the In Crowd with Jim Glaves and Bobby Rambo on guitar that released a 45 on Abnak and became the backing band for Jon and Robin.
Wally Dingee and some other members continued the band with Bill Wray on vocals, eventually renaming it to Bill Wray and the Showband Royale. They had a 45 called "For Our Friends" on the Readie label that I haven't heard.
Thanks to Steve Tuminello for his history of the band and the news articles, and to Wally Dingee for the poster and stills from the Super 8 film of the band.