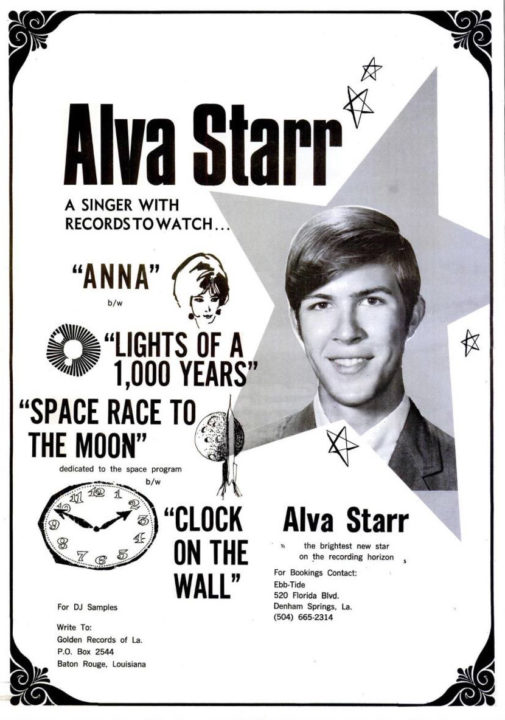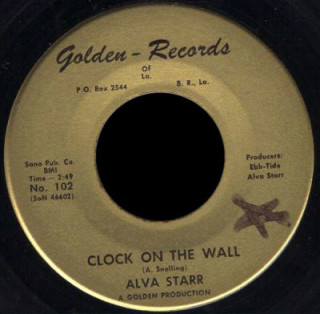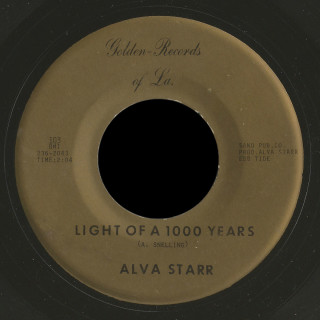 Alva Starr was a character in the Tennessee Williams play This Property Is Condemned. Natalie Wood portrayed Alva Starr in the 1966 flim of the same name, with a screenplay written in part by Francis Ford Coppola.
Alva is not a common name now, but you may recall it was phonograph inventor Thomas Edison's middle name. Alva Starr became the stage name for Alva Snelling, a songwriter and singer from, possibly, Denham Springs, Louisiana, a few miles east of Baton Rouge.
Snelling recorded two singles in August and September 1967 for the Baton Rouge label Golden Records, owned by Ebb-Tide, short for Ebenezer K. Harris.
The first, on Golden 102 is the psychedelic-garage classic "Clock on the Wall", where Alva intones lyrics like "time has made slaves of us all … the clock ticks away at our destiny … the hands they move with such a pace as to control the lives of the human race" while the band vamps with a monotonous drum beat in the background.
The flip side is the bizarre and cool patriotic ode "Space Race to the Moon" which includes lyrics like "the moon must be free, because that's the way God meant it to be". Alva Snelling wrote both songs, published by Sano Pub. Co BMI.
His second single is another fine original "Light of 1000 Years" played with a defter touch than the first, and backed with a cover of Arthur Alexander's "Anna". Snelling registered "Light of 1000 Years" with the Library of Congress in March of 1966.
As to who was backing Alva Starr, one commentator on youtube suggests the band was named the Luvrakers. I couldn't find info on the Luvrakers other than they had a guitarist named Susan Owens probably at a later date than these recordings. However John Herring of the Lost Generation  doesn't recall Susan Owens, but provided me with the names of the Luvrakers:
Rodney White – lead guitar and vocals
L.J. DeMaio (DeMiah? – how should this be spelled? – now calls himself L.J. Copas of the Copas Brothers) – rhythm guitar and vocals
Alva Snelling – bass and lead vocals
Alva's brother – keyboard
David Cook – drums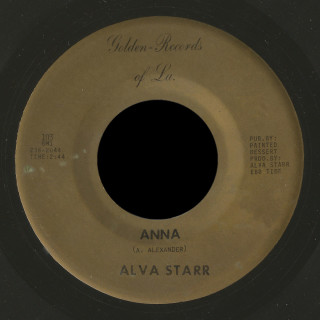 Alva Starr and Ebb Tide produced both of these singles on "Golden-Records of La." Golden Records had an address of PO Box 2544 in Baton Rouge, Louisiana. Both singles were released with gold-colored labels, though some copies of "Light of 1000 Years" have blue labels.
In 1986 Alva's current band the Luv-Rakers recorded a heavy version of "Clock on the Wall" on Angel Records 1006, b/w "Lost Things and Changes" (written by Susan Owens).
Alva Snellling seems to have died in 1995, but I can't find confirmation of this.
Other than Alva Starr and an interesting release by a Detroit group, Organized Confusion, most releases on Golden Records were country or soul music. 45 Cat has a nearly complete discography.
Blue label version scan taken from Mojama Records. Tip of the hat to Chaim O'Brien-Blumenthal for finding the Billboard ad at top.