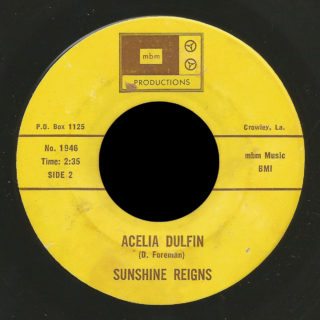 Sunshine Reigns came from Crowley, Louisiana. Members were:
Burton Mader – lead vocals, guitar (?)
Kyle Jones – organ
Mark Miller – bass
Danny Foreman – drums
They cut a single in 1968 or 1969 on mbm PRODUCTIONS No. 1946. Keyboardist Kyle Jones wrote the languid A-side, "Laura (Is the Girl)". The flip is Danny Foreman's song "Acelia Dulfin", a warning about a girl with a cool spoken introduction. Hear both songs on youtube:
A comment on Discogs gives the full names of the band, and that they won "the Crowley High talent contest in the late 60s." Another mention of the band being from Arlington, Texas seems far-fetched, as Arlington is 400 miles away from Crowley.
Mike Miller, son of legendary studio owner J.D. Miller of Crowley ran MBM Productions, putting out these four singles around 1968-1971:
MBM Productions 1945 – Maximus and His Projectors – "A Thing Called Limericks (part 1)" / "Bang Bang Lou Lou" (labeled Not For Broadcast!)
MBM Productions 1946 – Sunshine Reigns – "Laura (Is the Girl)" / "Acelia Dulfin"
MBM Productions 1947 – 49th Blue Streak – "Fire" / "Foxy Lady"
Bulb Record Co. 101 – Sorce – "Tomorrow Won't See Me" (G. Duhan) / "Courthouse Massacre" (a Division MBM Productions of Crowley Louisiana, MBM Music, BMI)
Mike Miller's mbm Productions is not connected to an earlier MBM label from Birmingham, Alabama.