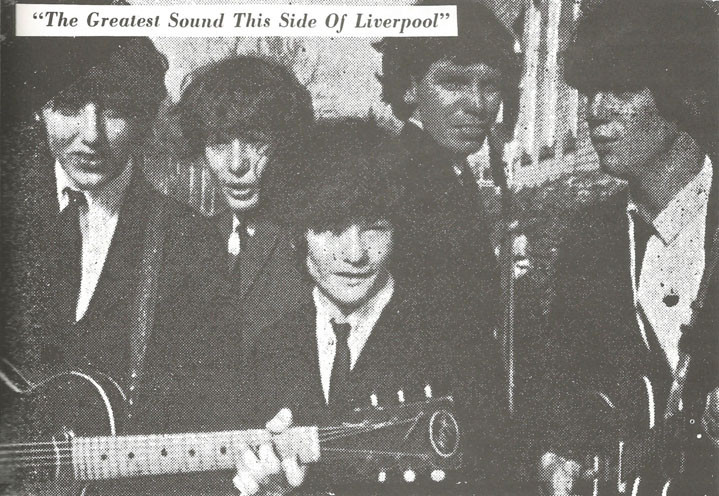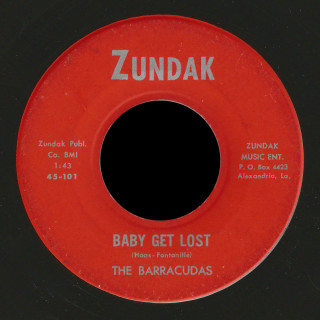 The Barracudas came from Bunkie, Louisiana, a small town south of Alexandria.
Members were:
John Haas – vocals
Terry Fontanille – lead guitar
Tommy McNabb – bass
Alex Haas – drums
The photo above shows a quintet, so I'm not sure who the additional guitarist was.
According to Mark Prellberg's article in Brown Paper Sack, the band started out as the Pickles and appeared on a Saturday morning TV show broadcast from Alexandria. After a show at a Chevy dealership, KDBX DJs Gene McDaniels and Larry Jorgensen signed them to a management deal. They cut one single in April 1965 at the KDBX studio for release on their managers' Zundak label.
One side is "Baby Get Lost", an original by Haas and Fontanille. Guitarist Terry Fontanille provides several excellent hooks with his picking, there's plenty of background shouting and chirping of the chorus, and even a short drum break.
Clocking in at 1:43, the recording has been called ludicrously sped up, but I've played it at various speeds and believe that the pressing is only 1% or 2% fast, which wouldn't be unusual for the time. One version online pitched down to 2:05 sounded too lethargic and off-key to me. The video below is close to what I feel is the correct speed. Singer John Haas was 15 at the time of recording, which could account for the high-pitched vocals.
The flip is a decent version of Jimmy Reed's "Honest I Do" though the short guitar and drum break after the harmonica solo is hilarious.
After Alex Haas left for college, John Haas and Tommy McNabb formed Nobody's Children, with no recordings that I know of. Billy Powell of Jimmy & the Offbeats from Baton Rouge recruited John Haas as vocalist for his new group, John Eric & the Isoceles Popsicles, making one single each for USA and Verve.
As John Eric and the Isosceles Popcicles, they had two pop singles circa 1968, "I'm Not Nice" / "Like Him" on USA Records 913 and "Gonna Change My Mind" (Haas, Amarosa, McRee) / "I Been Trying" on Verve VK-10589.
Zundak Records
The Barracudas was the second release on the Zundak label, Zundak 45-101, with "Baby Get Lost" published by Zundak Publ. Co. BMI and production by Zundak Music Enterprises, Alexandria, Louisiana.
The only other composition I can find published by Zundak is "A Soldier's Christmas in Viet Nam" by Charles England, copyrighted by Zundak Pub. Co. in October 1966.
Besides the Barracudas, Zundak released an album:
102 – Catahoula Country Time (Ruble Wright)
And five other singles that I know of:
100 – Terry & the Pirates – "Someone Care For Me" / "Stackel-Teez" Feb'65
103 – Little Caesar & the Romans – "Don't Cry No More" / "Night Train"
104 – Jimmy Ingram and Jimmy Williams and the Down Beaters – "I Need You" / "She's Gone" (both by O.A. Raby)
105 – Betty Simpson – "Weeping Willow" / "What Is Love"
106 – The X-L's – "Protest Against Protest" / "Blue Blue Feeling" (July 1966)
The X-L's is a crude kind of garage record, while the Jimmy Ingram is gospel-style soul and the Betty Simpson is pop, with a good soul feeling on the b-side.
Betty Simpson had a band called the Argos, consisting of Billy Spillman (bass), Steve Smith (drums), Robert Rachel and Stan Rachel (both guitar).
Some of the records were recorded at La Louisianne studios in Lafayette, about 90 miles to the southeast of Alexandria in central Louisiana.
Thank you to Max Waller and Teen Beat Mayhem for help with the Zundak discography.