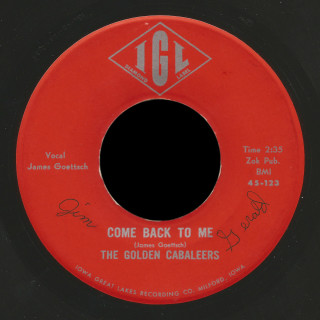 The Golden Cabaleers are one of the more obscure bands on the IGL label. They released their 45 "Come Back to Me" / "All Alone" on IGL 123 in August of 1966. Teen Beat Mayhem lists the band's location as Holstein, Iowa, 50 miles east of Sioux City, and about an hour and a half drive south of the IGL studio in Milford.
James Goettsch wrote and sang both songs on the single. He attended high school first in nearby Cushing, IA, then graduated from Eastwood Community School in Correctionville, IA in 1967. His first band was the Roadrunners with his brother Gerald Goettsch, T.J. McGuire and Lane Volkert. According to James' obituary, the band changed their name to The Golden Cavaliers, which makes more sense than Cabaleers. James Goettsch became a physician. He passed away on June 30, 2005.
"All Alone" is very underrated – it received only a 2 in TBM. Check it out below and judge for yourself. It's a low-key ballad with steady picking and fine vocals. "Come Back to Me" is more upbeat. No indication on the label as to which is the top side. I realize now my copy of the 45 is signed by both brothers on the labels.