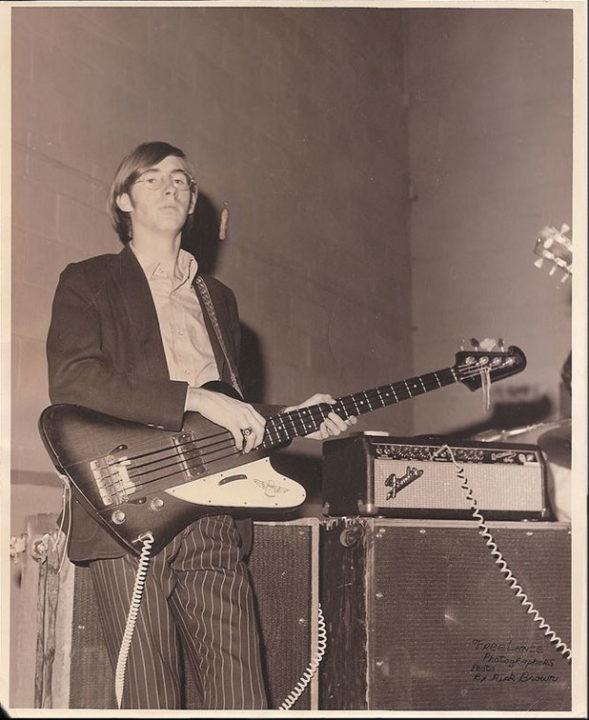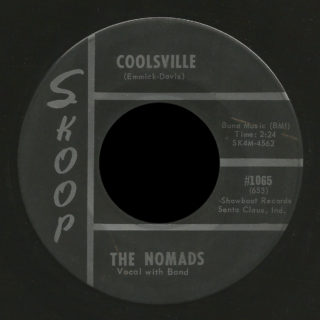 The Nomads came from Evansville, Indiana and played live throughout the southwest part of the state. Members included:
Eddie Karges – rhythm guitar, lead vocals
Max Emmick – lead guitar

Chuck Dowd – organ

Jeff Davis – bass

Gary Varden – drums

In 1965 they recorded their only single in Santa Claus, IN, released on Skoop 1065, one of the labels owned by Ray Scrivener. One side is the disaffected "Coolsville", written by Max Emmick and Jeff Davis, with some of the classic lyrics of the era:
Walking down the street with my baby,
In my baggies?? so tight,
Yeah, I was whistled at,
By a gang of girls.

Went to a dance that night,
Danced with all my might,
Walked into the gym,
Boy what a crowd of hicks,
Yeah they were doing the Twist,
C'mon and twist, twist, twist, twist, ahhh!

Strolled up to a chick,
Smiled and I said to her,
Do the Twist or (?) the Charleston?

I'm a gonna leave this town,
Yeah, I'm a gonna leave this town,
I'm a gonna leave this town,
Never to return again.
The flip is the more tender "Shy Girl", written by Max Emmick.
Despite the Buna Music BMI publishing credit on the labels, I don't believe these songs were registered with either the Library of Congress or BMI.
I've read Ed Karges and Chuck Dowd later played in another Evansville group, the Misfits, who cut "I'll Feel Better (In the Morning)" / "Please Don't Go Away" (both by Kneeland – DeVillez) on the Showboat label in 1967.
Jeff Davis moved to Tennessee where he formed the Amazing Rhythm Aces in the early '70s.
Photo and some of the info from the North Knox High School website.