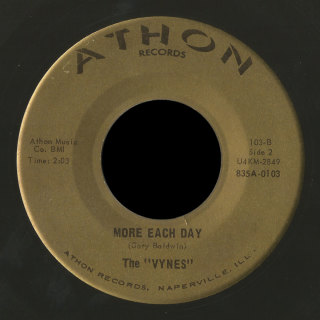 Since I posted about the Dynamics on Athon, I will add the Vynes, who have an excellent harmony 45 on the label. The Vynes came from Naperville, Illinois, the same Chicago suburb where Conrad Haidu owned Athon Records.
The top side was "I Might Be Free" written by John Guill. My favorite of the two is the B-side, "More Each Day", written by Gary Baldwin. The single was released as Athon 103 in February 1967. I'm surprised I can't find either song on Youtube.
The band consisted of:
Randy Schum – vocals
John Guill – Telecaster guitar
Mark Groenke – Rickenbacker 12-string guitar
Gary Baldwin – bass, lead vocals
Dave Dieter – drums
Victor Wells joined on lead vocals after Gary Baldwin left the band.
Gary Baldwin recalled the band recorded the single at Balkan Studios in Berwyn, Illinois.
Larry Schum managed the band.
Beyond the Beat Generation has a photo and full interview with two members of the band.