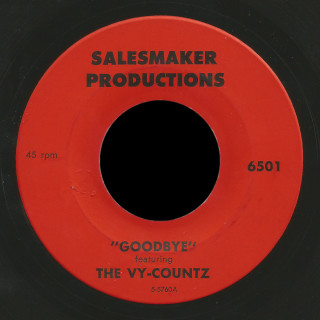 The Vy-Countz released this great 45 single "Goodbye" / "Giant Killer" on Salesmaker Productions 6501/6502 in October, 1965.
The top side is a minor-key lament with the singer wailing downer lyrics, eerily shadowed by a deeper voice. The drummer keeps a good beat with plenty of tambourine on top, and there's a simple guitar break. Crude, yes, but the band goes for it and comes out with an effective performance.
The flip is a simple instrumental with a Batman riff on blues changes. There were a number of bands called the Vy Counts around the country, but I have no info on the band at all other than a likely Oak Park, Illinois location – what's the scoop?