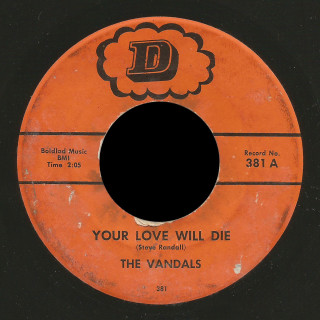 The Vandals are possibly from Georgia but I haven't seen any definite info on the band.
"Your Love Will Die" is a speedy, chaotic and excellent punk song, with ringing guitar, busy drumming, and shouted vocals not quite in unison. One guitarist plays both rhythm and lead. "Mary" is a fine ballad, there's a clip on youtube but it has a skip in it at the end of the guitar solo.
The only member's name I have is Steve Randall, who wrote both sides for Boldlad Music, BMI but I can't find a copyright notice for these songs.