Billy Sandlin came from Ocala, Florida, starting his recording career in 1959 with the tough-sounding "She's Mean" b/w "Don't Let Me Down", released first on Vim Records then on Gala. From the start he showed an ability to sing a wide range of styles, from uptempo rock to melancholy ballads.
In 1961, Sandlin had a second single on Gala, "Teenager's Dream" in a slow doo-wop style b/w the latin-ish "Cha Cha Bop". Around 1962 he left for Germany, presumably for military service.
Overseas he cut a neat rocker called "My Little Twisting Baby" with a local group known as the King-Tones, but it wasn't issued until he returned to the U.S. in 1963, as Billy Sandlin with the Strangers and the Bluetones on Strike Records.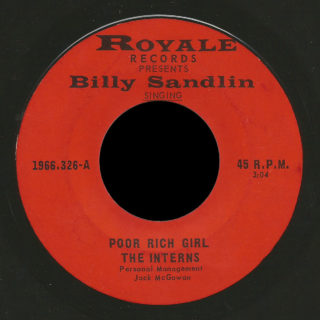 Next came a single on Viking Records, "You'll Always Have Someone", produced by Larry Montague and still very much in a teen style, released circa 1964, though I could use confirmation of that date.
In 1966 he found a tougher accompaniment by the Interns for the fine "Poor Rich Girl", especially in the repetitive guitar line, and Sandlin's voice really suits this hard r&b style. The b-side "Here Comes That Feeling" is very good downer garage. My copy is on Royale 1966.326, but others exist with the label name changed to Royala, which would match his next single.
Later that year came Royala 1966.329, "I Kept On Walking" written and sung by Billy Sandlin with 'the Interns Orchestra', b/w "Sweet Loving", sung by Ace Perryman and written by Stewart and Perryman. I haven't heard either song yet. "I Kept On Walking" was also the b-side of Sandlin's single on Viking. This single and "Poor Rich Girl" both credit Jack McGowan for management.
Jack McGowan owned the Teen Time Club in Ocala, according to a short article in the Ocala Star-Banner from 1967, and I think Royala/Royale was his label. I believe he is the same Jack McGowan who produced the The Great Masquerade, also known as The AC/DC Caper, filmed in Miami in 1973.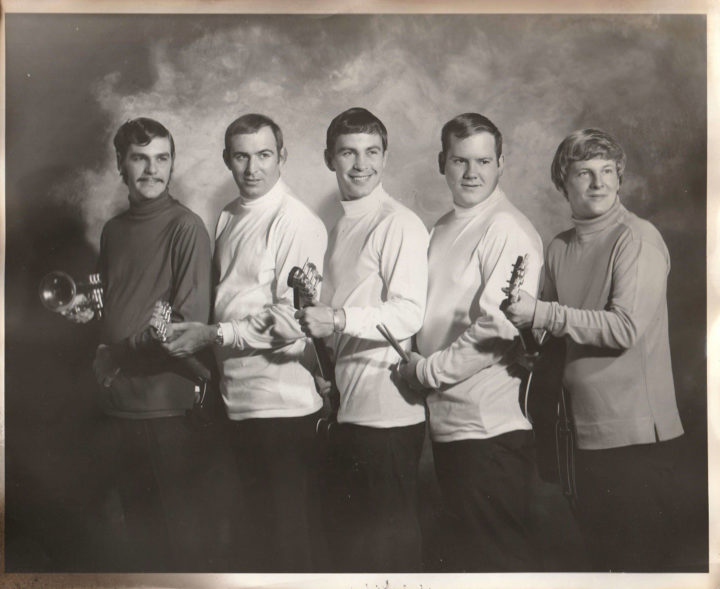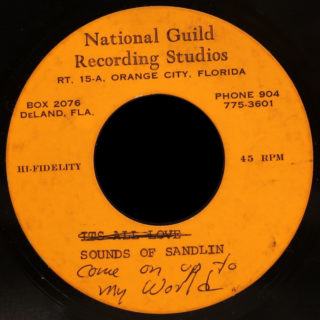 Circa 1969, Billy Sandlin was the singer on two demo acetates recorded at National Guild Recording Studios as Sounds of Sandlin.
John Tabor sent in the photo seen here and gave the lineup of the group:
Henry Rawls – vocals & trumpet
John Tabor – vocals & lead guitar
Andy Facundus – bass guitar
J.W. Howell – drums
Billy Sandlin – vocals & rhythm guitar
"Come on Up to My World" and "Dream Train Ride" are solid psychedelic numbers, while "Sunshine" is a quiet ballad in a folk or country-rock style, and "I Need You" has fuzz guitar but is more of a pop song. All four songs feature two vocalists singing each line of verse.
National Guild Studios were located in Orange City about an hour and a half east-southeast of Ocala. I've heard clips of both thanks to Jameson Sweiger, who took the photos of the acetates seen here and gave me some background on them.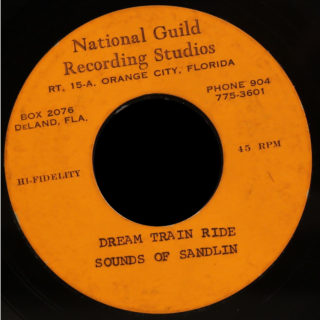 The acetates came from Larry Montague, who produced Billy's single on Viking.
Jameson wrote: "Larry had a full album from the sessions of these 45s that was to be released but shelved after his death and never released. Larry had the original reel to reels when I met him. Sandlin apparently was in movies or working on movies at the time of these 45s."
Sandlin next joined with Barry Winslow of the Royal Guardsmen for a single on Mega, "Have You Seen a Rainbow Lately" / "Peace Time" that got a good mention in Billboard in November, 1971.
Billy Sandlin also recorded two songs I haven't heard, "Turn Me On" / "Country In The City" that exist on a Capitol custom 8″ demo, I'm not sure of the year.
Tragically, Billy and his wife Melinda were killed when their car was hit by a drunk driver fleeing the police in Ocala in February, 1973.
Billy Sandlin discography:
Vim Records 1006 – Billy Sandlin – "She's Mean" (Sandlin, pub. by ThreeWay BMI) / "Don't Let Me Down" (1959)
Gala Records 45-110 – Billy Sandlin – "She's Mean" / "Don't Let Me Down" (1959)
Gala Records 45-115 – Billy Sandlin – "Teenager's Dream"/ "Cha Cha Bop" (Sandlin) (1960)
Strike Records S-103/4 – Billy Sandlin with the Strangers and the Bluetones – "My Little Twisting Baby" (Sandlin) / Billy Sandlin and the Strangers – "My Little Star" (P4KM-5346), recorded in Germany with a group also known as the King-Beats, but issued in the U.S. circa 1963.
Viking Records 1001/2 – Billy Sandlin and the Embers – "You'll Always Have Someone" / "I Kept on Walking" (Sandlin, pub. by Montague Music), produced by Larry E. Montague
Royale 1966.326 – Billy Sandlin with the Interns – "Poor Rich Girl" / "Here Comes That Feeling" (1966) prod. by Jack McGowan
Royala 1966.329 – Billy Sandlin with the Interns Orchestra – "I Kept On Walking" / "Sweet Loving" (sung by Ace Perryman), 1966
Mega 615-0044 – Winslow & Sandlin – "Have You Seen a Rainbow Lately" (Barry Winslow-Barry Sandlin) / same (1971)
Unreleased demos:
Sounds of Sandlin – "Come on Up to My World" / "Sunshine" (National Guild Recording Studios demo, late '60s)
Sounds of Sandlin – "Dream Train Ride" / "I Need You Girl" (National Guild Recording Studios demo, late '60s)
Billy Sandlin – "Turn Me On" / "Country In The City" (Capitol Custom 8″ acetate disc, date unknown)
Sources include That's All Rite Mama