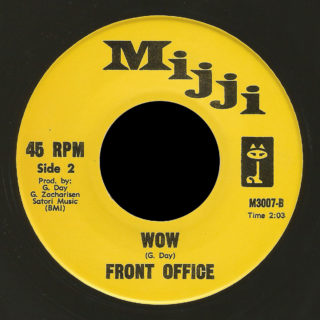 The Front Office single on Mijji seems to be a combination of two different recording groups. The A-side "Girl" is polished, Motown-type soul, written by Steve Cook and arranged by Val Garay (who would go on to engineer and produce many high-profile acts in the 1970s and '80s) and Mark Holly.
The instrumental flip side is something else altogether. "Wow" is first-rate psychedelia done by a band who knows what they're doing and don't hold back. The song writing credit goes to Gilbert Day, who is also credited as producer with G. Zacharisen (possibly George Zacharisen). Satori Music, BMI published both songs, released on Mijji M3007 in 1968.
Beyond those names, the identity of the musicians on "Wow" is a mystery. This was the last release on Mijji, which had a handful of other singles. Sound 70 had two singles on Mijji:
Mijji M-3002 – Sound 70 – "There Is No Reason" / "Seven Day Fool"
Mijji M-3004 – Sound 70 – "One Too Many Mournings" / "Chicago Blues"
Day-Gardner-Brown produced both singles, and other than song writing and publishing credits for the cover songs, "Seven Day Fool" and "One Too Many Mournings" (sic), there are no other names on the labels. Sound 70 played live around San Mateo, Belmont and San Carlos, California, adjacent towns on the peninsula between San Francisco and San Jose. Sound 70 seems to have come out of the Bundles, whose songs "Mark My Words" and "Watch Me Girl" went unreleased at the time but now appear on the Big Beat CD Dance With Me: The Autumn Teen Sound.
Judging by "There Is No Reason" and the heavy drums on "One Too Many Mournings", Sound 70 had the ability to cut a track like "Wow", but that's only speculation.
The only other single on Mijji that I can find is by the Venus Flytrap:
Mijji M-3005 – Venus Flytrap – "The Note" / "Have You Ever" (both by Donald Danielli – Daniel Sanchez, prod. by Gilbert Day, published by Guard Music, BMI)
The original release came on Jaguar Records J-103, owned by Barry Wineroth. It was a hit in the Santa Barbara area, but the Redwood City band also had a following in the South Bay, which may be why Mijji repressed it. Both songs copyrighted in April and July, 1968, orig. publisher Wren Music BMI, then Guard Music BMI, part of Golden State Recorders.
At the time of the single, the Venus Flytrap were Nancy Morgan, lead singer; Peter Sessions on lead guitar; Dan Sanchez rhythm guitar; Ken Czapkay on bass; and Debbie Binetti. Bard Dupont of the Outfit replaced Ken Czapkay when he was drafted, and Michele Sevryn replaced Nancy Morgan shortly before the band split.
If anyone has more info or photos of the band, please contact me.
Sources include: "The Continuing Adventures of Bard Dupont, Introducing the Outfit" by Alec Palao, originally published in Cream Puff War No. 2, February 1993, page 87-96.