The Epics have one of the best Louie Louie takeoffs titled "Louie Come Home".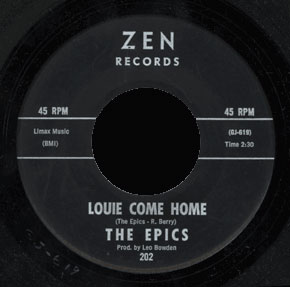 It's a very danceable number as I found out when I played this to a packed house at Pop Gear some months ago.
The band was from California, perhaps Bakersfield. It's leader was Howard Dumble, according to a clipping I found in the Bakersfield Californian.
The flip was "Give Me a Chance", written by Dumble, Ward, Concelez and Iger for Shindig Music BMI. I assume Ward, Concelez and Iger were the other members of the group.
Produced by Lou Bowden, the single was released on the Zen label in April of 1965.
Anyone have a photo of the group or more info on this band?