The Los Angeles-based Plamie label released a handful of 45s in 1967-68. At least two of the bands on the label, Uncle Ben and the Wild Rice and Weathervane, were based in Santa Cruz, which makes these Plamie 45s important documents of the music scene along the California coast north of LA and south of the Bay Area.
Jason Sweitzer suggested we write about the Plamie label to compliment the previous article about other Santa Cruz-based bands the Cobras, Talon Wedge and Snail. Jason conducted the interviews with Ben Hudson and Steffen Presley, and wrote the text for the sections on Weathervane and Strange Laughter. Gray Newell provided some of the scans and transfers from original 45s.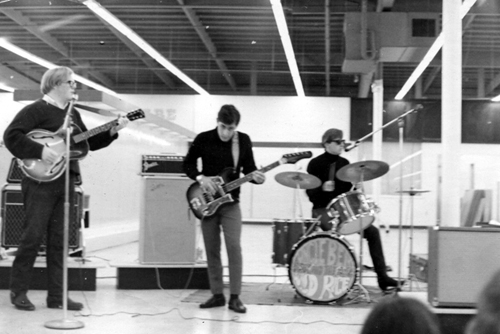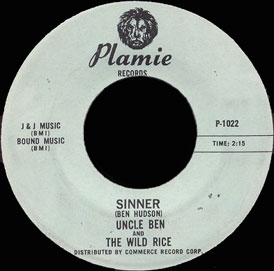 Uncle Ben and the Wild RiceUncle Ben and the Wild Rice were Ben Hudson guitar and vocals, his sister Sharron Bassano on vocals and organ, Mike Gordon bass, Willie Wahler guitar and vocals, and Tony Hill on drums. They played at the Grass Cookie in Santa Cruz, among other venues.
Jason spoke to Ben:
We were local to Santa Cruz, California in the 60's. We played at the Boardwalk's "Coconut Grove" frequently in the 66-68 years. We also played all of the area venues of the time [including the Grass Cookie]. I recall opening for Country Joe and the Fish in an airplane hangar in Watsonville and bumping into the Jefferson Airplane folks at the Coconut Grove.

We were just kids having a blast. I imagine the record doesn't sound too hip, it was a Christmas release and didn't really reflect the Rock 'n Roll of our stage shows. The band members are still around the area, mostly retired. I started a new solo CD recently and still write and play a few gigs. We recorded a couple other songs at those early sessions, but nothing else was released to my knowledge until the reunion CD in 2003.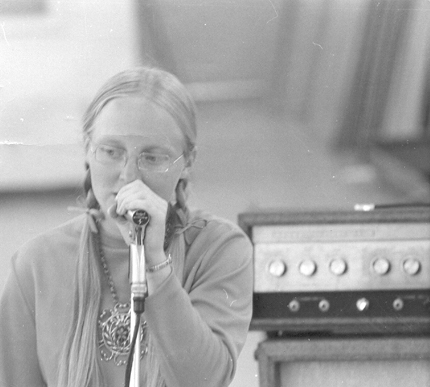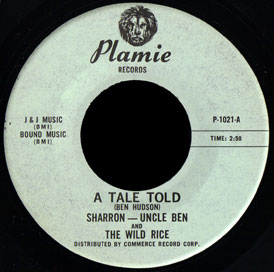 "A Tale Told" is their first 45, one side featuring lead vocals by Sharron, the other Uncle Ben. With the dreamy quality to the vocals and keyboards you may not notice the lyrics are about Jesus!
Their second 45 leaves the folky sound of "A Tale Told" for a tougher, bluesy approach. "Sinner" features Ben's bracing vocal and a sharp guitar solo. Sharron's "Holdin Blues" is a wonderful song reminiscent of the Charlatans, with interesting guitar work and a great rave-up at the end.
The photos are from B. Robert Hudson's (Uncle Ben) site [http://ubwr.broberthudson.com/ but defunct when I checked in 2016] with more cool pics of the band and info on his recent live shows. Their reunions in 2002-3 included all members but Sharron.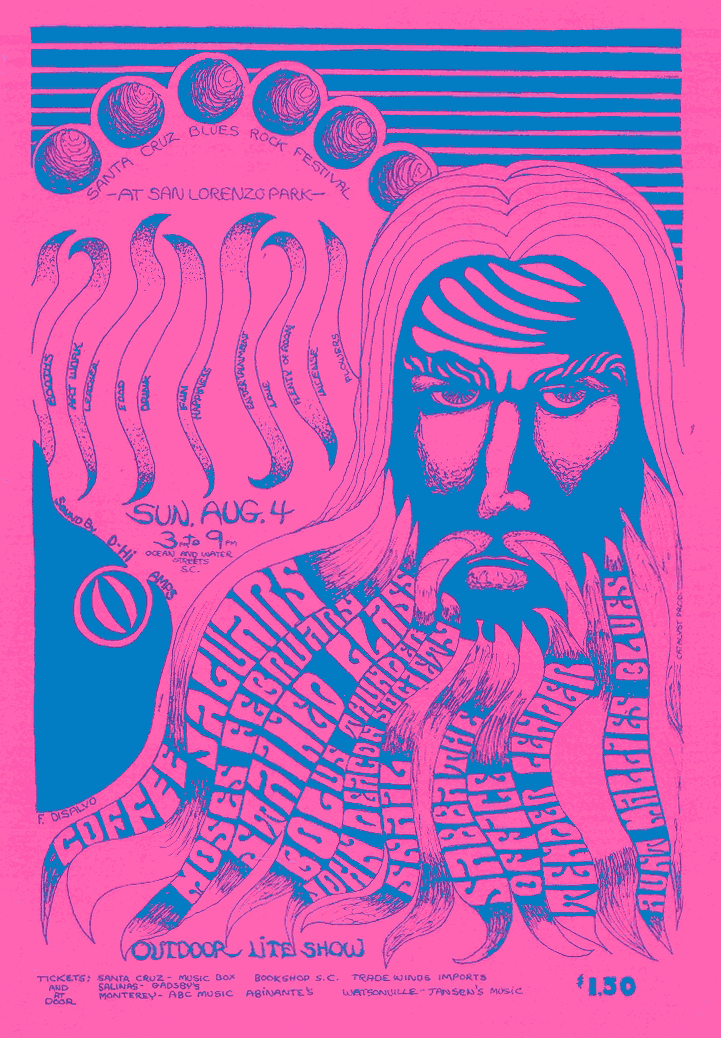 Hot Coffee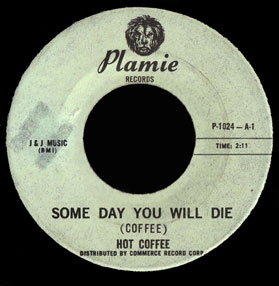 An almost unknown group, the only names we can associate with them are Linden Coffee, the leader of the group, and Dave Holt, writer of "Cheatin On Me". This David Holt also wrote songs with Baker Knight, longtime singer and songwriter (garage fans may know him for "Hallucinations" on Reprise). However, I don't know if he had any connection with the band at all.
Ben Hudson told Gray Newell, "We went to LA to record on a joint trip with Hot Coffee, because we had the same manager, Ben Lawson, a DJ on a local radio station at the time, KDON from Salinas, CA."
There's a good possibility that this is the same band listed as Coffee on the poster for the Santa Cruz Blues Rock Festival at San Lorenzo Park. The other acts listed on the poster are Jaguars, Snail, Stained Glass, Moses February, Bogus Thunder, the John Deacon Society, Tender Gender, Sabbathe Office, and Aunt Millie's Blues.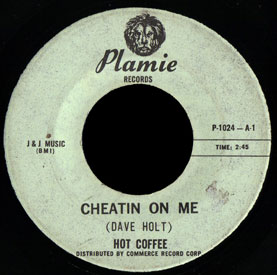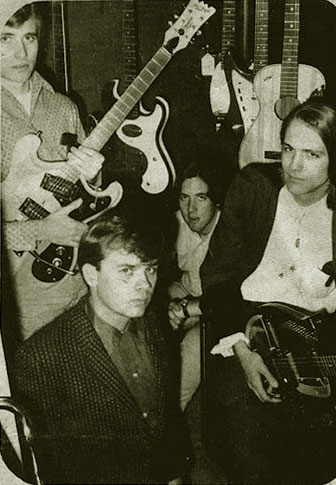 Weathervane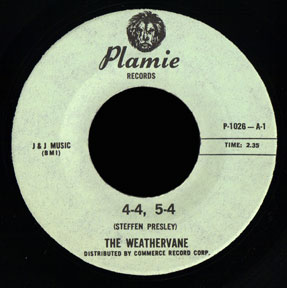 From Modesto, California, The Weathervane only released this 45 on Plamie Records in 1968 — a euphoric, if not lyrically sardonic, slice of psychedelia.
Formed in 1966, the original group comprised of teens Steffen Presley on organ and lead vocals, Kevin Beamish on lead guitar, Ed Bowman on bass, and Mike O'Bryan on drums and lead vocals. Bob Wilson was an itinerant member on bass, rhythm guitar and lead vocals, having left the band for a time and then returned.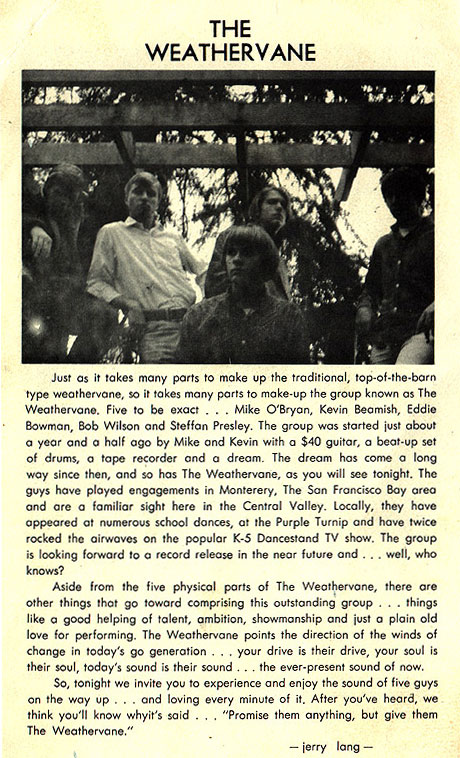 As a popular mainstay at the under-21 hangouts and nightclubs of the Central Valley, The Weathervane also performed regularly in Sonora and the San Francisco Bay Area, sharing bills with The Golliwogs, Sir Douglas Quintet, The Ratz, The Eisage, Mourning Edition, Meat and Cheese, Homegrown, and the all-girl outfit, Sometimes, among others.
During the summer of 1967, at the arrangement of their manager Gene Bastion, they temporarily relocated to Ben Lomond, in the Santa Cruz Mountains, and performed at various venues along the coast. Of this time, Steffen Presley remembers:
Gene was a radio DJ who went under various aliases. In Modesto, he was known as Jerry Lang. We stayed in a big cabin in Ben Lomond, which was owned by a friend of his and they only used it part of the year. The idea was to gain us greater exposure. It was a great fun time!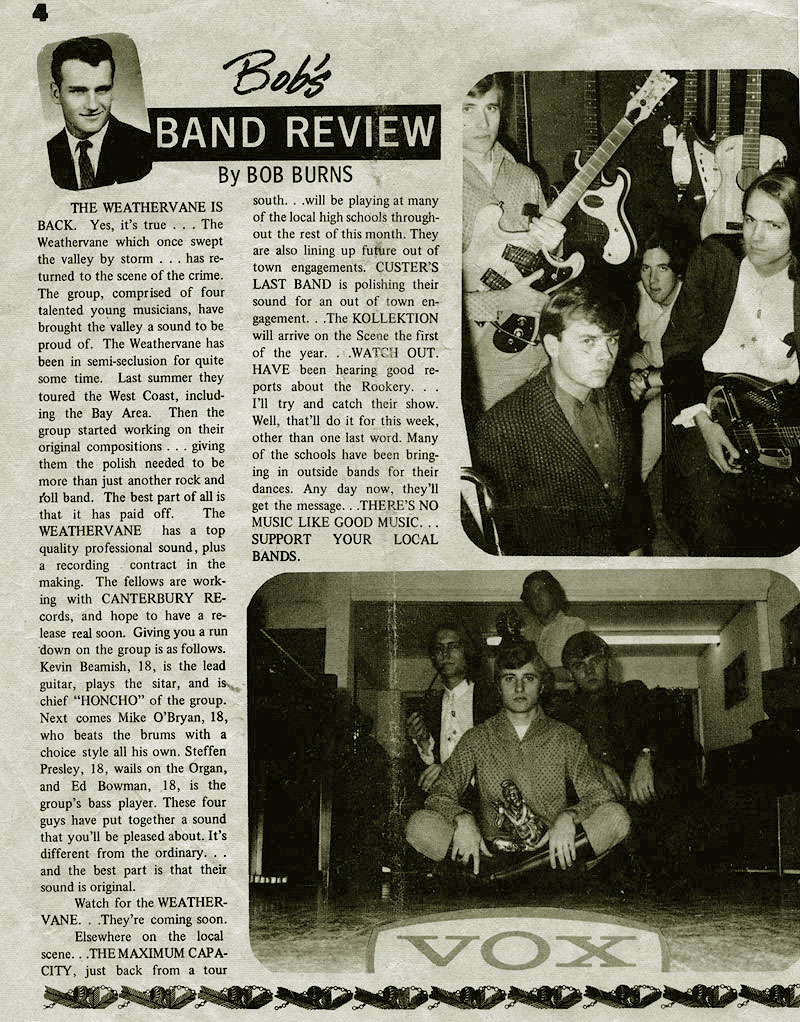 Soon after returning from Santa Cruz, Bastion was able to negotiate a recording deal for the band with Plamie Records in Los Angeles. Presley, who wrote both original songs, recalls:
I was 17 at the time of the Plamie sessions. Although I did the lead vocal on "4-4, 5-4," it was Mike O'Bryan doing the lead vocal on "My Original Blue Jeans."

One of the things the producer did was to change the key of "My Original Blue Jeans," which I felt was detrimental to Mike's vocal, particularly as he was very used to the original key from live performances. Fortunately, "4-4, 5-4" was left fully intact and basically represented our true sound, sans the poor mix, where the vocal is fairly buried for the first half of the song.

My Vox Continental organ was a signature part of our sound, as you may have noticed. At that time, there was next to nothing available in portable keyboards, and I had no money to buy anything else. I did play piano at that time but was not interested in electric pianos, which barely existed, anyway. Of course moving real pianos around was not even a consideration. The studio had a Hammond organ, which I used on "My Original Blue Jeans." I had actually written the song on piano. I don't think the studio had a piano or I may have used it.

There had been talk of recording an album, but despite significant airplay the 45 was a complete dud in Modesto upon its release. We were even ridiculed by some. I could understand that, as the producer had completely changed (ruined- in not just my opinion) our sound on "My Original Blue Jeans," and even back then I thought that the recording quality was quite poor. This is one reason why I later became a producer with my own studio.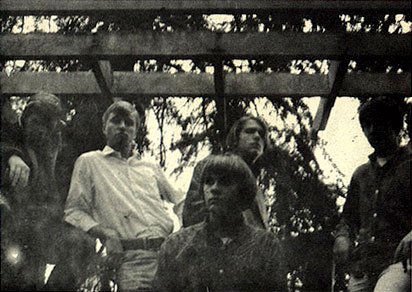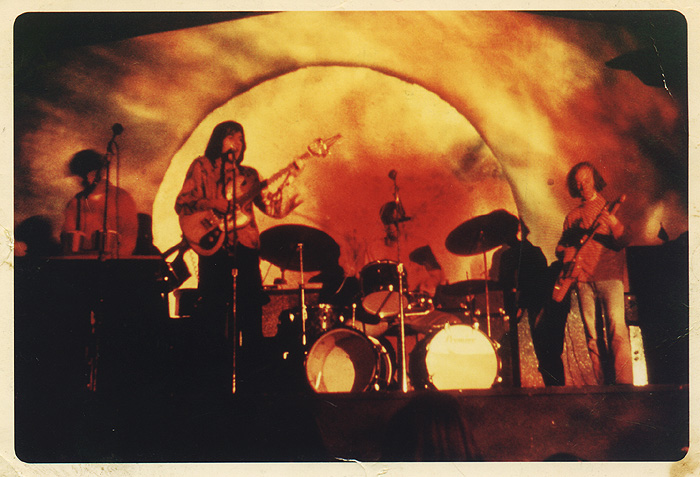 Strange Laughter
About a year after the Plamie release, the Weathervane split up over artistic and personnel conflicts. Soon thereafter, Steffen Presley formed a new band, Strange Laughter. When asked how The Weathervane transformed into Strange Laughter, Presley wrote:
Well, this is the most interesting question to me! As the Weathervane matured musically, Tom Aragon eventually replaced Kevin Beamish on guitar. The beginning of the split came about as Tom and I wanted to pursue all original material. The other members preferred that we did mostly cover tunes. Very soon thereafter, Tom and I decided to form a new (all original) band, which became Strange Laughter.

Beside myself on organ and lead vocals, Tom Aragon was the bass player. The guitarist, David Rose, is to this day the best guitarist I've ever heard, and was also a superb songwriter. The fourth member was an amazing drummer and lifelong friend of mine, Kimber Glendening.

Strange Laughter was a far better band musically and artistically than The Weathervane, in my opinion, and became even more popular than The Weathervane in the Modesto area. I would describe our music as "progressive rock", but this was at least a couple of years before the Prog-rock movement, so we were ahead of our time, for sure.

Unfortunately, the band was able to last only one year. Just as we were starting to get offers to go on significant bills, we split up due to conflicting interests. I think that it's a crime that no recordings were ever made.
I'd like to thank Steffen Presley for taking the time to write and for sharing his pictures and recollections. For more info on his recent work, visit www.song-haven.com.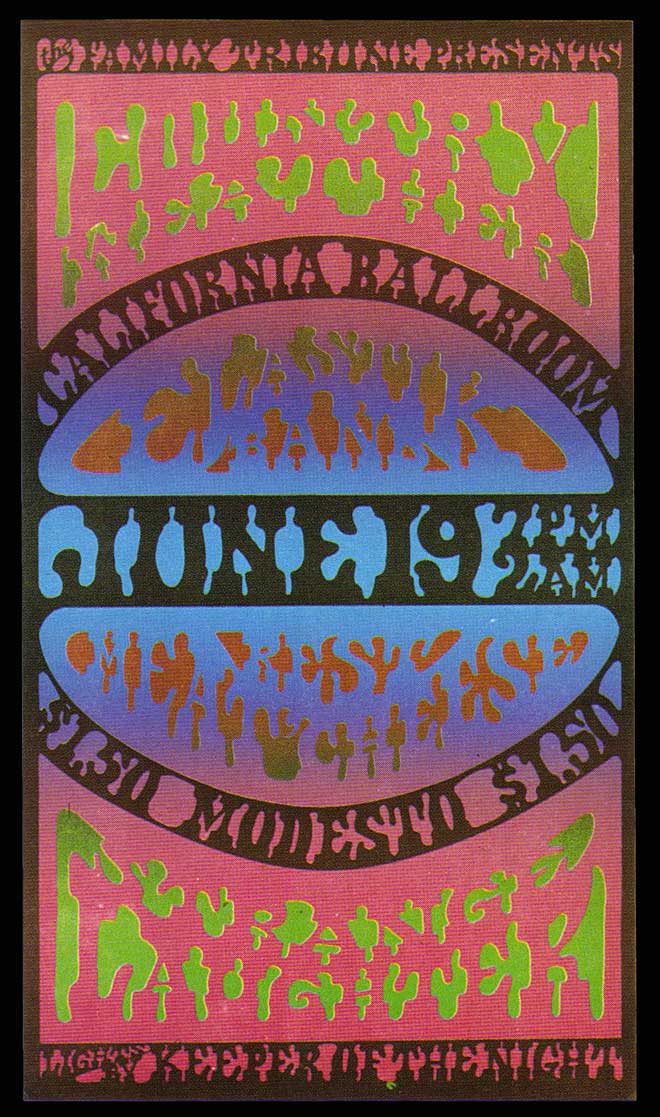 Strange Laughter updates:
Sept. 2008: Steffen writes, "I have just released a new album, along with the first of two video releases. The band is called "3 Legs On Wheels" and the album titled "in Our Time Machine" on Terraform Records. All the info can be found on the official web-site: www.3legsonwheels.com.
Feb. 2009:
My dear friend, Kimber Glendening passed away on January 18, 2009. As the best drummer California's Central Valley has seen for the last 50 years (at least), he was a major factor in the still legendary (in that small part of the world) "Strange Laughter" sound. He played in many other bands in the Modesto area throughout his life. A memorial was held in his honor on February 8th at the Eagle Lodge in Modesto, California. The event was attended by several hundred people, including myself. There were many people there that I hadn't seen for forty years! Teaming with remaining members from Strange Laughter, we played a tribute set in Kimber's honor. Different combinations of musicians jammed into the night with myself sitting in with most of them on keys and sax.

Steffen Presley