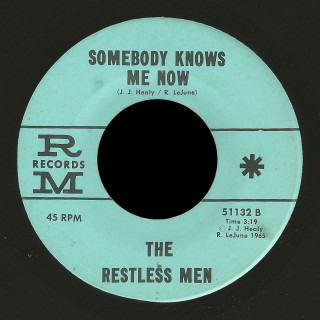 The Restless Men were James J. Healy and Russell LeJeune (mispelled LeJune on the label), from possibly Arkansas.
In November, 1965 they released their only single, the ballad "Man of Mind" b/w "Somebody Knows Me Now" on RM Records 51132.
No drums, but bass and acoustic guitars and a tambourine in a bath of echo propel "Somebody Knows Me Now", a song about finding companionship in prison! Unlike the loneliness of being free ("each in his shell, in his own little scene, each one alone, only fish in the sea"), now they are "locked behind bars, each know the game, hold the same cards". Some bluesy runs in the guitar break shows an r&b background for at least one member. This was the b-side of the single.
The ostensible A-side could be described as a folky paean to the Christian concept of god.
The songwriters James J. Healy and Russell LeJeune copyrighted both songs on March 9, 1966 under their own names, no publishing company listed.