One of the finest records on the Vaughn Ltd. label is the Swingin' Lamp Liters' "Get Away". Members at the time of recording were Al Lovoy on vocals, Tommy Calton guitar, Jesse Warth bass and Gary Swatzell on organ. Charles Carbonie was band leader and drummer.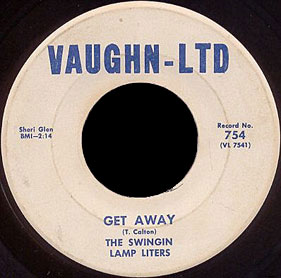 The record was cut in 1967, featuring Tommy Calton's original Get Away backed with a cover of "Little Latin Lupe Lu".
Other members of the band at one time or another included Frankie Parrish rhythm guitar, Greg Sheffield bass (actually bass lines on a 6-string guitar!), Steve Burkes on organ and three lead vocalists: Jimmy Whitt, George Tobias and Larry McMeekin.
Charles Carbonie formed the Lamp Liters in January of '64 and continued playing live shows until early 1969.
After cutting the single, Tommy Calton, Al Lovoy and Gary Swatzell left the band to form the Royal Carousel with Jimmy Whitt on bass and Al Pettinato on drums. The Royal Carousel played current sunny pop songs like the Merry Go Round's "Live", but only lasted a few months, when Tommy and Gary returned to the Lamp Liters.
Al Lovoy went into the Wild Vybrashons, who cut a good fuzz version of the Knickerbockers' "One Track Mind", produced by two WSGN DJs, Steve Norris and Glen Powers.
Tommy Calton formed bands including the Brass Button, Wooden Music and Hotel, and still plays music professionally. The photo and much of the information here is from his website www.tommycalton.com.