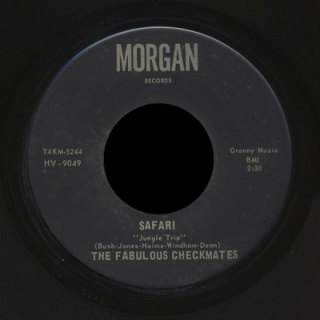 Morgan Records had its base in Montgomery, Alabama. Some artists, like the Rockin' Gibraltars recorded at Cloverland Studio in Montgomery. Publishing was often with Granny Music BMI.
Morgan discography (incomplete – any help with this would be appreciated)
Morgan 674H-3947 – Kavaliers – "Get Your Feet Off Me" / "If You Loved Her" (SK4M-3947/8) (November 1965)
Morgan HV-? – Kavaliers – "Hey Baby" / "Hot Cha" (Woods) (TK4M-9707) (1966)
Morgan 5965 – Doug Hughes – "Reno Blues" (Mitchell Bush, Granny Music BMI) / "Two People I Know" (SK4M-5966)
Morgan HR 9018 – Charlena & the Rockettes – "Ramrod" / "Last Night"
Morgan HV-9026 – Joe & Harold – "Rag Mop" / "That's What's the Matter with Me"
Morgan HV-9040 – Rockin' Gibraltars – "Go With Me" (S. Grier, K. Brewer) / "Signed, Sealed and Delivered" (TK4M-2418/9) 1966
Morgan HV-9041 – The Mustangs – "Hitch Hike" / "Daddy's Home" (T4KM-5005/6) 1966
Morgan HV-9044 – The Bankrupts, vocal Jimmy Wood – "Bankrupt" (J. Segrest) / "Why Can't I Change" (T4KM-5107)
Morgan HV-9049 – Fabulous Checkmates – "Safari 'Jungle Trip'" (Bush, Jones, Helms, Windham, Dean) / "My Sin and My Pride" (TK4M-5243/4)
Morgan HV-9060 – The Seeds of Time – "She's Been Travelin' 'Round the World" / "Gina" (TK4M-9674/5)
The Kavaliers were Wayne Neuendorf, Jack Boutwell, Mike Morris, Larry Hughes, Tim Nix and Mike Walters.
Thanks to Gary Wise and Max Waller for help with the discography.