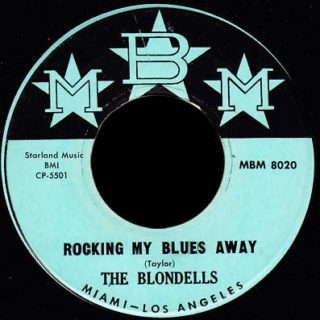 Birmingham, Alabama was the base of MBM Records, which started about 1961.
For more on the Rogues, see the separate post on that band.
This is not the same MBM as MBM Productions of Crowley, Louisiana, run by Mike Miller, the son of Jay Miller. Those releases I discuss in another post.
MBM Records discography
(probably incomplete – any help with this would be appreciated)
MBM 8019 – Ann Allen – "What Do You Want of Me" / "I Don't Want Your Love" (with PS)
MBM 8020 – The Blondells – "Rocking My Blues Away" (Taylor, Starland Music BMI) / Mona Taylor and the Blondells – "No One Will Ever Know" CP-5501/2, Rite pressing from 1961.
MBM-2001 – Jimmy Ferguson with the Flares Band and the Tom Boys (vocalists) – "The Ballad of Tom Sawyer" / "Cupid" (both by Ferguson – Ferguson, Double "M" Pub. Co. BMI) SoN 9521/2
MBM-2002 – The Rouges – "Put You Down" (Kendrick & Gainer) / "Stormy Monday" SoN 29801
The Ann Allen sleeve has "MBM Records, Miami-Los Angeles" on the PS, and a managerial address:
Birmingham Artist Playhouse Agency
5017 Avenue "N", West
Birmingham 8, Alabama
Birmginham's Reed label usually published through Double "M" Music, but had a handful of later releases in 1961 that instead used Starland Music (and a different logo typeface):
RR 1061 – Larry & the Loafers "Panama City Blues" / "Till the End"
RR 1063 – Webb Robbins And The Jackets "Take This Ring" / "Why Was I Blue"
RR 1064 – Mason Dixon – "Queen Of My Heartaches" / "Hello Memphis"
Thank you to Tapio Väisänen and Niculò Conrad for their help with this discography.