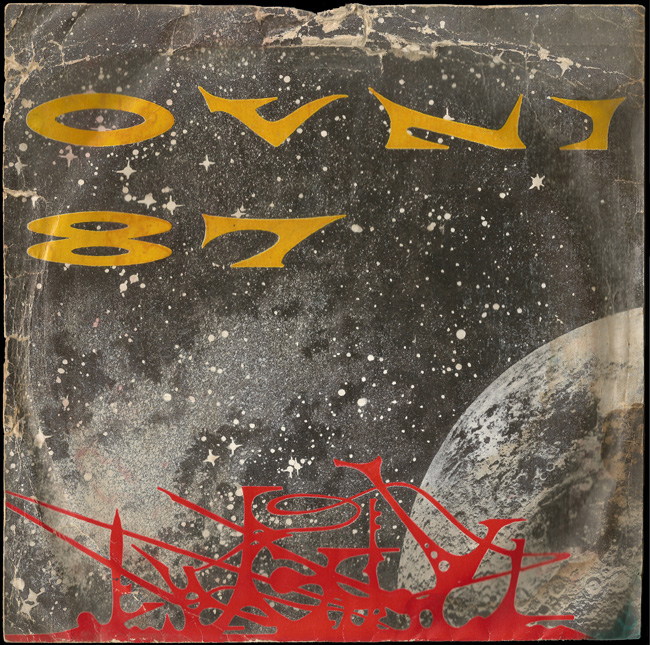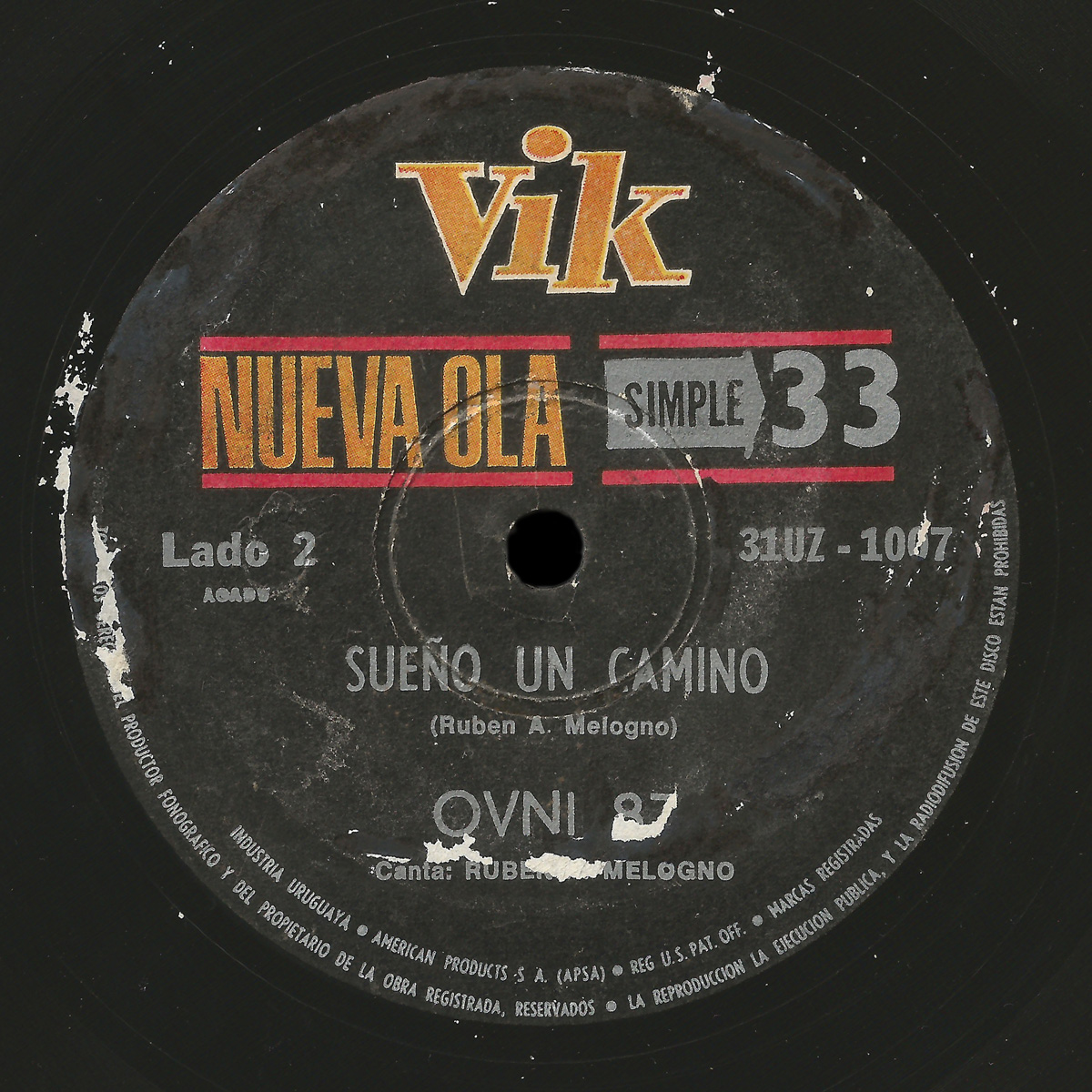 This is the first single by the Uruguay group Ovni 87, released in 1969 on a local RCA subsidiary, Vik Records #31-UZ-1007.It came with an oversize sleeve of about 7 1/2 inches, which guarantees most of them have since been lost, tattered or bent, and mine is no exception, having been stuck to some other record on the reverse.
The back sleeve gives some info on the band:
Gabriel Gomez – lead guitar
Alvaro Rosas – rhythm guitar
Alvaro Galante – bass guitar
Mario Talento – drums
Ruben A. Melogño – vocals
"Algo fugaz" (literally "Something Fleeting") is a fine dreamy pop song with good harmony vocals. The flip Sueño un camino" ("Dream a Way") is something else altogether, a unique rhythmic background for what is essentially a ballad.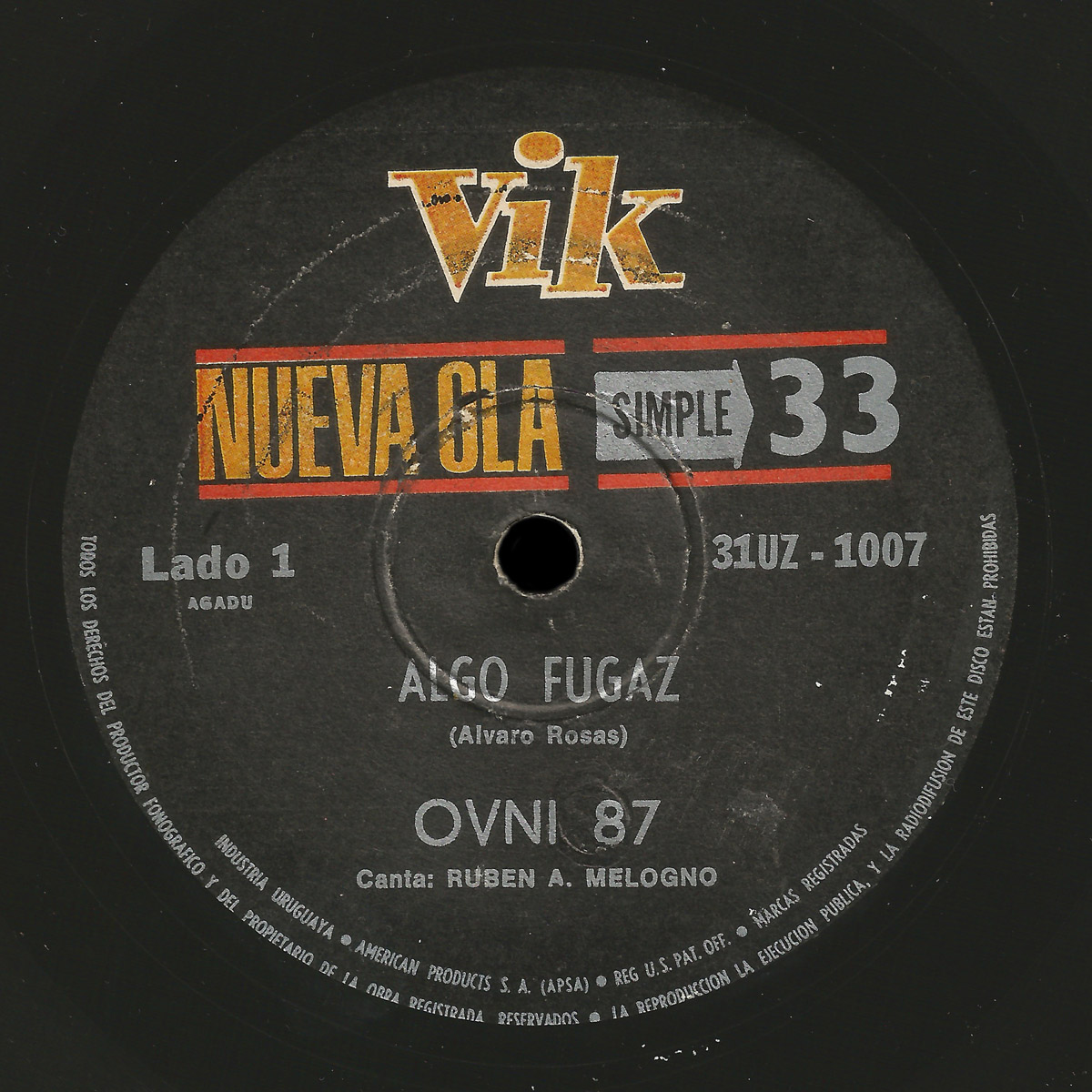 Ruben Melogno wrote "Sueño un camino", while Alvaro Rosas wrote "Algo fugaz". Production by Carlos Piriz, and illustration by Nebur Oñgolem. Odd notes (mostly obliterated on my sleeve) by Leirbag Zemog (read it backwards) tie in with the group's name, which translates to UFO 87.
Ovni 87 has at least one other single, with the excellent psychedelic pop song, "Siento", and a song I haven't heard yet, "No tengo valor"
The original group was together from 1966-68. In 1969 all the band left except Melogño who formed an entirely new group, including Freddy Anzorena (guitar), Atilio Fonseca (organ), Miguel Dodera (bass) and Hermes Calabria (drums). Later additions included Leonardo Goldberg on bass and Omar Picún on percussion.
The group dissolved in 1971 and Ruben Melogño joined the prog group Psiglo as their lead singer.
Information on the band from Cualquier cosa menos sordo.