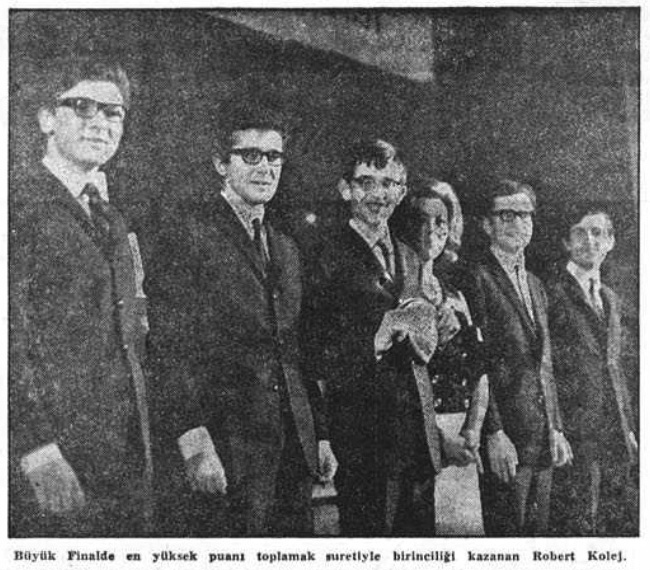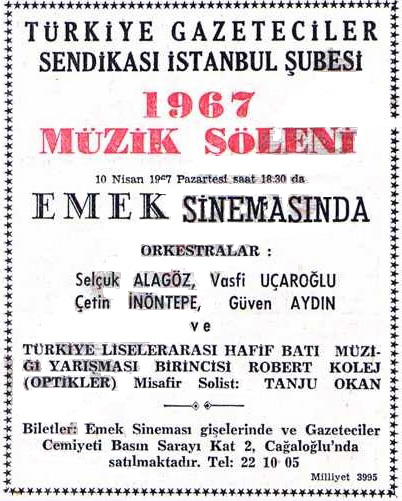 Kemal Ebcioğlu – lead guitar
Jan Kurban – rhythm guitar
Osman Kermen – organ
Bülent Terem – bass guitar
Gökhan Cansen – drums
The band is Optikler. Although the 45 labels list the artist as Robert Kolej, that was their school, not the band name. "Robert Kolej" refers to the Robert Academy in Istanbul, more of a high school than a college. Lead guitarist Kemal Ebcioğlu was 16 while the rest of the group was 19 years old. Optikler translates as The Optics, a reference to the glasses all the band wore.Optikler won the Milliyet newspaper's second annual contest of high school pop bands in March, 1967, an event that was televised to an audience of over 20,000. and announced in the paper under the headline "future stars are born". Their set list at the finals consisted of "I'm a Believer" and two originals, "Köylü Kizi" and "Show Me A Way".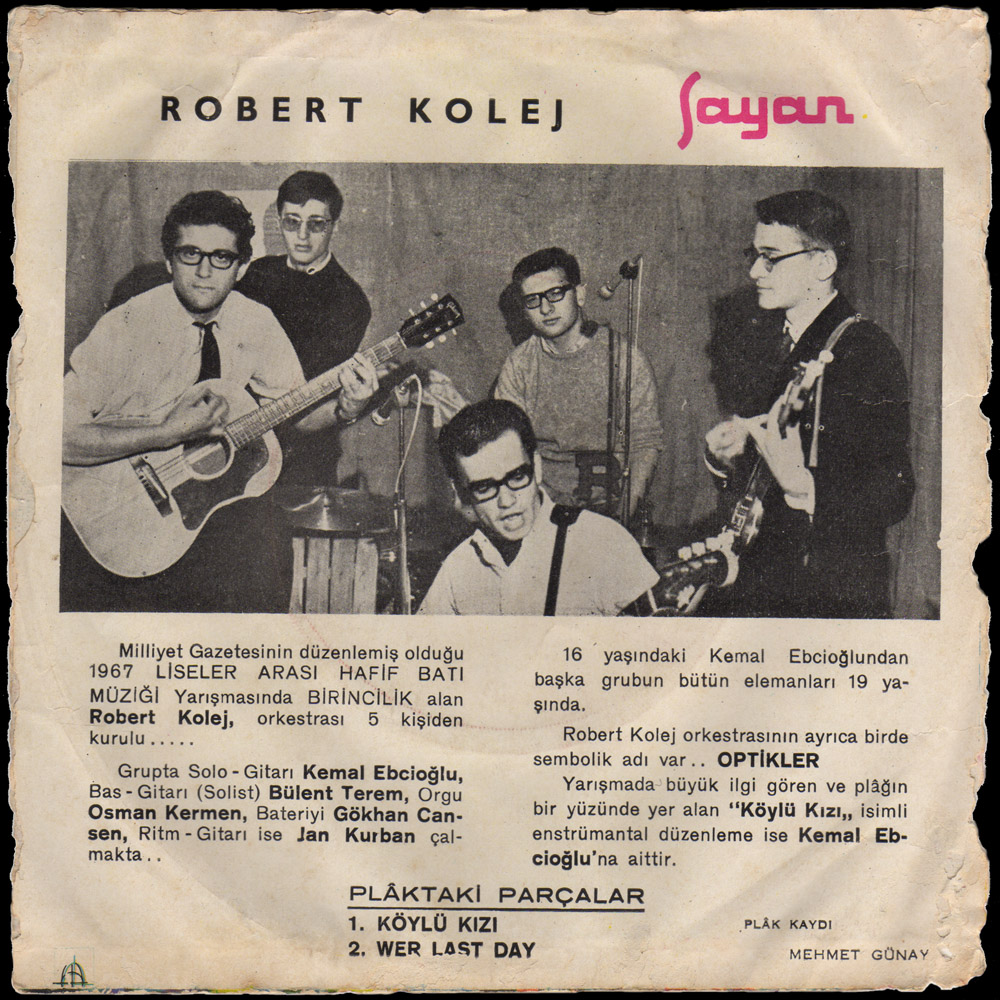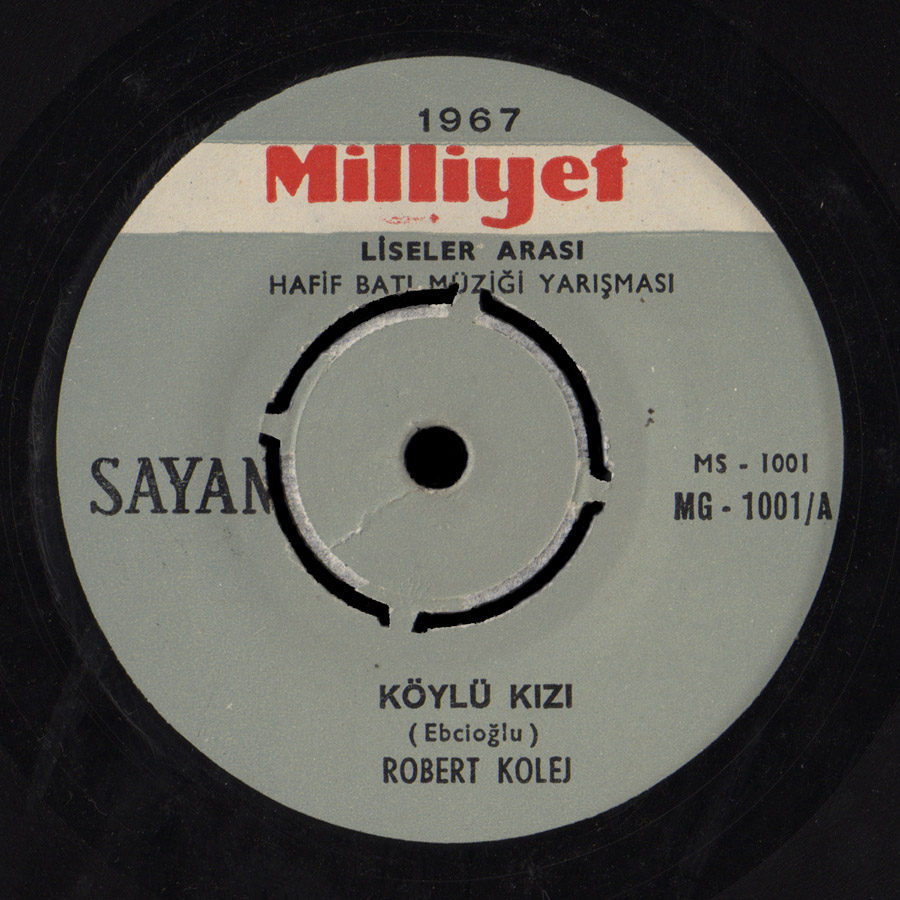 One of the prizes for winning was this recording, released on the Sayan label. The A-side was Kemal's composition "Köylü Kizi" (translates to "Country Girl" or "Farmer's Daughter"), a great instrumental with baroque influences to the hypnotic introduction.The flip is a cover of Peter Paul & Mary's "Very Last Day" (though possibly known through the Hollies version), and for the most part it's instrumental and also pretty good.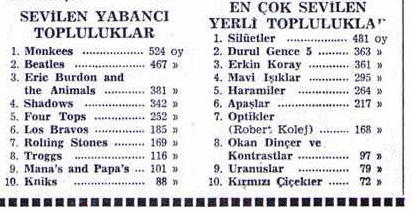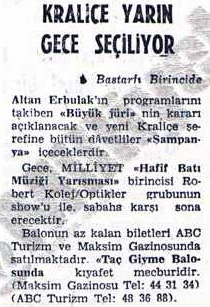 After the contest the band played occasional live shows and did some radio and TV work, with the last mention I can find announcing their performance during the 1968 contest festivities. After Optikler, Kemal Ebcioğlu started composing classical music, then worked in computer science in the U.S.
Mr. Ebcioğlu wrote to me about his career in Turkish pop music:
Thanks for noticing the fugal introduction to Koylu Kizi. I had just started studying counterpoint and harmony books at the time. The instrumental version of "Very Last Day" on the B side was adapted from the Peter-Paul-Mary version, if I remember correctly.

Speaking of Turkish popular music in the 60's and 70's, FYI, in 1974, I composed the song "Seninle Bir Dakika" ("A Minute With You") that represented Turkey in the 1975 Eurovision Contest.

My late father Hikmet Munir Ebcioglu wrote the lyrics. Turkey came last in that contest! It was a difficult year for Turkey politically, right after the Cyprus events in 1974; and in hindsight, our song was slow and not sufficiently catchy for Eurovision (the Netherlands song won the Eurovision competition that year). However, Seninle Bir Dakika has remained popular in Turkey and is considered a classic nostalgic song now.