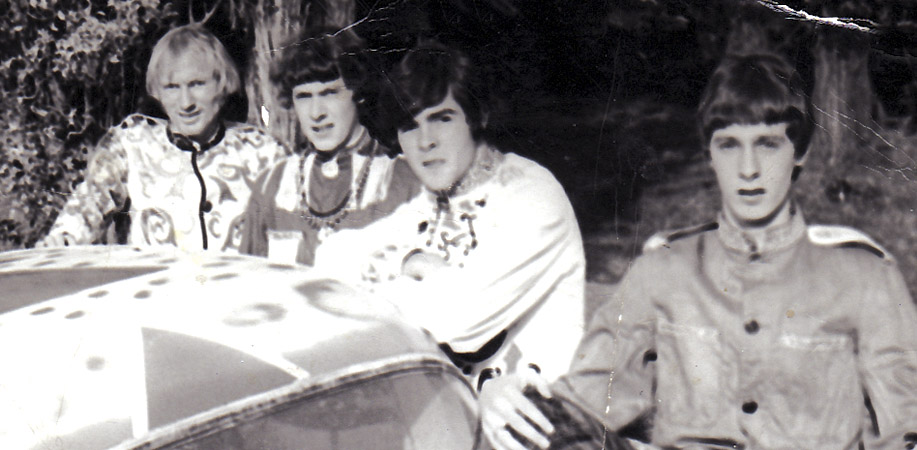 From Hamilton, New Zealand, Tomorrow's Love is known now for an excellent version of Love's "7 And 7 Is" on their only 45. Guitarist Ron Jenkins contacted me and told me about the group and sent the scans of the record seen here. He also sent me a transfer of "What Shall I Do", which the band learned from the Artwoods, though the original version was the very fine "I've Got The Blues (What Shall I Do)" written and sung by Marvin Jenkins and released on Palormar 2208. I am one of the few to have heard Tomorrow's Love version in almost 50 years!
I formed Tomorrow's Love a long time ago. Max Fletcher was the bass player from Timaru. I arranged for Kevin [Toneycliffe] and Max to come to Hamilton and join a group with me and an organ player [Derek Allan].
New Zealand was a strange country back in the sixties with import and currency regulations. Foreign exchange was what we thought impossible to get other than in 50P British Postal notes available one per person a day. So on Friday nights we used to get into my car and rush around as many post offices as we could running into a post office and buying a 50P postal note each. We used these Postal Notes to buy packages of records that we thought would not be available here in New Zealand from a British Record Shop. We chose these via a Britsh music publication Melody Maker, and one record we chose was Love's version of "7 And 7 Is".
I recall another record we got was The Sparrow, "Tomorrows Ship", so we just used Tomorrow's Love as our name.
When we first heard "7 And 7 Is" we thought it was unique and bound to create interest. Of course we never ever anticipated the New Zeland Broadcasting Corporation banning the record and that is what really killed it. We had the New Zealand Broadcasting Corporation's #1 disk jockey running our dances and we know we would have got a fair go with airplay BUT he played it once and was jumped upon and that's when we found out it was banned. It never entered our minds that the lyrics were drug related.
I believe there were two pressings with "7 And 7 Is" being the A side in the first pressing and then they made "What Shall I Do" the A side on the second pressing. I should have bought more than one copy. I do not think any of us got a cent in royalties. I have a first pressing which I was told there were 500 (but I had no way of verifying that). If correct it indicates the record sold over 500 copies.
I actually hated the fuzz box on "7 and 7 Is" but after listening to some other versions in later years I have grown to like our version. To be honest going by memory, I do not think it went over live, I mean "Ha Ha Said the Clown" was probably more acceptable!
The guitar was double tracked on "What Shall I Do". I never knew that there was an original prior to the Artwoods. Looking back I wish we had tried to change the arrangements instead of just a copy of the originals.
I recall Keith Ashton (a disk jockey in Hamilton who ran the dances) refusing to call the Saturday dance off like we wanted as the Starlight Ballroom had the Avengers or some Wellington band that had a record at the top of the charts playing there. He said he would get a second band from Rotorua (who incidently never turned up). Anyway we played and by 10 o'clock the Old Folks Hall was packed and friends of the group were telling us that nobody was at the Starlight! I understand they pulled the pin about 11pm. The Old Folks Hall had amazing acoustics, no matter how the band was performing it always sounded good.
One of our last gigs was in Auckland at Hauraki Radio's nightspot. We never went down well until we played The Creations "Making Time" which we had hoped to record. We played it last because the guitar riff was played using a violin bow and because of the resin my guitar had to be properly cleaned up. It went down well and I can recall a comment from one of the people there that they had never heard an "outside" group being clapped as we were! Of course it could have been because it was our last number? but maybe not as they never knew it was …
When we broke up the drummer/vocalist (Kevin) of Tomorrows Love joined a group The Chapta. He was the vocalist for them on "Say a Prayer" which reached #1 on the NZ hit parade. I got a shock a few years ago to find that Kevin had died in Australia of a heart attack.
I think Max and myself realised that Tomorrow's Love had done its dash at about the same time. I was trying to arrange gigs, etc and it simply wore me down, plus it was my car and my money that was keeping things going. Looking back it was stupidity, we never got the money from our dances, I think $60 was topline split between four. It never covered costs. Since the group broke up I have had no contact with any of them.
Ron Jenkins