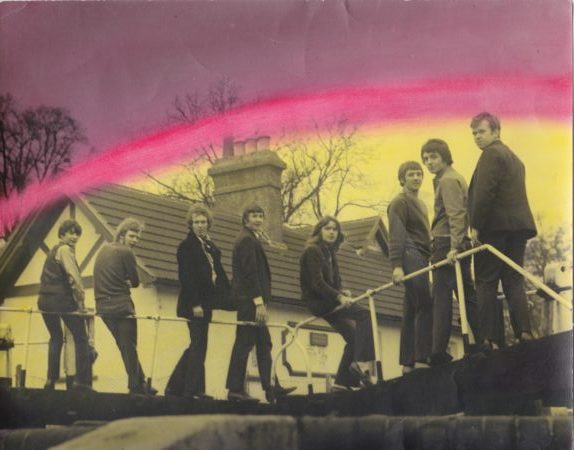 Alan Ray – lead vocals
Kenny Surmon – lead guitar (replaced by Geoff Foster)
Terry May – keyboards
Dave Goodman – bass
Martin Hayes – trumpet
Robin Lawrence – tenor sax
Rodney Barrett – trombone
Tony Hampton – drums (replaced by Martin Bryan)
+
George Russell – alto sax (played on and off 1969-1970)
John Barter – tenor and baritone sax (played on and off 1969-1970)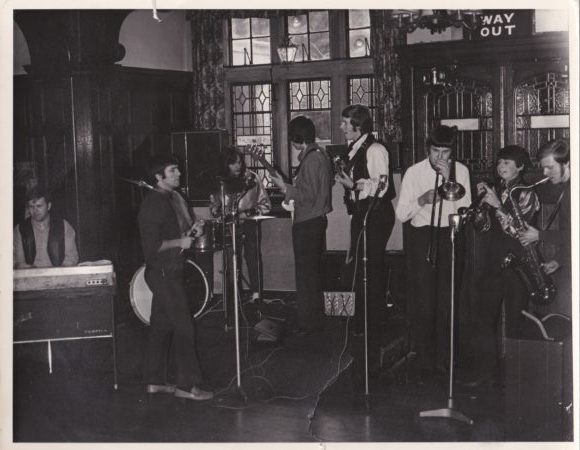 Orange Rainbow were a West London soul band that had worked as The Bluesville Soul Band, changing name around December 1968/January 1969.
Little is known about the group and Garage Hangover would welcome any additional information.
According to tributes to the late Dave Goodman, who went on to become sound engineer for the Sex Pistols, Orange Rainbow began as seven-piece group.
Goodman had started out with The Frinton Bassett Blues band, who were profiled in the 22 September 1967 edition (page 2) of the Middlesex Chronicle, Hounslow Edition.
The article lists the band's seven-piece line up as Steve Crawford (lead vocals); Alan Cook (lead guitar); Dave Goodman (bass); Denis Smithers (drums); Pete Watson (alto sax); Ray Johnson (tenor sax) and an unnamed keyboard player.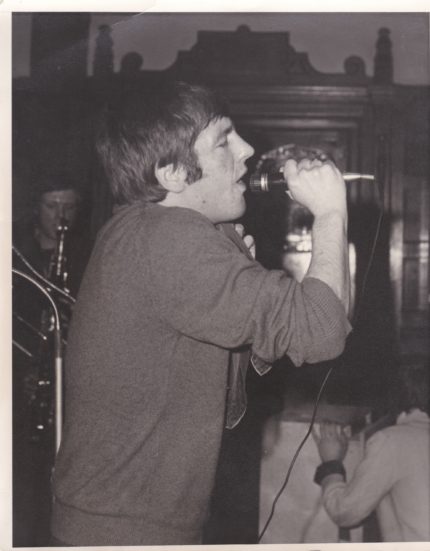 According to the newspaper, The Frinton Bassett Blues Band had been formed around the spring of 1966 and added the sax players in the summer of 1967, prompting the slight name change to New Frinton Bassett Blues Band.
Goodman and Martin Hayes (who had joined later) subsequently worked with The Bluesville Soul Band, which formed the nucleus of Orange Rainbow.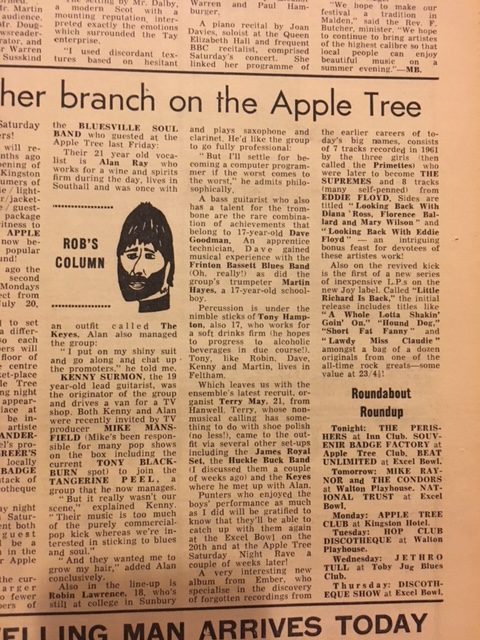 Alan Ray had started out with The Keyes, who also included guitarist Geoff Foster and keyboard player Terry May.
However, around December 1967, Geoff Foster left to play with West Londoners The Casuals (Frankie Reid's former group) and Terry May joined The James Royal Set and then The Huckle Buck Band.
Alan Ray put together The Bluesville Soul Band with lead guitarist Kenny Surmon; sax player Robin Lawrence; trumpet player Martin Hayes; bass player Dave Goodman; and drummer Tony Hampton. Terry May joined in June 1968. Rodney Barrett joined soon after.
Alan Ray and Kenny Surmon (plus Geoff Foster who was playing in The Army after Steve Priest left to join The Sweet) all auditioned for Tangerine Peel around this time but turned the offer to join down.
The Kingston & Malden Borough News, which profiled the band in its 12 July 1968 issue, lists the following gigs:
20 July 1968 – Excel Bowl, Tolworth, Surrey
3 August 1968 – Apple Tree Club, Kingston Hotel, Kingston Upon Thames, Surrey
27 September 1968 – Apple Tree Club, Kingston Hotel, Kingston Upon Thames, Surrey
21 December 1968 – Excel Bowl, Tolworth, Surrey
Around January 1969, Geoff Foster took over from Kenny Surmon and Martin Bryan replaced Tony Hampton. Around this time they became Orange Rainbow.
According to Goodman's webpages, Orange Rainbow toured the UK extensively and even worked on the continent. They also backed Ben E King, The Drifters, Nicky Thomas, The Flirtations and The Fantastics (from mid-1970 onwards after Pip Williams' band, The House of Orange). Orange Rainbow also supported The Four Seasons and The Jackson Five on UK tours.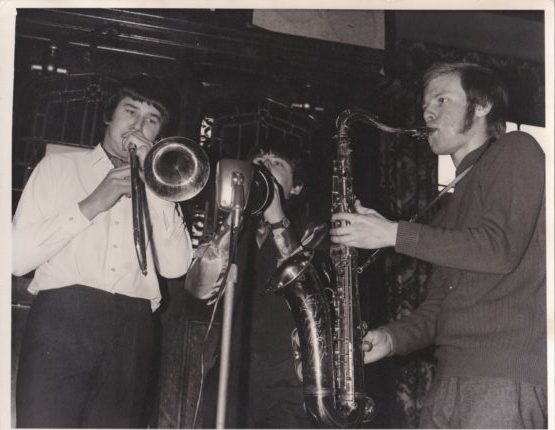 From mid-July to early August 1969, the band was booked to perform at the Ye Ye Club in Rimini, Italy for three weeks. Geoff Foster also remembers the musicians playing at Sloopy's Disco in Manchester, the Place in Hanley, Staffordshire and the Pavilion Ballroom in Gillingham, Kent.
Orange Rainbow played Sunday lunchtimes at the Railway Hotel in Southall, Middlesex and were also regulars at Samantha's in central London.
Geoff Foster's former band mates in the Army, George Russell and John Barter worked with the band on and off throughout 1969-1970 but never officially joined as permanent members. All three left during 1970.
Orange Rainbow continued into the early Seventies during which time the group underwent many personnel changes (see comments below). Dave Rose took over from Terry May on keyboards and Graham Board replaced Martin Bryan on drums. Eventually, the group morphed into Polecat.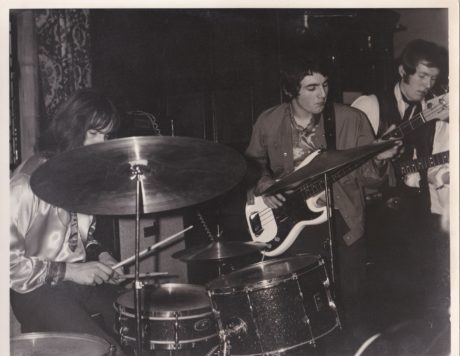 Selected gigs
26 April 1969 – Kingston College of Technology, Kingston Upon Thames, Surrey with Episode Six and The Giant
10 May 1969 – Pavilion Ballroom, Gillingham, Kent
8 June 1969 – Woodhall Community Centre, Welwyn Garden City, Hertfordshire
28 June 1969 – Railway Hotel, Southall, Middlesex
28 July 1969 – Ye Ye Scandinavian Club, Rimini, Italy with Root and Jenny Jackson
7-8 August 1969 – Samantha's, Burlington Street, London
11 August 1969 – Samantha's, Burlington Street, London
14 August 1969 – Samantha's, Burlington Street, London
26 August 1969 – Samantha's, Burlington Street, London
31 August 1968 – Samantha's, Burlington Street, London
I would like to thank Geoff Foster for helping with the story and supplying the excellent photos.
Copyright © Nick Warburton.  All Rights Reserved. No part of this article may be reproduced or transmitted in any from or by any means, without prior permission from the author.