Welcome to another posting of a series of gig listings for 1960s bands. None of these lists is exhaustive and my idea is to add to them in the comments section below over time. They are here for future researchers to draw on.  I have also added a few interesting bits of information and will add images in time.
I'd like to encourage band members to get in touch to share memories, or for anyone to send corrections/clarifications to my email: Warchive@aol.com 
Equally important, if you attended any of the gigs below or played in the support band, please do leave your memories below in the comments section for future historians to use. If you know of any missing gigs, please add them too, if possible, with the sources.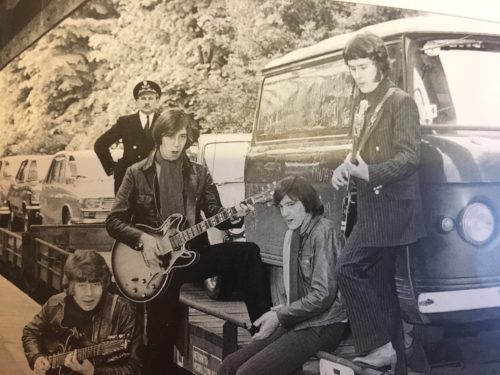 THE MUD
Les Gray – lead vocals
Rob Davis – lead guitar
Ray Stiles – bass
Pete Gray – drums
 1966
30 September 1966 – Borough Assembly Hall, Aylesbury, Bucks with The Dark Ages (website: http://aylesburymusictown.co.uk/)
7 October 1966 – Cricketers Inn, Southend, Essex with Five By Five (Southend Standard)
12 November 1966 – High Wycombe Town Hall, High Wycombe, Bucks with The Next Move (Bucks Free Press)
1967
24-25 February 1967 – Silver Blades, Streatham, London (Sutton & Cheam Advertiser)
9 March 1967 – Tiles, Oxford Street, London with The Richard Kent Style (Melody Maker)
6 May 1967 – Ritz, Bournemouth, Dorset (Bournemouth Echo)
13 May 1967 – The Union, Manchester with Tony Rivers & The Castaways (Manchester Evening News and Chronicle)
26 May 1967 – Silver Blades, Streatham, London with The Next Collection (Sutton & Cheam Advertiser/Croydon Advertiser)
7 June 1967 – Flamingo, Wardour Street, Soho, London (Melody Maker)
16 June 1967 – California Ballroom, Dunstable, Bedfordshire with Sonny Childe & The TNT (website: www.california-ballroom.info/gigs/)
25 August 1967 – Marquee, Wardour Street, Soho, London with Peter Jay & The Jaywalkers (Tony Bacon's book: London Live)
31 August 1967 – Town Hall, Mitcham, London (Fabulous 208)
23 September 1967 – Marquee, Wardour Street, Soho, London with The Dream (Tony Bacon's book: London Live)
There is a great article and picture in the Sutton & Cheam Advertiser, 19 October 1967, page 8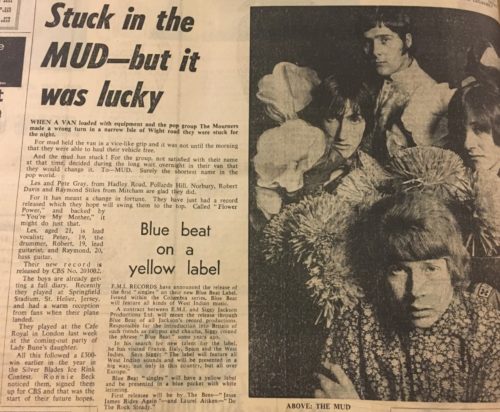 There is another great article and picture in Record Mirror, 21 October 1967, page 10
28 October 1967 – Silver Blades, Streatham, London (Streatham News)
4 November 1967 – Scotch of St James, 13 Masons Yard, SW1, London (promotional card on Patto Fan website)
17-18 November 1967 – Scotch of St James, 13 Masons Yard, SW1, London (promotional card on Patto Fan website)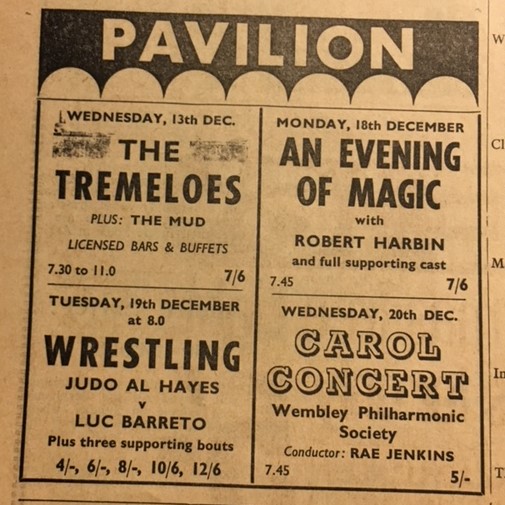 13 December 1967 – Hemel Hempstead Pavilion, Hemel Hempstead, Hertfordshire with The Tremeloes (West Herts & Watford Observer)
30 December 1967 – Marquee, Wardour Street, Soho, London with Neat Change (Tony Bacon's book: London Live)
1968
4 January 1968 – Bracknell Boys Club, Bracknell, Berkshire (Bracknell News)
29 January 1968 – Wycombe CLP Club, Wycombe, Bucks (Bucks Free Press)
10 February 1968 – High Wycombe Town Hall, High Wycombe, Bucks with Joker's Wild (Bucks Free Press)
25-26 March 1968 – Hatchetts, Piccadilly, London (Poster at Jonathan Marks' website: https://imgur.com/a/sWtBd#0)
30 March 1968 – Marquee, Wardour Street, Soho, London with The Gods (Tony Bacon's book: London Live)
20 May 1968 – Wycombe CLP Club, Wycombe, Bucks (Bucks Free Press)
29 May 1968 – Steering Wheel, Weymouth, Dorset (Dorset Evening Echo)
8 June 1968 – 'G' Ranch Discotheque, Maidstone, Kent (Maidstone Gazette)
12 June 1968 – Marquee, Wardour Street, Soho, London (Tony Bacon's book: London Live)
1 July 1968 – Wycombe CLP Club, Wycombe, Bucks (Bucks Free Press)
28 August 1968 – The Wheel, Weymouth, Dorset (Dorset Evening Echo)
30 August 1968 – Hatchetts, Piccadilly London (Melody Maker/Mick Capewell's Marmalade Skies)
16 September 1968 – Aurora Hotel, Gillingham, Kent (Chatham, Rochester and Gillingham Evening Post)
1969
1-4 January 1969 – Hatchetts, Piccadilly, London (Poster at Jonathan Marks' website: https://imgur.com/a/sWtBd#0)
1970
27 April-2 May 1970 – Hatchetts, Piccadilly, London (Poster at Jonathan Marks' website: https://imgur.com/a/sWtBd#0)
Copyright © Nick Warburton. All Rights Reserved. No part of this article may be reproduced or transmitted in any from or by any means, without prior permission from the author