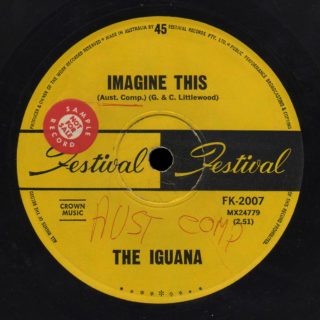 The Iguana were a Melbourne group that formed from the Sands of Time and the Contours in 1967. Members were Gary Sweetman on vocals, Mike McGuire guitar and vocals, Cleve Littlewood guitar, Garry Littlewood guitar, Graham Jones bass and Peter Saunders on drums, later replaced by Russell McGregor.
They had four singles, plus an EP that combined two of their 45s.
I've always loved their first single, "Imagine This". Produced by Pat Aulton on Festival's four track, it still sounds fantastic! The combination of vocal harmonies with a strong rhythmic backing reminds me of later work by the English group the Action, especially their single "Never Ever" / "Twenty-Fourth Hour".
Very few have heard the b-side "Dreaming Away to Myself" which is also very good, if not as arresting as "Imagine This". Garry and Cleve Littlewood wrote both songs, causing some radio station to mark my copy "Aust comp" – I wonder if that helped get them some airplay.
Given the high quality of their first single I think Festival should have encouraged more original songs by the Littlewood brothers. Despite the later reliance on cover songs, I dig their second single, a great version of "California My Way" which I prefer to the original recording by the Committee. I am less enthusiastic with their heavy take on "Ticket to Ride", the A-side of their third 45.
I still haven't heard the B-sides to these, "Mary Go Round" and "Sunshine People", respectively, or their fourth single, "Good News" / "Requiem: 820 Latham".
The band seems to have broken up around 1969.