The Burlington Express from Topeka, just west of Kansas City, released an excellent double-sider on the Cavern label from Missouri in 1967. Members of the band were Greg Gucker, Blair Honeyman (replaced by Bruce Lynn), Eric Larson and Mike West.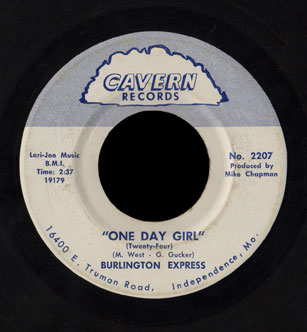 Greg Gucker wrote most of their material including "Memories", though Mike West co-wrote "One Day Girl". Michael Chapman, guitarist for the Bluethings produced their 45 on Cavern, and also played lead guitar on the unreleased song "If I Were Free". The address on the label, 16400 E. Truman Rd, Independence is the location of Cavern Studios.
Besides the Cavern 45, at least eight demos have been discovered. A version of the Byrds' "I'll Feel a Whole Lot Better" is competent, but their take on the Yardbirds' "Stroll On" is spectacular, and suggests they were an excellent live band.
Bruce Lynn wrote to me:
I played bass for the Burlington Express from 1966-1970 when we ended the band. I took Blair Honeyman's place and sing lead on "Stroll On" and "I'll Feel A Whole Lot Better". I was in the band when we opened for The Who in 1968.
Four later demos, "Mr. Destiny", "If I Were Free", "Black Hearted Woman", and "Listen Closely", were recorded at Audio House studios in Lawrence in August 1968. These display psychedelic touches, but with the band's fine pop sense and fuzztone intact. "If I Were Free" is an intense song that uses horns to good effect. Check them out at Audio House's website.
A 7″ Audio House acetate contains a cover of the Blues Project's "I Can't Keep from Crying", but I haven't heard that yet.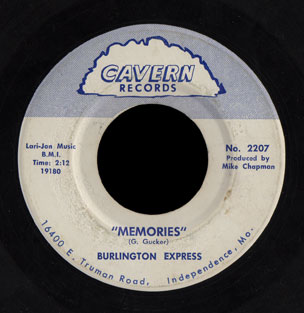 Another group called the Burlington Express recorded a brooding song called "Comin' Home" b/w the maudlin "A Girl" on the Roach label, but they're supposed to be a different group altogether – songwriting credits list D. Gray, G. Niebur and J. Turner.