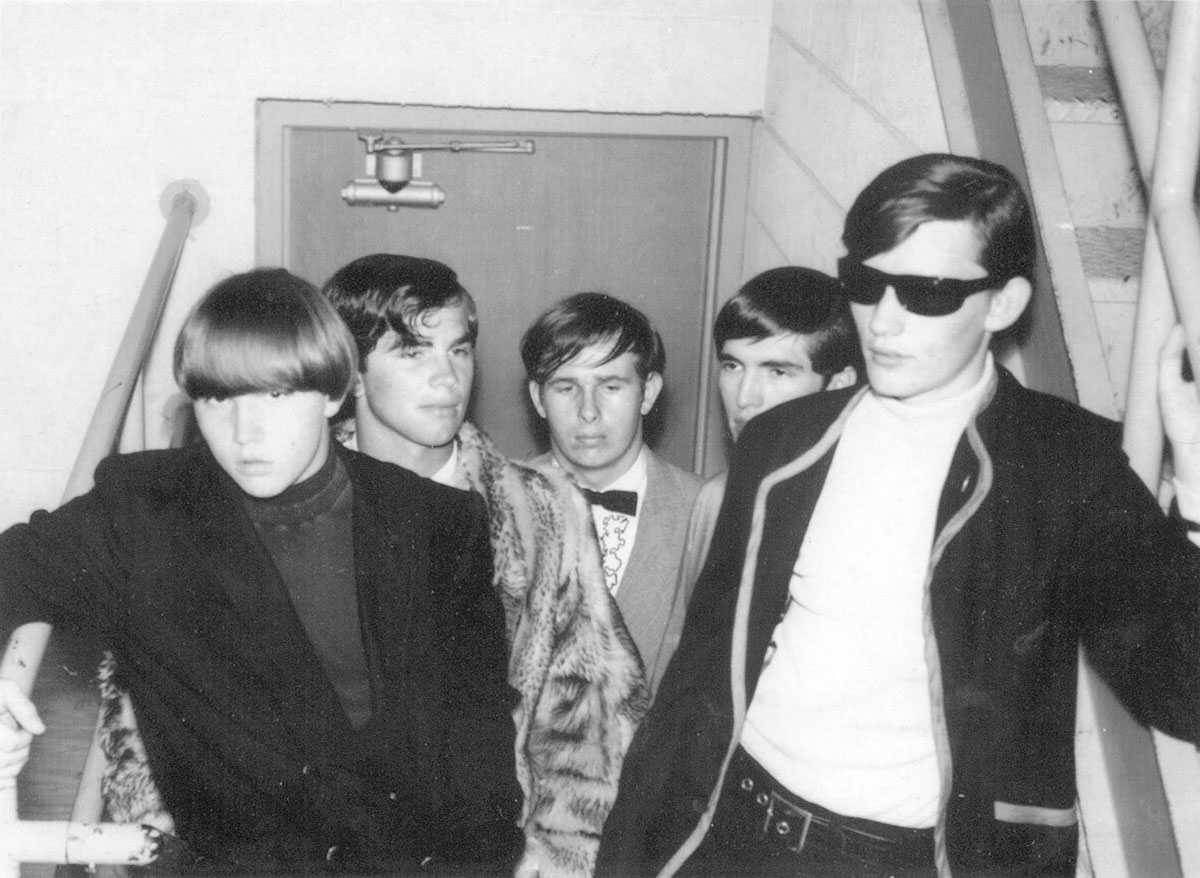 "This photo was taken in 1967 in the high school auditorium before we were to play." – Les Roberts
L-R: Mike Riggle, Don Prilop, Les Roberts, Henry Munson, and Dwayne Sanders.
An underrated 45, the Brym-Stonz Ltd cut the excellent "You'll Be Mine" on the Custom label sometime in late 1967 or '68. Although I thought it was recorded at Robin Hood Brians' studio in Tyler, TX, like other Custom 45s by Billy McKnight and the Reddlemen, Les Roberts states that it was recorded in the label owner's garage!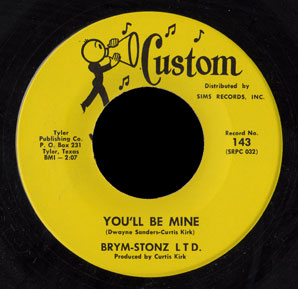 "You'll Be Mine" is fine, moody garage, with a prominent bass line and some unusual chording on guitar and organ. It was written by Dwayne Sanders, while the psychedelic ballad on the flip, "Times Gone By" was written by Leslie Roberts.
Curtis Kirk ran the Custom label and seems to have put his name on every song he ever released, but I doubt he contributed to lyrics like "Colored contrasts call me back from illusions of love/ the variations of oceans of lavender skies!"
I recently heard from Les Roberts, lead guitarist and one of the singers for the band:
The Brym-Stonz were a band from Angleton, south of Houston. We were in high school and like most bands met through wanting to play music. We played lots of school functions and after game dances.

The band members were Henry Munson (Vox Continental organ), Don Prilop (Drums), Dwayne Sanders (Hagstrom bass), the late Mike Riggle (Rhythm/12 string Rickenbacker) who sang the lead vocal on You'll Be Mine, and Leslie Roberts (Lead guitar) vocal on Times Gone By. The picture of the band is from after Dwayne Sanders had left.

We recorded these songs in December 1967 at Curtis Kirk's studio converted garage in Tyler. We actualy recorded 4 songs in Tyler but only put the two songs on record. Curtis Kirk always put his name as a co-writer on songs he recorded. Probably to garner writers royalties in case the song did well.

I used to make the dances at the Brazoria County Fairgrounds auditorium each weekend. I got to see lots of local and regional bands such as BJ Thomas and the Triumphs, Roy Head and the Traits, Freddy Koenig and the Jades, Fever Tree, and others.

We formed another band in '72 called Moonchild and over the years people left. I still play in a band called Dog Town Blues but everyone else has stopped playing.

Les Roberts