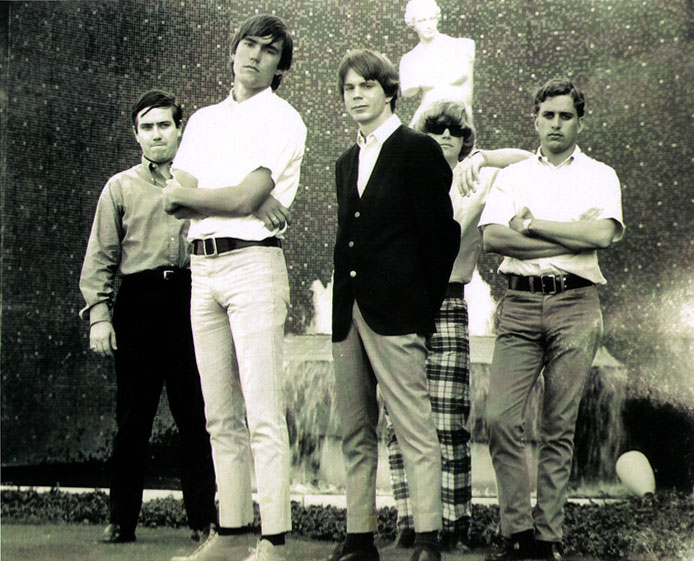 The Briks came from a band called the Embers who formed at Texas Tech in Lubbock in 1965, with Richard Borgens on vocals and lead guitar, Lee Hardesty on guitar, Bobby Daniels, and Steve Martin on drums. The band relocated to Denton, outside Dallas, and Gainesville, TX, where some of them attended Cooke County Junior College, a "home for the academically ill" as one teacher put it. There they met Cecil Cotten, who became their lead singer, and bassist Mike Meroney and changed their name to the Briks.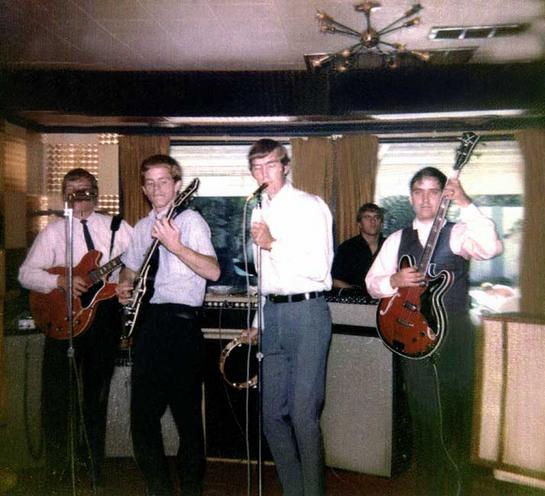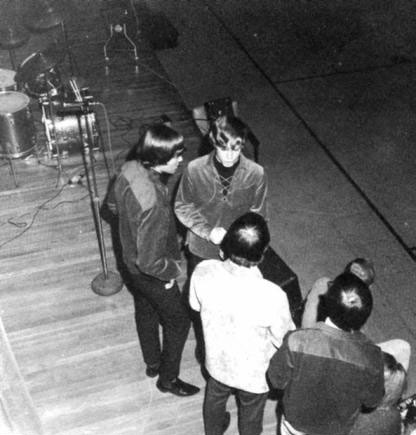 Lee Hardesty wrote on the BigD60s site:
Some of the Briks lived at the Stella St. apartments for a while. Cecil, Steve, Reggie Lang (mgr) and I had a place there and Tommy Carter was just down a few doors. Across the courtyard is where Bob Story and Johnny Hale lived and they were some wild and crazy guys! Just around the corner at the next complex is where "The Four Speeds" lived (later they became "Felicity"). That was a fun time for the most part but I think our apt. was a mess. Some of us were driving back and forth to CCJC in Gainesville at the time.
The Briks signed with the Bismark agency, run by George Rickrich, who also managed the Chessmen. Whit Snell of the Beefeaters remembers Rickrich this way:
George was the Godfather of the music scene in Denton. He and Charlie Hatchet from Austin controlled everything north of San Antonio all the way to the Oklahoma border. His so-called real job was Manager of the Campus Theater on the Denton square. Here, at the back and above the large dimly lit balcony, was George's office, Bismark Agency, filled with movie posters, black and white photos of bands, food wrappers and heaps of clutter, scribbled phone numbers, scratched out and circled dollar figures. There, on his desk, were two or three black telephones, their rotary dials worn shinny silver from thousands of calls made by George's stubby fingers.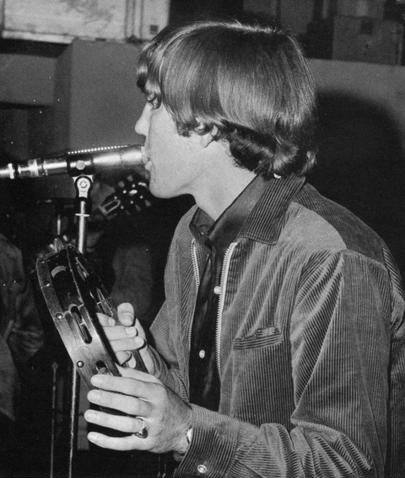 Lee Hardesty adds: "George Rickrich started that laser light show in Forth Worth at the planetarium in the Fort Worth Museum of Science and History. At one point I helped him with some of the electronics and got a bunch of free passes to the movie theater as payment."
Their first recordings were distributed on acetates only. Both "I'm Losing" and "It's Your Choice" are classic garage numbers and it's a shame these weren't released on 45.
There are two versions of "It's Your Choice". One features a twelve-string guitar, and the band takes the song at a fast pace. The other has an altogether tougher sound. On this version Cecil's vocals are nothing less than menacing. The band generates an ominous, intense sound with Mike Meroney's repetitive bass line, the jangling guitar, drum fills and occasional harmonies. There's a good, trebly guitar solo and a neat break with just bass, drums and handclaps.
The Briks – It's Your Choice
The Briks – It's Your Choice (12-string version)
Steve Martin slams out the beat on "I'm Losing," which also features their first use of a distortion pedal on the guitar. The band's harmonies add to Cecil's lead vocal but his voice still cuts through. It's a great sound.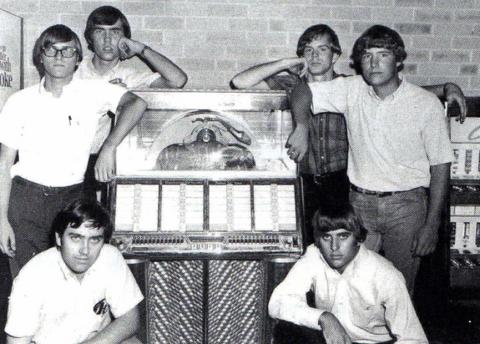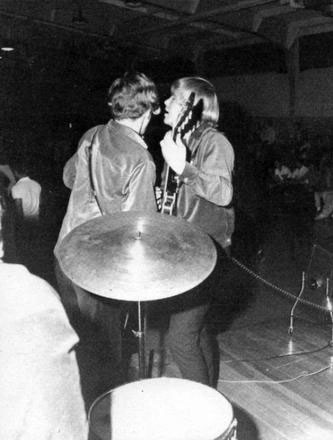 Lee Hardesty: I can't speak for the differing versions. I remember recording them only once at Sellers (downtown Dallas). It was our first trip to the studio and I remember the engineer running out of the control room saying "There's something wrong here! I'm hearing horrible distortion!!" We laughed because he had never heard a fuzztone before and didn't know it was intentional. Actually he was probably right about the sound though. That was my original (homemade) fuzz box, built into a wooden English Leather box, and I imagine it probably did sound pretty horrible.

When we had finished recording we asked for a 45 and they cut us one right there on the spot (cutting lathe). We drove out to KBOX on flagpole hill (about midnight) and went around to the back of the building. I think the DJ was the only one there so we knocked on the window and he opened it to talk to us. We gave him the 45 and went back to our car and listened to it on the radio! What a thrill! Seems a little more difficult to get things on the radio these days.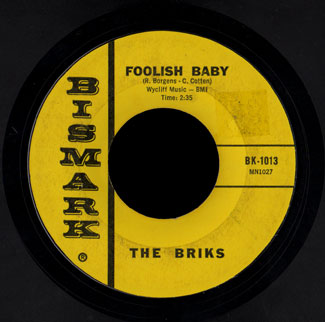 The Briks released their first 45, the poppy "Can You See Me?" on Bismark in '66, though garage fans love the flip side, "Foolish Baby". Both sides are originals by Richard Borgens and Cecil Cotten. Dot label picked it up for national distribution and to promote the record the Briks traveled to Houston for shows at the Catacombs, around November of 1966.
Lee Hardesty: It was a big thrill the first time we played there. We were given some real star treatment, ads on the radio stations, radio station interviews, a dinner I believe. I think they might have been a little underwhelmed though because that stuff ended after our first night. It was a cool place (glad we didn't use pyrotechnics back then!!) but I liked the parties and other dance halls better where it wasn't so much of a show thing. I liked playing when people were dancing more.
Mike Meroney: I also recall that the Dot record rep showed up and threw records to the audience. I also recall that we changed outfits between each set and broke a guitar or two. How nutty was that? We appeared on the Larry Kane show during one of those trips to Houston. I remember listening to the Catacombs promos on the radio as we approached Houston – that would pump us up.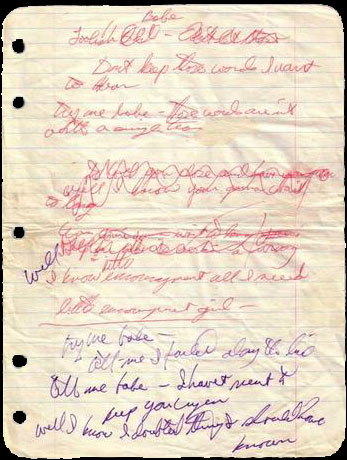 On one trip to the Catacombs they were overshadowed by the professionalism of Baton Rouge's Greek Fountains.
Mike Meroney: We went back there several times with various versions of the band. The last gig there that I remember was a bit humbling. We were the headliners but they had another band that played during our breaks. All I remember was they were awesome, kind'a kicked our butts, and it was hard to get back up there and do a second set. They were some band from Louisiana and had real good players, PA, etc.

As I recall their name was the Greek Fountains or something like that. They were good. It seems like the most common technical challenges in those days were with PA systems. They never could seem to catch up with the rest of the stuff. As a bass player I felt techno disadvantaged as well. It was hard to keep up with the Hardesty. It was never loud enough or clear enough or punchy enough. The first set up that I felt even reasonably satisfied with was dual Kustom towers. This Louisiana band did have a good equipment setup including an awesome PA.
Another venue for the Briks was the legendary Louanns.
Cecil Cotten: We had to audition in order to play. The audition was done while Mrs. Bovis and her family were eating dinner. This was in 1966. There were two stages one on each end and another completely different room on the other side and yes a beer garden.
The Briks also played Sump N Else [local TV show hosted by Ron Chapman] and played two songs. "I'm A Man" (Yardbirds) and "Baby Let Me Take You Home" (Animals). I remember the window that allowed people to look in on the show while they were at the North Park Mall. It was like being in Hollywood for us. We were still in our late teens or early 20's and felt invincible.
In a comment below which I'll repeat here, Bud Buschardt writes:
The Briks appeared on the Sump'n Else show on October 10, 1966. The music log lists them playing a song called "Keep Down." When a group appeared on the show, they also performed live for the pre-show warm up. Perhaps that is when they played the cover songs mentioned in the bio. Our music lists were often made out in a hurry before the show, so there could have possibly been a misunderstanding of the song title, especially if no one in the group remembers "Keep Down."
What sounds like a studio version of "Baby Let Me Take You Home" exists, and it's a great version with an intro that's reminiscent of the riff to the Gentlemen's "It's a Cry'n' Shame", fine drumming, 12-string guitar and a rave-up ending. It's likely the Briks recording came first – could it have influenced the Gentlemen's legendary guitarist Seab Meador? In any case, I believe it was Animals' guitarist Hilton Valentine who came up with that riff for "Baby Let Me Take You Home" in 1964.
The Briks – Baby Let Me Take You Home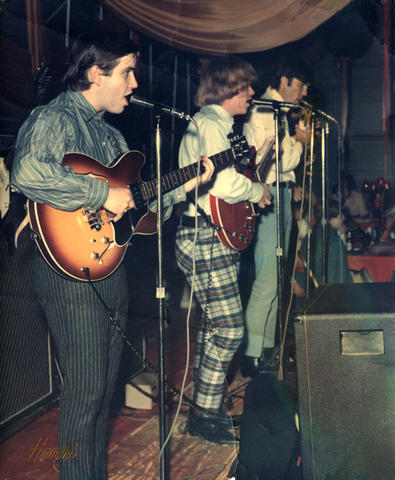 In August '66 Cecil Cotten, Steve Martin, the band's manager Reggie Lang, and Mike Neal of the Jackals all joined the Air Force together. Chris Vanderkolk replaced Steve Martin on drums. Paul Ray replaced Cecil on vocals, singing on a version of "Keep Down" recorded at IRL. It's an interesting original with organ and descending bass line, and appeared years later with other Briks material on the old vinyl compilation Texas Punk vol. 7.
Paul Ray soon left to join the Cobras. Cecil was back in the band by January, 1967, and Jamie Herndon came in on lead guitar, replacing Richard Borgens, who wanted to try production work and folk-oriented music.
Later that year the Briks released a second 45, a cover of Cream's "NSU" b/w "From a Small Room", an original by Borgens. Part of a show at the Northwood Country Club was recorded, the set list full of songs made famous by British bands: "Til the End of the Day", "NSU", "The Nazz Are Blue", "Heart Full of Soul", and "I'm a Man". There's also a live version of "Everybody Needs Someone to Love" that, to my ears, comes from an earlier live performance show. All of these are collected on Texas Punk vol. 8.
Lee Hardesty: I think that one of those unissued songs was actually recorded at Mike Meroney's house using his father's tape deck. The song "Over You" was an original by Jamie Herndon and the real title was "Green Green" if I'm thinking of the same thing here.
"Over You" has a lot of potential as a song, with moody, churning verses going into a brief ooh-ing "over you" and a short fast break. On the version I heard, the sounds of a guitar and bass doing some practice runs intrudes on the recording briefly about 35 seconds in.
The lyrics are hard to make out, but I can hear some snippets like "the sky is blue the night is black the sea is green …" The song finishes with an intense 12-string guitar solo that lasts a full minute over a bass line reminiscent of Cream's ""Tales of Brave Ulysses".
I've read they also cut a version of "It Won't Be Wrong" but if so, I haven't heard it.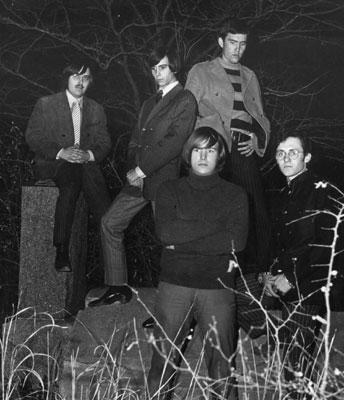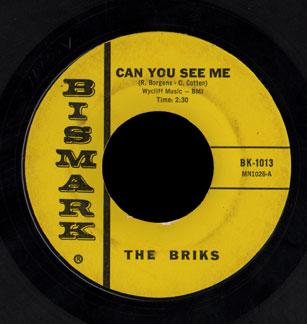 The Briks broke up by 1968 and Cecil joined a band with some members of the Chessmen, who had also just split. Cecil told me "Jimmy Rabbit managed a band called Texas which included Jimmy Vaughn guitar, Cecil Cotten vocalist, Tommy Carter bass, Billy Etheridge keyboards and on drums Sammy Piazza. We did some recording at Robin Hood Brians studio in Tyler (I would really like to have a copy of those tapes). We played only a few times and one of those times was opening for The Jeff Beck Group with Rod Stewart at Louanns in Dallas."
In 1969, Cotten moved out to San Francisco with Benny Rowe of the Wig and the Jackals, Steve Carnavas of the Chaparrels, and Keith Ferguson, where they gigged as the Benny, Cecil and the Snakes, playing house parties for the publishers of Zap Comix, the Rip Off Press. Richard Borgens sang on The Truth's 45, Chimes on 42nd Street/When Was Then.
The Briks reunited once, in 1996 at White Rock Lake.
Lee Hardesty: It was really a pretty short run for the original Briks, just a year and a half or so, then another year or so with Paul and Chris and Jamie I would guess. A lot happened in a fairly short time and it was quite a while ago. If we'd only had a clue we should have been writing and recording a lot more. Richard had more talent in that area than we realized at the time, and so did Mike for that matter. Somehow I just don't think I had any idea what we were doing or what the potential was. It was mostly just fun and a way to make some money. And it was a lot of fun sometimes.
I'm very sad to report that Cecil Cotten passed away on Friday, April 4, 2008 in Winnsboro, TX, at the age of 62. In recent years Cecil and former Briks bandmate Mike Neal recorded a CD of blues-inspired songs as The Pickin' Cotten Band. I greatly regret I never met Cecil in person, and his music will always mean a great deal to me.
Thank you to the BigD60's site for the history and photos of the band, and to Andrew B. for contributing the transfer of the incredible acetate of It's Your Choice.